Paul Alexander is looking at starting his third right tackle in the third pre-season game.
There have been much tougher moments for Paul Alexander in his 22 seasons coaching the Bengals offensive line.
Try 1996, when three first-time players at their positions on the line started the opener.
Or ten years later when he started three different left tackles in the first six games and one was a 295-pound left guard and the other was a second-round rookie by the name of Andrew Whitworth.
 Or when the 3-0 Bengals went through three centers in one game on the way to the 2005 AFC North title and somehow went to 4-0.
This doesn't seem as dire, but it's not good. The Bengals' two top right tackles are down for an unspecified amount of time after each got nicked in the pre-season games they started.
Cedric Ogbuehi hurt his toe somewhere among the team-high 39 snaps of the opener and when Jake Fisher moved in to replace him after taking 39 snaps at left tackle in the opener, he sprained his ankle on the first snap of the second series Thursday night in the second pre-season game during a 30-14 victory in Detroit.
"It does. It's kind of weird that way. You don't know why and you can't predict it," said Alexander on Friday as he pondered the NFL anomaly that positions always seem to get hit with injury instead of players. "What can you do? All you can do is work with the guys that can play."
This is why it's not a raging crisis at the moment. Because the Bengals went to the top of the players' union to get their guy when they chose to re-sign 32-year-old Eric Winston in the spring even though they have a pair of tackles taken with the first two picks in the 2015 draft.
"You never know. And why won't you, really?" Alexander said. "He's a great leader. Teaches young guys. All professional. He's good for the business."
So with his impeccable pedigree Winston is the logical man up with his 141 NFL games and 123 starts when the Bengals play again in Jacksonville Aug. 28 (8 p.m.-Cincinnati's Channel 5) on Sunday Night Football. And he's been part of an offensive line that has generated an encouraging running game that produced a 22-play drive in the opener, running back Jeremy Hill's 5.1 yards per for two games, and running back Rex Burkhead's 10.5 yards per on four carries Thursday night  
But as experienced as Winston is, the situation still seems fluid.
He is, after all, the last man on the depth chart. There are still two pre-season games to get through. The last time Winston started more than two games in a season was 2013 and he's rated 62nd out of 82 tackles in his 44 pre-season snaps by profootballfocus.com, grades Alexander doesn't buy.
"He did a nice job last night. He's been a great guy for us. He's a great leader. A great professional and he's a good player," Alexander said. "He's done a good job. I feel very comfortable with him."
But he's also saying there are going to be some new faces as they try to expand the depth. And at this point they won't come from free agency because Alexander says, "I don't think there's anyone out there right now. I don't see that really happening.
"Tackles don't grow on trees. We've got guys who are going to have to step up and guys who maybe never played tackle are going to have to play tackle."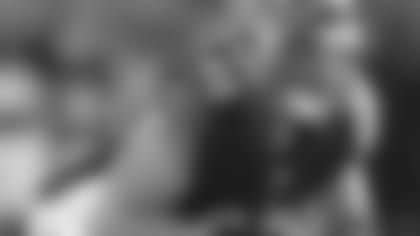 Alexander says Clint Boling is playing his best football ever at left guard.
That's plenty grist for the mill. Clint Boling, the left guard having a great camp ("He's playing his best football ever" _ Alexander) who made two starts at right tackle late in the 2014 season and helped them rack up 244 rushing yards in Cleveland? Trey Hopkins, a college guard groomed to play all five spots who has played left tackle this preseason but hasn't played right tackle in a game?
"It's not fair to whoever goes in there for the other team to know it's going to be that guy," Alexander said. "No. 1, the loyalty is to your guys. Ultimately."
But what we do know is that Winston, the NFL Players Association president, is bright, committed, and been there before. He says you can't underestimate his experience and doesn't know why so many teams are enamored by youth movements.
"I guess this is a little self-serving, but I've never understood this move for extreme youth in the league," Winston said. "'Oh, our average age in the league is 24.' I'm like, 'Why is that good?' I've never got that. I think there are a lot of guys that, like myself, can still come in and play well if they had to for long spurts, or just be a vital part of the team. That's what I've always tried to do is just try to be here and help any way I can."
You can see it. Whether he's talking to Ogbuehi or Fisher, or Alexander or holding a bag in a walk-through, or playing when called in a grimy pre—season game. The prez fits the mold of the rank-and-file.
"Rolling with the younger crowd is a little invigorating. You're out there with the young guys, and you're trying to make sure, so it's funny when you are around younger guys, you've got to know more because you know they don't know it," Winston said. "You can't rely on the guy next to you. You have to know it. It's been good for me from the standpoint it reinvigorates and makes you really get in the books still. It's been pretty good overall. I always ask the coaches. I'm still paranoid as ever."
The critics have been paranoid about the Bengals' run game ever since Hill's yards per carry dipped to 3.6 last season after his Rookie of the Yearish 5.1 in 2014. He's carried it just six times in the preseason, but he's back up over 5 and Winston can hear it humming.
Alexander said they're doing some different things in the run game but it doesn't seem to be a wholesale change.
"We didn't go into any meeting this year like, 'Guys, we're scrapping whatever we did before,'" Winston said. "I think it's just been more of a renewed effort to do things a little bit better. We're focusing in on some things, and that's been good. It's paying dividends. I think Jeremy has run the ball well. I think there is very good cohesion right now between the backs and the O-line and where things are going to be and how we're setting it up for them, and I think it's just going to keep getting better."
Winston thinks the Bengals are in good hands with Ogbuehi and Fisher. They're both crazy athletic. All they need is snaps.
"Until then," Winston said with a laugh, "the old man is going to come back out there again."
Cincinnati Bengals take on the Detroit Lions at Ford Field in week 2 of the preseason 8/18/2016