Alex Van Pelt confers with Aaron Rodgers.
The Bengals hired an NFL veteran of the huddle and the sidelines Friday when they signed Alex Van Pelt to coach quarterbacks as offensive coordinator Bill Lazor continues his staff overhaul with the fourth change on that side of the ball.
That includes Lazor taking over the job full-time after he was named coordinator two games into last season. But now Van Pelt is here to take over the quarterbacks duties Lazor also had.
Head coach Marvin Lewis also completed his defensive staff when he named Dolphins assistant secondary coach Daronte Jones cornerbacks coach and Lions defensive assistant Matt Raich an assistant under his old boss in Detroit, Bengals defensive coordinator Tyrel Austin.
"We are fortunate to have the coaching staff nearly complete," said Lewis in a news release. "These hires round out our defensive staff and provide another key offensive addition as we overhaul the offense."
Jones teams with safeties coach Robert Livingston returning for his third season, which could beckon a wider role for the 32-year-old Livingston since he's been in the defense since 2015.
Van Pelt, 47, is a former Pitt quarterback very familiar to Lewis who steered Aaron Rodgers through some big years as the Packers quarterbacks coach since 2014. He also coached receivers and running backs in Green Bay since 2012, a stretch the Packers went to the postseason every year until this past year.
"I have known Alex for almost 28 years," Lewis said. "I am excited about the quality of teaching expertise he brings to the role and prior experiences from other teams. I look forward to him working closely with Andy Dalton to continue to raise his level of play."
Van Pelt spent two seasons with the Tampa Bay Buccaneers as quarterbacks coach from 2010-11 and four seasons before that on the offensive staff of the Buffalo Bills from '06-09 that included a brief stint as coordinator. Van Pelt started his coaching career in NFL Europe as the Frankfurt Galaxy's quarterbacks coach in 2005.
The Bengals were aware of Jones as a branch off the tree of Broncos head coach Vance Joseph,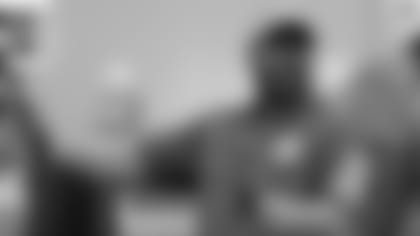 Daronte Jones at work in Miami.
the Bengals' highly-regarded secondary coach from 2014-15 before he became the Dolphins defensive coordinator in 2016. Livingston, who broke into the Bengals coaching staff in 2015 as a defensive quality control/special teams assistant in Joseph's final season with the club, can also be considered a branch.
It bodes well for a smooth transition. Matt Burke, the former Bengals linebackers coach, did the same job under Joseph in Miami before succeeding him as coordinator last year and kept the same system that is pretty much grounded in Cincinnati's scheme.
Bengals scout Steve Radicevic endorsed the pursuit of Jones. He served as UCLA's director of football operations when Jones arrived as a grad assistant under defensive coordinator Chuck Bullough, a member of the biggest tree of all. Bullough's father, Hank, was hired by Paul Brown as the defensive coordinator that helped lead the Bengals to the 1981 AFC title and to the No. 1 ranking in the NFL's 1983 defensive rankings.
"Chuck is a grinder and Daronte stayed late and worked hard," Radicevic said. "He's married to the job. He's a technician. Very detailed. A good evaluator. Good with recruits."
Radicevic was even more impressed when UCLA offensive coordinator Norm Chow became the head coach at Hawaii and took Jones as his secondary coach. He then opted to coach DBs at a bigger level when he went to the Big Ten and Wisconsin, but when Chow called to say the coordinator's job had opened and wanted him back, Jones wouldn't renege on the deal he signed with the Badgers.
That's where Joseph got Jones after one season in Madison and he's been in Miami as the assistant DBs coach for the past two seasons, where the Bengals were impressed with how the Dolphins developed two high draft picks at cornerback. Jones worked with Xavien Howard, a second-rounder in 2016, and Cordea Tankersley, a third-round rookie this year.
Before UCLA, Jones, 39, worked at Bowie State from 2005-09, Nicholls State in 2002 and Lenoir-Rhyne in 2001. He also coached defensive backs for the Montreal Alouettes of the Canadian Football League in 2011 and served as defensive coordinator at two Louisiana high schools – Jeannerette High School in 2004 and Franklin High School in 2003.
Raich, 47, served as assistant defensive line coach with the Lions the past two seasons, as well as defensive assistant/defensive ends in 2015 and defensive quality control in 2014. Raich's NFL experience includes six seasons with the Arizona Cardinals as linebackers coach ('09-12) and defensive assistant ('07-08) and five seasons with the Pittsburgh Steelers as offensive assistant ('04-06) and player personnel intern ('02-03). Raich previously held assistant coaching positions at Duquesne (2013), Robert Morris ('00-02; '96-98), Glenville State (1999) and Westminster (Pa.) College ('93-94). He was also the defensive coordinator for the Hildesheim Invaders of the former German Federal League in 1999.
The Bengals also announced they retained the following coaches:
*         --Jacob Burney, Defensive Line*
*           --Kyle Caskey, Running Backs*
*           --Robert Couch, Offensive Quality Control/Assistant Offensive Line*
*           --Jim Haslett, Linebackers*
*           --Marcus Lewis, Defensive Quality Control*
*           --Robert Livingston, Secondary (Safeties)*
*           --Dan Pitcher, Offensive Assistant/Assistant Quarterbacks*
*           --Darrin Simmons, Special Teams Coordinator*