Alex Van Pelt goes from A-Rod to A. Dalton.
Alex Van Pelt, the Bengals' new quarterbacks coach, has been around long enough that he backed up Hall-of-Famer Jim Kelly in Buffalo and current enough that he was plugged into future Hall-of-Famer Aaron Rodgers' late-minute magic against the Bengals this past season.
In between he once asked the well-traveled Ryan Fitzpatrick early in his itinerary during a long-ago meeting for the Bills if he would just write down one note. Yes, Van Pelt knew how smart he was and how he never made a mental error, but couldn't he just take a note this one time?
"Then he pulled out his pay stub out of his pocket and wrote on the back of it," recalled Van Pelt with a laugh this weekend. "Fitzy is one of my favorites."
Bengals head coach Marvin Lewis has been taking note of Van Pelt for nearly 30 years. That's when Lewis was coaching at Pitt and Van Pelt was in the process of passing Dan Marino as the Panthers' all-time passer. When he needed a quarterbacks coach this season with the elevation of Bill Lazor to offensive coordinator and with Van Pelt and the Packers parting ways, Lewis, along with Lazor, jumped immediately. Van Pelt's varied playbook consisting of quarterbacking nine seasons in the league and coaching in it during the last dozen is a draw as Lazor gives quarterback Andy Dalton, in his eighth season as the starter, a coach to match his experience.
As Tampa Bay's quarterbacks coach in 2011, Van Pelt evaluated Dalton coming out of Texas Christian and graded the total package highly, from personality and makeup to athleticism and throwing ability.
"The stability of the organization with the Brown family with Mr. (Mike) Brown was intriguing. I had a great conversation with him and the fact he's a football guy and loves it," Van Pelt said of his draw to the club. "Coach Marvin is a big part of that and having familiarity with him. Everything you hear around the league is always so positive.
"And having a quarterback that is a good player. When you have a guy that can put you in position to win every game, you have a chance and I think Andy's that guy. You can't teach a guy how to be a winner and I think Andy's always been a winner."
And a guy like Fitzpatrick believes Dalton has a terrific sounding board in Van Pelt. It's the first time Lewis has had a former NFL quarterback in the position.
"I think Andy will be able to learn a lot from Alex just because he's played in the league and he's been able to transfer that to coaching so well," said Fitzpatrick, who spent a tough, rewarding year with Van Pelt in 2009 in Buffalo, his first year after he left the Bengals. "He got promoted to offensive coordinator at the end of the preseason and we both got thrown into the fire and I think he did a great job under really tough circumstances.  He's got a great demeanor. Especially during a game. Nothing ever bothers him. I think you can get a lot out of him because he's got a lot of experience coaching and seeing things as a player that helps a quarterback."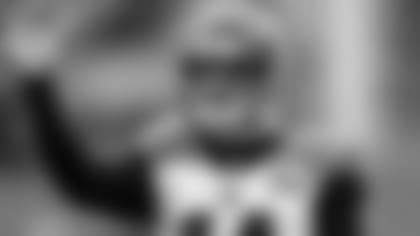 Andy Dalton caught Van Pelt's eye when he came out of TCU.
Lazor stamped his staff with experience when he filled three vacancies, turning to Van Pelt, 47, offensive line coach Frank Pollack, 50, in his 12th season in the league, and wide receivers coach Bob Bicknell, 48, in his 11th. Tight ends is the one spot yet to be defined after running backs coach Kyle Caskey re-signed.
Lazor and Bicknell are re-uniting after their 2013 season with Chip Kelly's fast-paced Eagles and Lewis and Lazor have been talking this offseason about how comfortable Dalton looked late in the year running an up-tempo offense. Van Pelt knows what that's all about. He ran the 'K-Gun," as a Kelly backup in Buffalo in the '90s, a direct descendant of Bengals head coach Sam Wyche's '80s no huddle. Thanks to Wyche and Kelly, every team has a form of the up-tempo stuff and Van Pelt and Rodgers were able to use it on nearly half the plays in a 75-yard TD drive that took just 3:29 to tie the Bengals with 17 seconds left back in September that paved the way for Green Bay's overtime win.
That's definitely a fit when it came to Lazor looking for a partner.
"It gives the defense less time to communicate, usually simplifying their calls. If the quarterback is comfortable with it, you can really simplify what you're going to see against you," Van Pelt said of the up-tempo. "We did it in Green Bay. If the quarterback can handle it and I think Andy would be great at it, you can definitely use it as a weapon.  There are benefits to it. It's a whole different language at the line of scrimmage. It's fun. I always liked it."
Van Pelt also loved the four seasons he worked with Rodgers, especially since the Packers went to the postseason every year but this last one.
"You're talking about one of the best to ever play," Van Pelt said. "Just watching how he got ready to play each week both physically and mentally. Each offseason was a challenge for him. Finding ways to take a guy that's won Super Bowls and won MVPs and continue to find ways to challenge him, to keep him improving and engaged, that was the fun part about working with Aaron. His intellect for the game combined with his ability to make plays all over the field is a great experience."
Van Pelt is still close to Kelly and attended his daughter's wedding this weekend in Buffalo. He still talks the game like the kid who came within 10 yards of throwing for 400 yards against both Maryland and Rutgers as a senior. He thinks his experiences help him coach. Whether it's showing Dalton some technique in footwork he knows is tough because it was tough for him, or which pressures gave him the hardest looks, or which routes worked best against which coverages.
"That gives you a little bit of help as a coach that you're speaking from experience," Van Pelt said.