Bengals head coacch Marvin Lewis doubts tight end Ben Utecht (sternum) can play Sunday in New York, although he has no fractures. Safeties Dexter Jackson and Herana-Daze Jones are out again. Cornerback Johnathan Joseph is iffy with a sprained ankle. Quarterback Carson Palmer also has a sprained ankle but Lewis indicated he's OK.
Utecht said he felt worse Monday morning and has been told the injury takes two to three weeks before the pain subsides enough to play.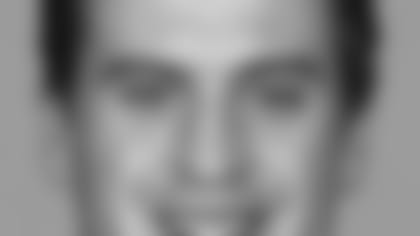 "The adrenaline finally settles down and you wake up the next day and everything is pretty sore," Utecht said.
The Bengals have a variety of options, although none that meet Utecht's skills as a receiver.
Fullback Dan Coates joked that he is now a "tight back," or a "full end." Coats, a converted tight end that made his second start at fullback Sunday, had to play both when Utecht got hurt on the first play of the game.
Coats only played tight end when he was paired with Reggie Kelly, which meant the Bengals went double tight ends far less than they had planned.
They could make Coats a tight end and promote fullback Reagan Maui'a from the inactive list for Sunday's game in New Jersey against the Giants. Signed two weeks ago after the Dolphins cut him, Maui'a actually has more NFL experience than Coats at the position. He started nine times as a rookie last year and played in all 16 games for Miami.
"They haven't said what they're going to do yet," Coats said.
Or, the Bengals could promote tight end Nate Lawrie from the practice squad, but they would have to cut somebody to make room.
"They haven't told me anything," said Lawrie, who says he's no longer catching grief from his teammates.
Lawrie re-signed with the Bengals last week after spending the week before the opener in Baltimore on the Ravens practice squad.
The thinking was that the Ravens paid him above the $4,700 squad minimum for his Yale knowledge of the playbook, but he said he couldn't help them because he was cut before he saw the game plan.
"It's all good now," said Lawrie, who looked good in the preseason and had five catches for 48 yards that included a 30-yarder in his hometown of Indianapolis.
"I'll be ready to go if they need me."
SLANTS AND SCREENS Chris Perry is certainly getting the work. His 21 carries Sunday topped his career best of 18, set the week before in Baltimore when he doubled his previous best.
But while he looks good on some bursts, he's only at 2.7 yards per carry and he has been talking about getting the rust out of his cuts. He is a guy that is playing for the first time since 2006 and it shows at times.
"I think he has been getting better. He is going to need time to get things back to normal," Lewis said. "He has to let things happen in front of him, and he did that a lot yesterday. He has to let the thing read out and go. That's what (running) backs do, and the more he plays the better he'll get." The Bengals weren't the only team struggling Sunday to get people on and off the field. The Titans only had 10 men on the field during Perry's 13-yard touchdown run.
And Lewis insisted Monday that the key 12-men-in-the-huddle call against the Bengals was wrong. It turned kicker Shayne Graham's field-goal attempt into an improbable 37-yarder into the teeth of a veritable tornado. Rookie linebacker Keith Rivers had a solid game from scrimmage but he was wishing he had back the Titans' blocked punt in the end zone for a touchdown.
Matched up against Tennessee linebacker Keith Bulluck, Rivers said he should have stayed on his block longer.
"I've got to hold up my guy longer," said Rivers, who no doubt saw few 6-3, 235-pound guys like Bulluck leap and bat down a ball while playing special teams at USC.