Cody Core was one yard and one catch from matching Marvin Jones' rookie output.
If you're the Bengals.com Assistant Coach of the Year this week, you are miserable.
After working seven seasons for Andy Reid in Philadelphia, James Urban is heading into his seventh season coaching Marvin Lewis' wide receivers in Cincinnati and that means this is just the third time he hasn't been to the postseason.
"It's awful," Urban says. "I don't know what to do. My body and mind are still in mode. My wife doesn't know what to do with me. It's awful."
There is plenty to do, of course. On Tuesday Bengals president Mike Brown chaired a meeting involving Lewis' staff, the personnel department, and ownership in which each position coach stood up and gave a report on all his players.  It is the infant stage of director of player personnel Duke Tobin integrating the coaches into his effort of re-stocking the roster that culminates with late April's draft but takes place all year long in college scouting trips and constant monitoring of available veteran free agents.   
"The first thing I do is take real critical look at the personnel at my position," Urban says. "Where they improved. Where they need to improve. What they're good at. What they need to get better at. We do it quite a bit before the season, but this is the first time everyone in the building hears what your thoughts are at the position at the end of the year."
His thoughts are the state of the union is …. not so much good, but "encouraging."
"In this league if you stay status quo, you get passed fast," Urban says and that seems to be the view from the outside, too, where the need for a take-off-the-top speed receiver to pair with A.J. Green is listed as an important, if not high, priority.
Next week Urban gets the list of prospects headed to the Senior Bowl in Mobile, Ala., at the end of the month. He'll get the week after that off and then he and the rest of the Bengals coaches convene in Mobile to watch the first couple of practices at an event that has mushroomed from an informal backyard grill-out of NFL coaches and scouts into a sprawling job fair encompassing media and fans.
Once he gets that list of players and their evaluations from Tobin's staff, Urban watches game tape of their seasons just past so he can begin the winnowing of the names. But there is always a familiar figure with him.
"If it's not there on the tape, it's not going to be there," Urban says. "When I start looking at the guys in the draft, my mindset is I ask myself, 'Is this guy better than A.J. Green?' We may or may not get that guy, but that's where you have to start.  I haven't seen that guy yet, but that's where you have to start."
Green is coming off the best season of his six years in the league, a run that coincided with Urban's arrival in 2011. A partially torn hamstring limited Green to nine supersonic games and he turns 29 the week training camp opens, but Urban believes his physical prime is not only beckoning. He sees Green entering that rare realm of taking people with him.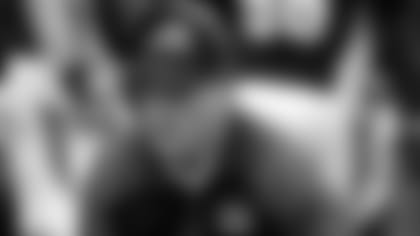 Wide receivers coach James Urban thinks his three rookies can form a special class.
"How many times did you hear him say it this season? 'We go as I go,"' Urban says. "Part of it is he just took over. He just knew what he had to do with the influx of new players.  He's at that point where he knows where he's at and he takes ownership of it. That's what you want out of your marquee guy."
The early word is the Bengals want to re-sign Brandon LaFell, the veteran wide receiver who delivered such a solid 64-catch season. And that's just fine with Urban, who doesn't need a stat sheet to tell him the value of the man they call "JoJo,' for his middle name of "Josiah."
Urban doesn't even need to see tape of LaFell's 862 yards that filled the Marvin Jones void. Urban prefers to re-wind to a Wednesday late in the season when Green was hurt and James Wright was iced again with the knee he had to rest for many practices this week.
When LaFell didn't go to that morning's walk-through because he was nursing a bruised heel and bruised knee that left Urban at the afternoon practice with just practice squad receivers Alonzo Russell and Jake Kumerow for the scout team and rookies Tyler Boyd, Cody Core, and Alex Erickson for the first team work.
But when Urban showed up at the field, LaFell was dressed and ready to go.
"I said, 'Hey Joe, what are you doing?"  Urban says. "He says, 'These guys can't do it all themselves. I've got to practice today.' But I said, 'You could hardly walk.' He said, 'I'll be all right,' and he made it through practice. He gave us a great look. All he cares about is winning games. Whether it's going inside the tight end to block the safety or with the ball in his hands all he cares about is winning."
Which has been terrific for that trio of rookies to see. And Urban is used to rookies. In '11 he had two regulars in Green and Andrew Hawkins and in '12 the drafts of Marvin Jones and Mohamed Sanu solidified the group. Now that Urban did his job well enough so that all four have secured mega second contracts, he's starting again.
"I told these guys they've got a chance to become a very special class,' Urban says. "They come in all shapes and sizes with different styles. They're all for each other every day out there in practice and that's great to see. They've just got to keep that going."
Don't look now, but Boyd, a second-rounder, caught more balls than any Bengals rookie wide receiver but Green in the last 35 years. In 262 snaps Core, a sixth-rounder, quietly caught nearly as many balls and yards (17-200) as the rookie Jones (18-201) did in 366 snaps and more than the rookie Sanu (16-154)  did in 209 snaps.
And Erickson, undrafted out of Wisconsin, chipped in six catches for 71 yards. Not remarkable at first blush. But he did win the AFC kick return title while having a more productive rookie receiving season than Ryan Whalen (sixth-round-2011), Cobi Hamilton (sixth round-2013), James Wright (seventh round-2014), and Mario Alford (seventh round-2015).
"He's one of those guys he's a just a little bit faster, a little bit quicker, a little bit tougher than you think," Urban says. "He's just a good football player. He's got that choir boy look about him. Walked on at Wisconsin. Played quarterback in high school. Tough kid. He didn't have one kick return at Wisconsin and he's what? In the NFL's top two? That's pretty good. And he's a guy that played all three (receiver) spots and did it well. You just say 'You're X," and he's gone, you don't have to worry."
It's too bad that the last thing people remember about Boyd's rookie year is his gaffe when he failed to get out of bounds in the last minute of the half against Baltimore. Urban told him he was embarrassed to have one of his players commit such an egregious faux paus. It was so uncharacteristic for a kid who usually plays with five-year maturity.
"Ridiculous. But he knew it right away," Urban says. "He has great natural instincts and strong, strong ball skills. A real natural catch. He knows when he's open and he can uncover tight coverage."
Boyd's biggest charge for next season is to continue his improvement in the running game. His blocking was lackluster, at best, at the beginning. But Urban is enthused with how he embraced the role more and more as the season went.
"There's no way you can play in the slot that much (about 700 snaps) and not get involved in the run game. It's the zone right next to you," Urban says. "You figure he just hasn't had to do it very much, either. I mean at Pitt (in college), they did everything to get him the ball. They threw it to him, tossed it to him, handed it to him, had him throw it. When he didn't have the ball, he was probably just trying to catch his breath."
They're supposedly looking for a deep threat, but Urban isn't going to sell the 6-3, 210-pound Core short. He says he's in the mix to be that Green running mate and says he's got a rather high ceiling with speed and size. Not to compare, but his ability to separate compares to Green's tag-team partner of three of the last four years in Jones.
"Marv's first 10 steps are very explosive,' Urban says. "CC is more of a speed builder. He gets those big steps going and he can roll. And he's strong, strong."
And Urban says Core has been more than fine with his book.
"I can always tell when the guys are in their playbook away from the building," Urban says. "They'll come back and ask you, 'But what if this happens?' He does that all the time."
A good year. Some good finds. But not enough. At least not enough to be working this week.
"You have to be consistent to get in," Urban says. "I still haven't decided if I'm going to watch the Wild Card Games. I haven't done that in a long time."