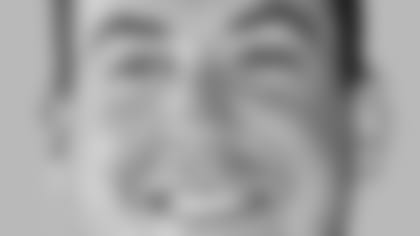 GEORGETOWN, Ky. - The Bengals suffered a scary moment at Monday morning's practice when they watched an ambulance drive on the field and take tight end Sean Mulcahy while strapped to a stretcher with a neck injury.
But by the time the Bengals practiced Monday night, Mulcahy was back at camp resting comfortably and ready to meet Tuesday with club doctors about his neck/spinal injury. He's expected to have a full medical recovery but the continuation of his career will no doubt be discussed.
Just about 90 minutes after a horrific scene in which Mulcahy collapsed in a heap and didn't even twitch while being attended at about the 20-yard line, Bengals public relations director Jack Brennan reported Mulcahy was joking and conversing with nurses at the University of Kentucky Trauma Center.
By then he was moving all his extremities.
The Bengals were running a blocking drill in full pads out of a half line of scrimmage. After the drill, head coach Marvin Lewis called the team together in a huddle and told them the first indication was that the news on Mulcahy looked encouraging.
Defensive end Justin Smith wasn't in the drill, but saw Mulcahy trying to block down on rookie defensive end Bryan Andrews.
"It wasn't much of a collision, but it looked like he got his head pinched a little bit," Smith said. "Necks are a weird thing, and it was a 260-pound guy that hit him. It's part of the game. You hope it doesn't happen. It's unfortunate, but you just hope he's going to be all right."
Mulcahy, 25, played defensive tackle at the University of Connecticut and has been in and out of the league since 2004 without playing in a game. During this past season in NFL Europa, he caught 16 passes for 150 yards and two touchdowns after singing with the Bengals the week after this past season.
Also Monday, quarterback Carson Palmer didn't practice but is expected to work in the Monday night session. With Palmer still only about a year-and-half removed from reconstructive knee surgery, the Bengals are apparently making sure he doesn't overdo it.
Quarterbacks coach Ken Zampese said Palmer spent the morning working with strength coaches Chip Morton and Ray Oliver.
"Get him working on those parts of the body that get ignored," Zampese said.
Also Monday, converted defensive end Eric Henderson made the play of the morning at the linebacker spot on a leaping grab to pluck an interception at the top of a big jump.
"Ed Hartwell made a good play," Henderson said of the other outside backer. "He picked up my man (tight end Reggie Kelly) and I was able to drop into coverage."
BROOKS CUT: Just before Monday's practice the Bengals waived cornerback Greg Brooks. Brooks, healthy enough to play in only 16 games in three seasons, failed a physical and he never made it to camp this season. A sixth-round draft pick in 2004 out of Southen Mississippi, Brooks always impressed the coaches with his man-to-man skills, but he could never stay on the field.