Head coach Marvin Lewis likes the off-season moves.
ORLANDO, Fla. - For once, Marvin Lewis and Hue Jackson appear to be happy at the same time.
They hugged when they saw each other at Sunday's first day of the NFL meetings and Lewis kidded him, "Now I get two-word texts and the phone doesn't ring at 6 a.m. Things must be good."
Jackson, head coach of the re-stocking Cleveland Browns, nodded and said they are. And Lewis is delighted with the start to his 16th season as Bengals head coach.
"From the time the season ended in Baltimore until right now," Lewis said. "As far as the coaching staff and players, I feel really good about what's been done. Our people did an outstanding job of getting those things done and fitting everything in."
Where to begin? Lewis starts with re-upping tight end Tyler Eifert for a year and loves the trade for Bills left tackle Cordy Glenn. Lewis had plenty of recommendations on Glenn since he polled former Georgia Bulldogs now Bengals like wide receiver A.J. Green and left guard Clint Boling.
"He's experienced. He's athletically so talented," Lewis said. "Everyone I checked in about him, including guys who were in the huddle with him in Georgia and Buffalo, they all had similar positive comments about him. And the fact he's excited about a new beginning with guys he's very comfortable. He was a roommate of A.J.'s early on and played next to Clint."
And then there's Glenn's former Buffalo teammate, middle linebacker Preston Brown, the NFL's defending tackling champion who grew up in Cincinnati. Go back to a month after the season and Lewis in his office with son Marcus, the linebackers' new assistant coach.
"That's the first guy I looked at in the offseason and to be able to get him in here is great," Lewis said. "Big heavy-handed guy. Just what we're looking for. I feel good about that. Smart. You like everything about him … His play-making ability, what we're looking for, is exciting. It was a good fit."
They have a good enough relationship that when Lewis called him after he signed, Brown said, 'Hey Coach, this is going better than the last time I saw you.' Lewis had to laugh.  That was four years ago when the Bengals hosted their local day for draft prospects that either grew up in Cincinnati or went to college there. Brown, a Cincinnati Northwest High School product, didn't work out and Lewis gave him a piece of his mind because two years before St. Xavier High linebacker Luke Kuechly was banged up and still worked out for them before being taken in the first round by Carolina.
"You remembered," Lewis told him. "That's OK, I've got amnesia."
But Lewis hasn't forgotten the two guys the Bengals signed before the onslaught two weeks ago. They picked up two former starters in Giants right tackle Bobby Hart and Tampa defensive tackle Chris Baker even though recently both were let go by their teams under a cloud of controversy emanating from the locker room.
But in his 16 seasons Lewis has made one of his signature moves reviving the careers of seemingly done and controversial veterans with a change of scenery. He points to Hart and Baker following in the footsteps of guys like defensive end Duane Clemons on his first Bengals team.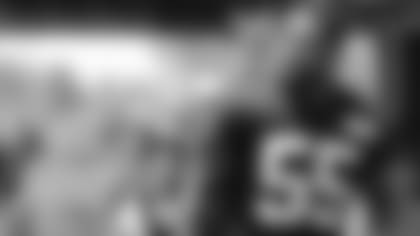 Lewis is looking for Vontaze Burfict to lead despite his unknown status.
"Everybody gets into emotional situations with the team they're on," Lewis said. "Different things happen.  How much does a guy play or doesn't play. Whether he was injured or not injured. We don't have to worry about that.  This guy gets a chance for a fresh start and be judged on his own merits. That's part of the NFL with 32 teams and 53 guys moving around all the time. You have to constantly look to add veteran depth and competition.
"They're a couple of veteran players that can uplift us and make us better or spur on young guys to play better. It gives us great veteran depth, guys who have played a lot of football in the NFL, and it gives them an opportunity to get their careers to sky rocket like last year with (current Browns defensive lineman) Chris Smith and what we've done over time."
Lewis has his own controversy maker in WILL linebacker Vontaze Burfict, but he's not urging a change of scenery. Quite the opposite, even though Lewis says it's likely for the third straight year Burfict is going to start the season on the suspended list as he faces a four-game ban for testing positive for PEDs that he is appealing.
"The biggest thing is Vontaze wants to be held in high esteem. You have to keep earning that and he's enduring a setback and he has to get over that and get back to football and being a leader," Lewis said. "He and Andy (Dalton) have to lead the team. That's important that he's able to do that and get going. I guess fortunately or unfortunately he's been able to come out of missing the first part of the season and he's pretty good hitting the ground running. He likely has another opportunity to do that again.
"But it doesn't hold us back," Lewis said. "It's like we have a 54th guy and we'll gain him at some point. I had a good talk with him after the season and it's time to go be great. And being great entails a lot of things."