*            Bill Willis and Paul Brown teamed up to help break pro football's color line.*
They were 12-year-old Mike Brown's idols and 1980s pioneer Jim Anderson's role models and Canton's Hall of Famers.
But, like the title of jazz aficionado Bill Willis' favorite song that wafted through the late 1940s, time after time they were simply Paul Brown's players.
"I want to leave you with an African proverb,' says Bill Willis Jr. "Until the lions have historians, tales of the hunt will always glorify the hunter."
Score one for the Lions and not the ones from Detroit that got blown out by Brown, Willis and Marion Motley and the rest of the Cleveland Browns in the 1954 NFL championship game.
Start with Emmy award winning producer Ross Greenburg, then go to Paul and Mike Brown, and then go to family members such as Bill Willis Jr., and brother Clem, the sons of Bill Willis. And you'll find Forgotten* Four: The Integration of Pro Football, *the riveting documentary that premiered Tuesday night on EPIX with Bengals founder Paul Brown at the center of one of the game's seminal moments.
Because professional football was right there with sword swallowing and roller derby in the days after World War II when baseball dwarfed the sports landscape, Willis and Motley were footnotes to Jackie Robinson. They, too, broke the color line, but a full year before Robinson when former Ohio State coach Paul Brown signed them to a new league called the All-American Conference and a new team named after himself. The Cleveland Browns. Not only that, in that same season on the West Coast, the Los Angeles Rams of the establishment NFL also signed two African-Americans, Woody Strode and Kenny Washington.
Greenburg weaves reminisces of family members and former players as well as observations of Clem Willis' historians to shine the flashlight he used to use on HBO's Hard Knocks into the nooks and crannies of a largely untold story.
Maybe it was never told all that well before because guys like Paul Brown and Bill Willis just never had much to say about it.
"My father never saw himself as a racial pioneer. He never took any credit. Never said anything to anybody about it," says Mike Brown, the 79-year-old president of the Bengals. "Not to them. Not to anyone in the family. I never heard him talk about it until he was about my age now and we were driving over to Indianapolis to the (NFL scouting) combine. He was talking about the days he coached high school in Massillon and then drifted to when he went to Cleveland. When it came to Bill and Marion, he just said he hired them because it was the best thing for the football team."
Everyone knew Dodgers president Branch Rickey was behind the Robinson signing. It was baseball, the national past time, and Rickey one of the great evangelists of the game. Paul Brown, a more taciturn, teacher type, had such great regard for him that when Rickey moved to Pittsburgh and he called Brown about managing the Pirates, Brown actually went to talk to him about it.
"My father was still coaching the Browns and I think because baseball was bigger than football, Rickey thought my father would be interested," Mike Brown reveals. "My father told him, 'I don't know anything about baseball,' and Rickey told him, 'We've got people around here who know Xs and Os. You don't have to worry about that. We're looking for leadership, someone to set the tone."
Brown said no thanks and we're left to wonder what the Brown-Rickey juggernaut might have accomplished on the field. We know what they accomplished off the field. It took Congress 20 years to replicate it and even now as the events in Ferguson so recently showed, pockets of America are still trying to get their arms around it.
"Paul Brown was ahead of the curve," Clem Willis says. "I recall stories about him sending his people ahead when the team, went on the road so my father and Marion Motley would be able to not only stay in the hotel but come through the front door like everyone else.
"There were times they'd be told they'd have to come through the kitchen, or go in at the loading dock, or not be seen in the lobby. Paul Brown would say, 'We're not staying here.' Paul Brown knew how to take care of his players. He was about family. He was about relationships."
You know Greenburg must have got it right because Jim Anderson came out of a special screening of the movie smiling about the P.B.isms he heard coming from the Willis and Motley children. About getting a square deal or a square shake or playing in the spirit of the game.
"I could relate to what they were saying because I was thinking, 'I've heard that before,'" Anderson says. "(Brown) never said anything about it. It was business as usual. He knew about it and you read about it."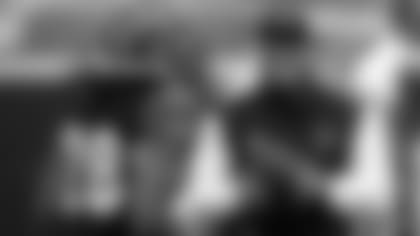 Jim Anderson became one of the NFL's first African-American assistants when Paul Brown hired him in 1984.
Anderson became another first when Brown hired the 35-year-old Stanford assistant as his first long-term African-American coach to oversee the Bengals running backs. When Anderson retired three decades later, he worked for an African-American head coach and was replaced by an African-American who would become offensive coordinator this year, when there are seven African-American assistants.
"I knew who those gentleman were,' says Anderson of the Forgotten Four. "But I didn't know the details.
"I was glad the movie was made,' he says. "My favorite part was seeing how special those guys were enduring not only the physical abuse, but the mental abuse. They had to be special people with that mental toughness."
Maybe Anderson didn't have to go through that kind of physical and mental abuse. But he had to wait to help blaze a trail in his own right because there were so few minorities coaching in the NFL in the winter of '84, four years before Doug Williams became the first African-American quarterback to win a Super Bowl and five years before Art Shell became the first African-American head coach in the modern era.
But, like Brown, Anderson doesn't view himself as a pioneer.
"You don't think about that when you're doing it,' Anderson says. "All you want is an opportunity. And then what counts is what you do with that opportunity. That's all those players wanted."
Paul Brown coached Willis at Ohio State. He coached Motley in the Navy. They were naturals. No brainers. While Strode and Washington didn't play very long, Willis and Motley became linchpins and Hall-of-Famers.
"What I'm proud of my father for doing is it was done for the right reasons," Mike Brown says. "My dad hired them because they were the best players. He had coached them in college, in the military. He knew them, he knew it was the right thing, and he didn't care if anyone else didn't think it was."
In 1947, when Willis and Motley had been joined by Horace Gillom, a Massillon product, Mike Brown was oblivious to the outside pressures as any junior high kid would be. When the rest of the Browns had a night off at training camp and hit the town, the three African-Americans stayed on campus. Brown didn't realize then there was really no place for them to go. All he knew is that if he snuck into the dorm without his father knowing, they would give him the thrill of his lifetime and let him play Hearts with them.
The object was to stick Motley with one of the Queens, sending him into fake rage.
"Years later those guys remembered that and, of course, I'll remember it until the day I go," Brown says.  "They were my heroes. They were nice to me when they didn't have to be. That cemented my respect and admiration for them. I've always been grateful for how they treated me."
The Willis kids heard the same stories. How Bill Willis was one of the few people Paul Brown would let watch a Bengals game with him in his box. Both Browns were fond of Willis. "Just his character, his demeanor. A really pleasant guy," Mike Brown says. And the Willis kids were just as honored when Paul invited their parents to his box to watch the Bengals first Super Bowl in Detroit.
"That was the greatest compliment," Bill says. "He couldn't take all his former players, but Dad was the one he took."
When Mike Brown delivered an exhibit honoring Willis to Cincinnati's National Underground Railroad Freedom Center in 2006, he invited Willis and his family to his box for a game and Clem Willis was struck how Mike Brown got along with his father.
"They just seemed like old school kids laughing and joking because Mike used to hang out with the fellas during camp and that made for lifelong friends and relationships," Clem says. "They were his heroes, I suspect…It's just the stuff movies and dreams are made of based on love, respect, and admiration."
Nearly seven decades in the making, this movie is like the players it re-discovers. It's not going away.