Fifth-round pick C.J. Uzomah is one of many intriguing rookie Bengals tight ends.
John Peters may be the closest we'll ever come to finding a good-old-fashioned-1950s-diamond-in-the-rough during the information age's 21st century of no-gemstone-unturned.
Clif Marshall took a look at Peters' long hair and beard and has some advice.
"I don't know if you're going to make the NFL," Marshall joked once. "But if you don't, we ought to try the WWE."
But it's more like DVR.  "Invincible," challenges "Rocky." Or Jerry Maguire meets Kevin Costner. It is "Hard Knocks,' and "American Idol," rolled into one Bengals roster spot at No. 48.
Here's a Div. III player whose agent is also the assistant professor from whom he took a sports management class during the fall semester at Mount St. Joseph. Here's a Cincinnati guy through and through (a Lakota West High School quarterback and a wide receiver at The Mount) who had Carson Palmer and Chad Johnson Fatheads in his bedroom as a middle schooler. Here's a guy  that not only won a roster spot with the Bengals earlier this week, but here's a kid that lined up as a tight end for the first time ever in an NFL rookie minicamp last weekend.
Not only that, here's an NFL prospect who had absolutely no shred of a recorded measurable during the process and paid $5,500 out of his own pocket to train. A 40 that didn't move, a vertical that stood flat-footed, a rep that didn't start. A blank slate of who, what, and where. Unthinkable today when even a reporter has to give his cell phone number to get in to cover the NFL scouting combine. "Andrew Whitworth-like (long) arms," Marshall says. But there is no recorded measurement.
So on Sunday when Bengals director of player personnel Duke Tobin called Marshall to tell him they had signed Peters, Marshall couldn't hold his glee.
"Ecstatic," says Marshall, the director of Ignition Performance in Mason, Ohio. "I know how hard he worked and how much it meant to his family and it was really a great moment for him."
Never had Ignition had a Div. III player hook on an NFL roster after a tryout camp. It was fitting that Marshall was there at the end because he was there at the creation.  When Peters, a sports management major, went looking for an agent after his senior year ended in injury, he approached Dan Yost, chairman of The Mount's Department of Sports Management. Yost, who is also a certified NFL Players Association agent, walked him through researching an agent and then sent him to Marshall and his gym, a proven spot where Yost and several other agents have sent prospects to train for successful combines. Yost's initial consult was good enough and Peters signed him.
Then when Peters and his mother walked into his office for an interview in December, Marshall's heart did a 4.4 40. He knew this was a Div. III player changing positions and he wanted to keep his class small. That was a major selling point to the big boys. A class of 16. And could Peters even pay for it?
"The players that get drafted and even the free agents, they have agents paying for everything. Airline tickets. Rental car. Hotel. Training," Marshall says.  "The average agent ends up paying $10-15,000. Nobody paid that for John."
If that didn't sell Marshall on the kid, this did. He tried to find a way Peters could finish school and still train for the pro day at the University of Cincinnati in early March. But Peters politely cut him off.
"No Clif,' he told him. "If I'm going to do this, I'm going to do it all out. It's going to take all my time and focus. I want seven days a week, every drill and every rep you can give me."
Peters and his family not only shelled out the $5,500 (he stayed with them in West Chester so there were no rental cars, or airline tix, or hotels), but he was true to his word and the devotion allowed him to put on 17 pounds to get him to 265 from December through March.
"And he was all of 6-8 and that was intriguing," Marshall says.
Peters: "I never dreamed it would be with the Bengals, but I always had it set in my mind to play in the NFL. I worked really hard to get to this point. It's crazy I made it this far."
But it all came crashing down a week before the pro day at UC, where after 10 weeks of busting it he would finally get a chance to be timed and scrutinized by NFL scouts.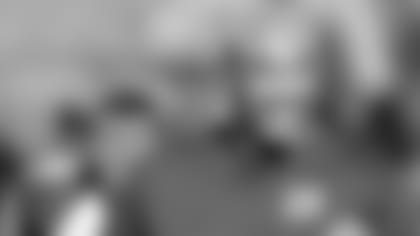 Bengals tight ends coach Jon Hayes, a 12-year NFL vet of the position, is checking out a long, tall rookie class.
Yet the only way he could get there was by limping because he suffered a severe calf strain and that looked to be it. No measurables. No shot. But luckily, Marshall had already timed Peters' mock combine and recorded the video he would send to every NFL team. So he grabbed his iPad and Peters, wearing an Ignition sweatshirt, and roamed the sidelines at the pro day looking for the scouts.
When he saw one, he would introduce Peters and bang the button on the iPad to display Peters racing through a 4.68-second 40, repping 225 pounds 27 times, and broad jumping 10.5 feet.
Those would have been top scores for tight ends at the combine and, as it was, for the most part, he bested the two Div. I tight ends the Bengals ended up drafting, Rutgers' Tyler Kroft in the third round and Auburn's C.J. Uzomah in the third.  Kroft ran 4.75, repped 17, and broad jumped 10 feet. Uzomah topped him in the 40 at 4.62, but not in the bench (19) or the broad jump (9-10).
Kroft's combination of catching, blocking, and experience, made him the Bengals' No. 1 tight end prospect. Uzomah has much more experience than Peters, but both have interesting measurables and size.
Marshall figures he showed six or eight scouts the iPad, but the key came when he ran into the man that ran the workout, Bengals East Coast scout Greg Seamon, and asked if Peters could be invited to the Bengals local day in five weeks, where the club is allowed to bring in up to 30 players that played high school or college or both in the Cincinnati metropolitan area.
Seamon gave it the go-ahead and after they got a look at him, they planned to bring Peters to the rookie minicamp to see if he would stick. Even after drafting Kroft and Uzomah and signing Eastern Kentucky's Matt Lengel as a free agent.
"He's got NFL traits" says Bengals position coach Jon Hayes, an NFL tight end for 12 seasons. "The two big things are his speed and size. You have to look at that. But it's going to take time since he's never played the position. He's a project. This is a long road."
That means Peters is simply trying to get through to the practice squad. He hasn't been in a three-point stance since the Pee Wee days of the Tomahawks in West Chester when he played tight end and defensive end before he graduated from high school as a 205-pound QB. After turning down a preferred walk-on offer at UC, Peters enrolled at Urbana College, didn't like it ("It was out in the middle of nowhere") and came back home to The Mount. Early in his first camp there, they moved him to wide receiver, where he caught nine TDs in his last season.
"I was impressed by his hands. They just lined him up on the outside and threw it up in the air to him," Marshall says.
Peters ended up being impressed by his hometown team.
Former Bengals guard Bobbie Williams, who tutored the offensive linemen for Marshall, spent some one-on-one time with Peters teaching him blocking fundamentals. The man who blocked for Palmer and Chad was teaching him.
"To be able to be mentored by Bobbie, I was star-struck for a little bit," Peters says. "I not only knew him from those teams I followed, but I remember when he went to the Ravens and got a Super Bowl ring. He helped me so much."
At Ignition, Peters bumped into other guys he'd been cheering for on Sundays, such as linebackers Rey Maualuga and Vincent Rey and nose tackle Domata Peko.
"I'm excited about him, he gets after it," Peko says. "We were pushing each other and competing with each other. When we were running drills it was like, 'Man. Dude. We can use this guy on our team.' He's like an AFC North tight end.
"Big and strong. I heard he's a receiver, so you know he's quick and can get in and out of his routes.  He works hard in the weight room, so it looks like he can do some blocking."
Peters is being asked these days about the little boy whose bedroom was a shrine to the Bengals. Carson. Chad. Rudi.
"To be up at Ignition with those guys, that eased the transition. Great guys,' Peters says. "Then you come in here and I'm a big fan of Jeremy Hill. Andy Dalton came over to say hello and that was nice. A.J. Green, of course. It's surreal. It really is. Just being in the same locker room and the same weight room with these guys. It's awesome. It's a blessing."