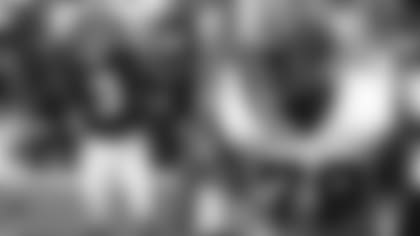 Jim Breech (left), Anthony Munoz (center) and Boomer Esiason have all enjoyed previous success with the Bengals.Norman Julius Esiason is pumped and that means everybody else has to be pumped if Boomer Esiason is pumped.
"Who Dey," Esiason crackles through the phone. "How about those Bengals? It's great isn't it?"
The Boys of Riverfront are enjoying it again. The last men to lead the Bengals to 3-0 are all eyes and ears as Bengaldom gathers on the river Sunday to drink the Marv-ade for the 13th straight Paul Brown Stadium sellout on a day they hope takes this franchise to where it hasn't gone since the '80s met the '90s on Fountain Square.
From Esiason's CBS studio to David Fulcher's memorabilia shop in Kenwood to Jim Breech's commercial insurance business that takes him all over.
"All the older guys ever wanted for the young guys who were playing is for them to get to experience how great it is in this city when the team is winning," Breech said.
"It actually reminds me more of '88 than '90," said Esiason of his MVP season that didn't end until 34 seconds left in the Super Bowl. "The way the offense goes down the field and the way the defense jumps on turnovers and gets field position, it's pretty similar."
No question, Esiason said. Carson Palmer can be better than him and he's showing why. Meanwhile, Esiason is rolling out more memories than Casey Kasem.
Last Sunday as the Bengals kept it going in forcing six turnovers in Chicago, Esiason invoked in studio the nickname of the secondary from yesteryear - "The SWAT Team." Fulcher, the Pro Bowl safety of that group, heard from a friend that Esiason had told the nation that rookie middle linebacker Odell Thurman "hits like Fulcher."
"That means a lot," Fulcher said. "Those guys are playing great back there. They're fun to watch. They're a lot deeper than we were."
1990 was the last time we were here and it was that season more than the '88 magic carpet ride that showed what was built in the mid-1980s through extraordinary drafts was truly great.
Because if the faithful sees this 2005 season as a beginning of another golden era, '90 was the last gasp of greatness in ending a three-year run of 29 victories and two division titles.
"There were signs it was at the end," said Solomon Wilcots, the do-it-all safety for the bring-it-all defense. "That was the year we lost Max (Montoya) and when you let a great player like that walk away and get no compensation, that shows you the erosion that started to take place."
Former right tackle Joe Walter doesn't go to the games any more, quitting his seats in disgust during the 2002 season. But he does radio and TV commentary around town and tunes in every Sunday.
"This is the start of a new era," Walter said. "Because this is the year that Marvin finally has all his players and what he wants in place."
The departure of Pro Bowl guard Max Montoya via Plan B free agency right before the '90 season was the beginning of the end in many minds. It was more complicated than that (the Bengals thought they had him locked up), but suffice it to say the heart of the Super Team had always been its offensive line. And the soul had been its secondary and when Pro Bowl cornerback Eric Thomas tore his anterior cruciate ligament playing basketball and was lost until December, the cracks began to show even as the Bengals broke to 3-0.
"We started to lose games in goofy ways, and we lost some games at home we should have won and that's what happened the next year," said Thomas of the 3-13 season in '91 that ended it all. "We went out to Los Angeles for the playoffs and lost to what I thought was a very average Raiders team."
Thomas, now a sports talk show host on Cincinnati's 1430-AM The Buzz, returned in time to play in the Bengals' last playoff game, that 20-10 loss that got away in the fourth quarter when Thomas ended his courageous comeback by gambling to pick off quarterback Jay Schroeder on third-and-19 and failing.
"We were just trying to hang on," said Breech, the kicker who never missed in overtime. "That '88 team, we just blew people out and going off to 6-0. (In '90) you figure we finished 6-7, but we had so much adversity and we just had great leadership that kept it together."
It was the grit of guys like Thomas that Lewis wants to bring to this team, and that last day in L.A. summed up the 9-7 run to the AFC Central title.
Pro Bowl running back James Brooks was iced with a broken hand. Anthony Munoz, the Hall of Fame tackle, was out with his bad shoulder. Ickey Woods, a 1,000-yard phenom before he blew out his knee, was playing on one leg. Esiason and half the team were sick with food poisoning. Yet, they still almost won even as it broke down.
Throw into the mix that head coach Sam Wyche had mounted his anti-women-in-the-locker-room crusade against the media and it was a miracle the Bengals came within minutes of the AFC title game instead of replacing "60 minutes."
"Sam was a great coach and he was a big reason we got there," Walter said. "I think he did that stuff to take the onus off the players and put it all on us, but in the end it always came back to us because we had to answer the (media) questions.
"The offense wasn't what it was and the defense was just there. There just wasn't any ooomp to it."
"The guy on defense who was special was No. 69," said Wilcots of Tim Krumrie, the Pro Bowl nose tackle who also wasn't really what he was after his broken leg. "He needed some help. He was unblockable even when he was doubled team. You talk to people around the league about what he did to a Hall of Famer, (Dolphins center) Dwight Stephenson, and it was unbelievable."
The Bengals won even though they couldn't stop the run because it was just Krumrie and a relentless secondary, and Esiason didn't have time to throw it long. So Wyche used smoke and mirrors with the clock and the no-huddle to protect his QB, flashed Brooks, and ground his way to the Central title.
"We were so great that it covered up the fact I was playing on a team that went to the playoffs," said former guard Ken Moyer, who is now the team chaplain. "We had a great offensive line, great skill players, and the leadership of guys like Boomer, and James Brooks, and Anthony Munoz was special. They took the time to show players how to be a professional. Boomer cared for everyone on the field and J.B. and Anthony showed us how to work out. Then there was a time that didn't happen here, but now you've got guys who understand what that's about."
To a man, the alumni rave about head coach Marvin Lewis. Yes, they are drinking the Marv-ade, not only because he has turned it around but because he has reached out to them.
For the longest time, it had always been awkward when it came to the former players. They thought the organization ignored them after they were done and some current players thought the older guys were too critical because they never wanted them to enjoy the same success. But Lewis has finished off what predecessor Dick LeBeau started by bringing them together with annual outings and practice visits, and he always has video of the old days turning up.
"There is a great winning tradition here that had been kind of forgotten," Lewis said. "When I took the job, only (16) teams had been to multiple Super Bowls. It's not like there had been 32."
Not only reaching out to the old players, but to all aspects of the community. Thomas, who hosts his show with Box Miller, has always been impressed with the fact that Lewis has been as accessible to their smaller station as he is to the big boys.
Wilcots, the CBS analyst who worked the opening game in Cleveland, may have seen the cracks all those years ago. But he sees a foundation under this team.
"There are so many young players. These guys haven't been here in the bad times. The worst it's been is 8-8," Wilcots said. "That's the kind of turnover Marvin has had. They're used to winning. A guy like (cornerback) Keiwan Ratliff goes out expecting to make plays. He's not wishing and hoping. And you've got guys like Tory James who have come from other winning programs."
No one is more in touch with this team than Moyer, who really wasn't that bad in alternately replacing the injured Bruce Reimers and Brian Blados on the 1990 team's battered line.
"You can't compare anyone to Boomer," Moyer said. "But we've got good leaders. You see a Willie Anderson commandeering guys. Brian Simmons is always talking to the young players. Tory James. Carson has the team over to his house. (Jon Kitna) is great with guys."
Esiason loves Palmer. He talked to him every week last year during that tough first season, but he's let him go this season as the wins pile up. "I've got to call him," Palmer says, and Esiason likes what he sees.
"Mike Brown spent a king's ransom on trying to find a quarterback for all those years and now he's got one and now you see what it means," Esiason said. "He can do things that not many guys can do and he means as much to his team. Guys like No. 12 (Tom Brady) and No. 18 (Peyton Manning)."
Breech likes the depth that Lewis keeps rolling out on Sundays.
"It reminds me of what they do in Pittsburgh," Breech said. "How do they always replace Pro Bowl linebackers? They keep finding them and drafting them. It's all in the lines on the offensive and defensive side of the ball. They've got a great offensive line and they've been getting pressure from the defensive line."
But if anyone knows how long a season is, it's these guys. In '90, the Bengals went from 4-0 to 6-5 to 9-7 and every day was either dandelions or disaster.
"It's still going to come down to the four games against Pittsburgh and Baltimore," Esiason said. "That's what is going to decide how their season ends up."
Walter: "I keep telling people I'm on the fence. I don't think the defense has been tested yet and they had trouble running the ball against the eight-man front last week. But Marvin has got them believing and they're fun to watch. There's been no pass rush, but the secondary has been great. They're a ton of fun to watch on offense. It's great to see again."
"Forget '88 and '90," Esiason said. "I want to just look at what these guys have and what they can do if they stay healthy and keep improving."
The alums are enjoying it as much as the kids. When the network blazers gather, Wilcots can now rumple some lapels.
"For the guys that are in the business, guys like myself, Boomer and Cris (Collinsworth), we've been brutalized for the last 10 years," Wilcots said. "People would always get on us. Now, we can dish it out a little bit."
Breech has just returned from a business trip to California, where they asked where he was from.
"Hey," they said, "great start for the Bengals."
"It's nice to hear that again," Breech said.
Or, as Esiason says from the studio, "Who-Dey."