It takes a dedicated fan to follow the Bengals in another country.
"It's very different over here," said Paul Hirons, a member of the Bengals UK fan group. "There are no sports bars per se (except for the big cities) and most Bengals fans watch the games on their laptops via NFL Gamepass."
What started as a couple of Bengals fans meeting for a beer has now grown to a UK-based fan group with 300 members and 1,600 followers on Twitter (@WhoDey_UK). The group gets together four or five times a year to watch games. This year, they've gotten together in London, Manchester, Scotland and in the northeast part of the country.
"We all started conversing over Twitter during Sunday games, and decided to meet up in the pub for a beer and became friends after that," said Hirons. "The intention was to create an umbrella organisation to unite Bengals fans all over the UK, organise some meet-ups and support our team with like-minded people."
So how does someone become a Bengals fan in the UK?  Here are some of their stories.
How did you become a Bengals fan?
"2016 is my 30th anniversary as a Bengals fan. Back in 1986 I had recently started high school and made a bunch of new friends who were into the NFL. The game was broadcast on a terrestrial broadcaster (in highlights form) and Chicago's Super Bowl-winning team (especially William Perry) was getting a lot of press. My friends were all into teams like the 49ers, the Raiders and the Dolphins. I didn't have a team and I didn't like the sound of any of the teams my mates supported, but I saw a team with a blonde, southpaw quarterback at its helm and with tiger stripes on its helmets when I watched the highlights show one week and I was sold." – Paul Hirons
"I had watched the Super Bowl of the early 2000s intrigued by the glitz, glamour and drama of the NFL.  As a massive sports fan, I decided that I needed a team to take my interest further.  I put all the teams into a hat and picked out the Bengals.  Over 10 years later I haven't looked back." – Simon Hunter
"A few years ago, I started watching more NFL on Sunday evenings. Hard Knocks that year featured the Bengals and there were a bunch of guys I could root for. I've watched other Hard Knocks since and no other team comes close. The way A.J. Green is, a fantastic highly respected player but who doesn't really court the limelight as he just wants to play and do his job backs up my personal view of what being a Bengal is about." – Matt Moon
"A fantastic combination of them being the first team I ever watched on TV, big fan of tigers, already supporting the Cincinnati Reds and the QB at the time sharing my surname, Palmer." – Nathan Palmer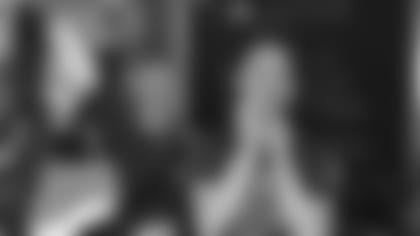 Have you ever been to a Bengals game?
"A few years ago I combined a trip to Louisville with a pre-season game against the Colts. The people we were staying with down in Louisville had recommended we park up on the Kentucky side of the river, so we had lunch in Covington (Otto's I think it was) and then walked across the Roebling. As PBS loomed into view it was a thrilling, surreal experience. I had spent so long supporting this team and reading about this city, it felt fantastic to be there. I may have shed a tear. The game was your typical pre-season affair, but just to be sitting there in PBS was very, very special." – Paul Hirons
"Not yet, Washington at Wembley will be the first. I do want to travel over to the USA either to Cincinnati or New York for an away game at some point over the next couple of years. And for the record, I will be cheering for the Bengals against any future London-based team." – Matt Moon
"I have in 2015, I went to the home opener at PBS against the Chargers. The atmosphere was electric in PBS but also across the city. Walking down from the Holy Grail, seeing all the fans, having a cold beer in the Ohio sun and witnessing a nail biting win was one of the best experiences I have ever had and I cannot wait to experience this again!" – Matthew Catterall
"Seen two in San Diego, one in San Francisco and one in New York. The Bengals won all of them, which added to an incredible experience.  Hoping my fifth game in London continues the streak." – Nathan Palmer
What is it like rooting for the Bengals in another country?
"To start with, it was just me supporting a team on TV. I didn't really know anyone else into NFL, let alone the Bengals. Then one game I searched social media and was surprised to find other Bengals fans in the UK. Then I saw them advertise a meeting the North of England that I could make and I went over unannounced. From there, I've met other knowledgeable Bengals fans which has helped my understanding of the game." – Matt Moon
"It's a fantastic community we've been able to build on Twitter. Most fans over here go for the more historically successful teams, so we get to wear our stripes as a badge of honour." – Jamie Wroe
"Back in the early 2000s I would literally sit and watch the live scores as each play appeared in text on the screen. Since Gamepass was introduced back in 2007/8 I haven't missed a game.  It makes for a great evening watching at either 6pm or 9pm London time and over the years I've managed to convert a fair number of friends and family to Bengals fans!" – Nathan Palmer
What are you looking forward to about the Bengals playing in London?
"Just seeing the faces of the Bengals fans. People I've spoken to are already extremely excited and can't wait to see their team live for the first time. Also, I can't wait to meet Bengals fans from the US. We hope to welcome them with as much fervour and enthusiasm as they did to me when I visited the city." – Paul Hirons
"Seeing the travelling fans and giving something back to them. We want to give them a sliver of the experience I've had over there with the fans. The help, generosity, friendliness and the feeling I had when I stepped into PBS. I want to see a wall of orange and black with Wembley as the backdrop and I want us to make it a trip of a lifetime." – Tim Knowles
"Seeing the Bengals for the first time. Seeing more Bengals shirts in the same place than I have ever seen before. Hopefully the Bengals fans making some noise at Wembley to help the Bengals to the win." – Matt Moon
"It's an amazing experience being able to host the team and I'm really excited to attend the events the Bengals have planned for fans." – Nathan Palmer