More than 60 surgeries have bench-pressed Kelly Meigs' nine-year-old body into a wheelchair. But his mind runs a 4.4.
On Tuesday he was hanging back in the Ronald McDonald House with mom Melissa because it was getting too loud and busy with people, like the Carrier Dome near his home in Upstate New York.
But when he looked into the courtyard and saw this huge guy trying to wedge himself into the little house on top of the slide in the play area, he had to get out there and see that.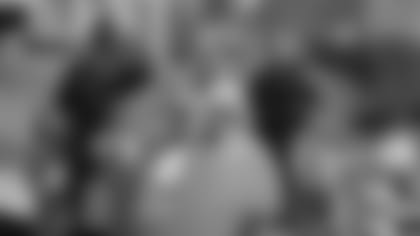 Minutes later, he was high-fiving Bengals defensive end Frostee Rucker as Rucker tried on Kelly's New York Yankees sunglasses on a day anything seemed possible.
Kelly wasn't bashful in letting them know what his Jets would do to them in a couple of weeks.
"The fight in these kids," said Brad St. Louis, Rucker's teammate, "is unbelievable."
Rucker and St. Louis stopped by Tuesday to support their kicker, Shayne Graham, in another one of his countless community endeavors. This one was putting the finishing touches on a go-kart shaped like a football that Graham's foundation and his team of Ronald McDonald House kids are entering in Saturday's Red Bull Soapbox Race on Mount Adams.
The team's theme, of course, is "Good For Three." But the NFL's most accurate kicker naturally found the day's sweet spot as he watched some of the kids scurry around the big football.
"It means something to us that they care to want to be around us," Graham said. "And that we can actually make a difference and make them feel good.
"What a great place this is. It's tough enough to be a child and to be sick. What if you had to go through it alone? You have to be with your family and this allows families to be together."
Rucker lounged on a bench with 12-year-old Jeremy Smith of Springdale, Ark., wearing a No. 17 Graham jersey, and as they celebrated Jeremy's one-year anniversary of a successful bone marrow transplant, they talked a little football. Jeremy had never been much of a fan until he came to Cincinnati Children's and saw how much the Bengals meant to the hospital.
And it got Rucker to thinking.
"Yeah, we're 0-4 and things aren't very good right now," he said. "But, boy, you go to work on Wednesday after seeing kids like this, and it refreshes you. It gets you energized."
0-4 and these guys aren't supposed to come out of their homes, right? Pretty soon they're going to be vying with John McCain for the top of Letterman's monologue, right? Punch lines and rip jobs, right?
"It makes you think about it," said Graham, his shirt and cheek streaked with brown paint. "Things aren't always perfect. You get down and you see people in life and death situations with smiles on their faces. This is real life. It's not a sport, a game, or a job."
Graham tries on Kelly's sunglasses. (RMHC Cincinnati photo)
Melissa Meigs says she has one job now. She and Kelly have already been at the Ronald McDonald House once this year, from February to May. They came back Aug. 3 as Children's built him a brand new bladder with parts of his colon and discharged him Aug. 29. It's been nearly a year since his Aunt Becky donated his one functioning kidney and as he asked for the camera to take a picture of Rucker signing the go-kart football, anything seemed possible out here in the sun and the courtyard.
"My job is to get Kelly the best medicine possible and that's here right now," she said. "The hope is we can go back home in a few more weeks."
Home, where his dad works for O'Brien and Gere Environmental Cleanup, is Morrisville, N.Y., 30 miles to the east of Syracuse. Kelly and Melissa have been here much of the year, but it's not every day the courtyard is snapping, crackling and popping with big cameras, big footballs and big guys that are going to be playing his favorite team in a few weeks.
"He gets that from me. I've been a Jets fan since I was 15, when Mark Gastineau was getting all those sacks," Melissa Meigs said. "We're a family that loves sports."
If there was no Ronald McDonald House at the corner of Erkenbrecher and Burnett, there is no question what she would do.
"Sleep in my vehicle," she said.
Melissa used to coach field hockey at SUNY Morrisville after she played at Morrisville High School, where she and Kelly go to watch as many sports events as they can. Kelly may not like to go to the cavernous Carrier Dome with its crazies, but he once had lunch with former Syracuse sharpshooter Gerry McNamara.
And there is the new quarterback for the Jets.
"No. 4," he said, and when Melissa asked him who caught Sunday's three touchdown passes, Kelly mouthed, "Laveranues Coles."
St. Louis, who has quietly been a Bengal longer than anyone these days, has gotten married and had a family during those 127 games he has long-snapped. On Tuesday he took his own boys, Lance, 5, and Kellen, 3, to see the go-kart.
"We're fortunate; two healthy kids," said St. Louis, whose own foundation is dedicated to children living healthy. "You have to realize that. What Shayne does is what it's all about. He wants to lift up people."
Graham has become close friends with Rucker and knows that he has a soft spot for kids. He told Rucker about the event a few weeks ago and it was a no-brainer for him.
"It's fun to see something like this; all the kids excited," Rucker said. "But it means a lot to us, too."
Rucker might have been swapping out the Yankee sunglasses with Kelly, but he wanted to make sure he got his two cents in about his Angels. Then Kelly was gone.
"He gets tired," Melissa said. "He has a teacher with him about an hour a day, but it gets tough on him. He's got a muscle disorder and muscle weakness. The days get kind of long here. But he'll be back in school when we go home."
Graham went back to painting, the pizza came, and the conversation turned to getting the go-kart out of the courtyard and stored for the race.
Then Kelly appeared again.
"He was wondering how they were going to get it up the hill," Melissa said. "He wanted to help push it."
Rucker, who got him down here in the first place, came over to say goodbye when someone told Kelly that Rucker might sack No. 4 in a few weeks.
"I'll tell him you said hello," Rucker said.
Out here in the sun, in the courtyard, anything was possible.
"You'd like to be able," St. Louis said of the kids, "just to take little bit of that fight."