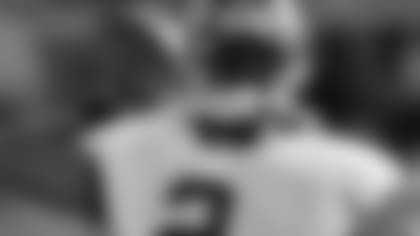 Wright knows what Carson Palmer is going through. (Bengals photo)
BUFFALO - Even before Anthony Wright signed with the Bengals back in April, he was connected to Carson Palmer through tissue and to Cincinnati by the game in a twist of knees and fate.
Wright, who may be the Bengals' seventh Opening Day quarterback in the last 10 years, suffered an even worse knee injury than Palmer back in the day. And one of the people who saw it, his quarterbacks coach at South Carolina, turns out to be a guy that backed up Bengals all-time leading passer Ken Anderson in the late 1970s and the man Wright says taught him to be a quarterback.
"Horrible; it was terrible," says John Reaves of that hideous scene in 1997 against Tennessee. "He was on the way to a stellar career. Live arm, could throw the ball like a mile and run like a deer."
Reaves, also the passing coordinator, remembers how South Carolina was rolling that season. Here it was the first of November, the Gamecocks had only lost two games, and Wright was near the top of the SEC with 18 touchdown passes.
Then he was gone, and so was Reaves the next year, but both of them are long past 'What If.'
"I didn't know he was with Cincinnati now," Reaves says. "He's a good kid. A student of the game. I felt so bad for him because he worked so hard and he was having such a good year."
It has been nearly 10 years now. Reaves is long gone out of coaching and selling real estate in Tampa, Fla. His son, Dave, born in Cincinnati during that 1978 season Reaves started Opening Day in place of Anderson, has his father's old job at South Carolina. And Wright is now working on his fourth NFL team in eight seasons.
But the scar on Wright's knee always makes it 1997. It is longer than the 11-hour summer days he used to work in the tobacco fields ringing Vanceboro, N.C., before he'd head over to practice at West Craven High School.
"Old school dude," Wright says of the surgeon. "ACL, MCL, the meniscus, two hamstring tendons. That's all I tore. When the doctor went in there, he said it was the worst he'd ever seen."
"Basically, I played my senior year without an ACL," he says of 1998, but he didn't find that out until he arrived at the NFL scouting combine in 1999 and didn't have it reconstructed again until 2001.
"There were teams that wanted to draft me on the first day but failed me on my physical," says Wright of Green Bay, Tampa Bay and St. Louis. "I didn't know why they failed me. That's when I learned my ACL wasn't tied down."
He decided not to get another surgery and went undrafted. It has been a battle since then ("You learn things; I'll know next time," he said.) But Wright wears the scars proudly of an NFL journeyman who can ply a trade.
The first starting black quarterback in the history of South Carolina. He remembers how the Steelers didn't want to cut him as a rookie and kept four quarterbacks active in '99. He backed up Hall of Famer Troy Aikman in Dallas. He helped lead the Ravens to an AFC North title in 2003. He looks poised to take the No. 2 job here behind a rehabbing Palmer, although head coach Marvin Lewis didn't name a starting quarterback for Friday night's preseason game here against the Bills.
"It's one of the things I hate to think about; 'What if.' What could have," Wright says of the knee. "When I opted not to have the surgery, I came into the league through the back door; a lot of people probably didn't give me the time of day to make a team."
Wright can understand what is going on with Palmer right now. Heck, better than that. He lived it. If Palmer and head coach Marvin Lewis are trying to get their arms around it, how about Wright? Palmer is getting most of the work in everything but games. The only consistent work Wright has received is in the lone preseason game.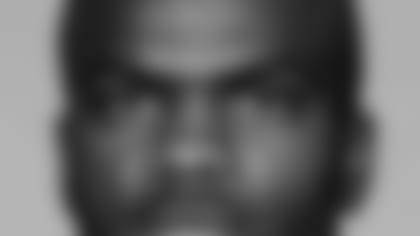 "I can sure enough relate to what he's going through, and what he went through," Wright says of Palmer. "A lot of hard work to get back to be 100 percent. I understand he wants to be progressive. He doesn't just want to try and put the entire load on his back and get it back all in one time. He wants to go step-by-step and keep doing more every day."
And it's not like Wright didn't know what he was in for as a backup quarterback.
"That's the toughest thing about being a backup," Wright says. "You go warm up and then stand on the sidelines, and then in the middle of the third quarter they want you to go in and play just as well as the other guy even though you haven't taken the same number of snaps."
Then Wright stops himself and smiles.
"But the pay is good," he says.
Better than what Reaves got. He remembers striking back in 1974 when he was with the Eagles and that a lot of the guys that sat got traded. Which is maybe how he ended up on his only playoff team in his 10 NFL seasons, Paul Brown's 1975 Bengals.
Reaves remembers his first preseason game and how proud Brown was of Riverfront Stadium and how he came up to him during warmups and told him, "Look at how nice this stadium is, John."
"He was a great leader. He gave me a lot of good advice and things I took with me," Reaves says. "I remember one time, I guess maybe I was moving around a little bit too much and he told me, 'Stay in the pocket and throw the damn ball.' "
Reaves knows all about not getting enough snaps after a Wright-like career of stops and starts. After leaving Cincinnati in '78, he bounced to Minnesota, Houston and Tampa primarily as a backup before throwing for more yards than anyone in USFL history except Jim Kelly.
The lack of snaps has been a backup QB's bane for generations.
"When I was with Cincinnati, we only had two quarterbacks and all I did was run the scout team. I didn't run any plays," Reaves says. "Paul always had everything scripted.
"And it always seemed like you came into a game when it was 25 degrees and it was third-and-35 and you'd been standing there in the cold for three and a half quarters and you've have to run on the field moving the arm to get it loose."
Reaves had a little bit more notice than that in '78 after Anderson broke a bone in his hand on a helmet in the final preseason game. Talk about a 'What If?' Reaves took the Bengals into Riverfront against Kansas City in the opener and they lost, 24-23.
"And then (the next week), Chris Bahr missed a 10-yard field goal that would have beat Cleveland and then we lost to them in overtime," Reaves says. "Isaac Curtis was an amazing player; incredible. He dropped one, I think, in the end zone that would have been a touchdown against Kansas City. I must have been a jinx."
The Bengals lost their first eight as well as their head coach, Bill Johnson. The best thing about that season is that in the hours after they returned from Los Angeles in the next to last week of the season, Dave was born at Christ Hospital.
"We had a lot of retirements the year before," Reeves says. "Bob Trumpy, Tommy Casanova, Bob Johnson. We had a lot of young kids running around out there."
A lot of irony here. Wright could end up starting an opener for the Bengals against Kansas City like Reaves did. Wright is surprised to hear his mentor had a stop here.
"He basically taught me how to be a quarterback and helped me reach this level," Wright says. "One of the first things he did was teach me coverages. He taught me how to prepare for game situations. He played in the league for so long; he passed on lot of valuable information that carried me for a long time.
"Understanding coverages. Understanding what corners have to do and linebackers have to do. He made the game easier for me. Some people come from schools that don't know anything about coverages. Those are the ones that have trouble."
Wright and Reaves don't remember any trouble over Wright being the first black quarterback in Columbia. He was just too good for any discussion, although Wright admits now that it means more to him than it did then.
"I tried not to give it much weight; I tried not to make it much of an issue," Wright says. "It's a great accomplishment. Changing things. Changing a little bit of the tradition."
Wright says no one ever tried to make him a running back or a safety or anything like that. During a practice in middle school in seventh grade, the coach came over to the bench looking for a quarterback to run the scout team and his cousin pushed him to the front.
"Ant can do it. Ant can do it. Ant can do it!" is what he remembers his cousin telling the coach. He has been thinking the same thing ever since.
"If I listened to what people said, I never would have made it in the NFL," he says. "I've got a different way of thinking. The way I was brought up in a family that strove for perfection."
The parents who sent him out to the tobacco fields are still working. His father is a machine operator for DuPont. His mother is a supervisor for Moen, the large plumbing supply outfit. They told him everyone can have an opinion.
"It doesn't really matter what somebody thinks. It's just an opinion," Wright says. "That's what they instilled in me coming up. It doesn't matter what people thought. And now I'm going into my eighth year in the NFL."
Down in Tampa, Reaves has the same opinion. Backup QB is a tough gig, but someone has to do it and, no, the pay isn't bad.
"Gee, tell him I hope he does well. A good kid," says Reaves of just another twist of knees and fate in the NFL.