The Bengals UK fan group started as a couple of Bengals fans meeting for a beer. It has now grown to 300 members and 1,800 followers on Twitter (@WhoDeyUK).
The group gets together four or five times a year to watch games. This year, they've gotten together in London, Manchester, Scotland and in the northeast part of the country.
Here are travel tips from several members of the group. 
What advice do you have for fans traveling to London?
"Have fun, be a tourist, drink, be merry and most of all treat yourself to some fish and chips!" – Matthew Catterall
 "You can do all the big, main tourist stuff in a day. So get to the river and the centre of town and walk - Buckingham Palace, House Of Commons and that stuff is within a three mile radius. But there's so much more to London than the touristy stuff. Go to Notting Hill, go to Greenwich, go to the Tate Modern and walk along the Southbank." – Paul Hirons
"Try and walk around as much as you can because whilst the tube is a great convenience, you lose some of the luster of the place by travelling under." – Simon Hunter
"I'd say try and get out of the city for a day if you can. You can get regular trains to really cool places like Brighton, Cambridge, Nottingham. Failing that, try and find some of the history around the place." – Jamie Wroe
"Wembley is a great stadium, very easy to get to and from. A good tip is to leave the stadium and go straight to a restaurant or bar outside the stadium. Have something to eat and drink, let the crowds pass and be on your way. Get to know the tube, it's a great system and by a long way the easiest way to get around." – Nathan Palmer
"Walk as much as you can to get a feel for the city! Make sure to get out of tourist only zones of Leicester Square and Southbank and venture a little further out." – Rosie Urbanovich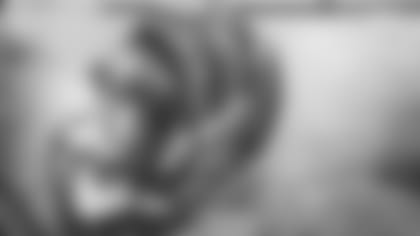 What is your favorite London landmark?
"The Monument to the Great Fire of London (near Monument tube), which is slightly hidden, absolutely massive and beautiful. The little food markets by Brixton station are quite cool." – Jamie Wroe
"I wanted to say Big Ben but that pesky Steelers QB ruins it.  I'll say Buckingham Palace.  Everyone loves The Queen." – Simon Hunter
"Hampstead Heath.  A beautiful large outdoor space with lots of great walks to escape the hustle and bustle of London. Not many tourists find their way to the Heath but it's definitely worth it. Lots of nice cafes, restaurants, and pubs can be found in surrounding areas such as Hampstead and Belsize Park." – Nathan Palmer
"Tower of London. So much history. Or the Natural History Museum (I have a 7 year old who likes dinosaurs)." – Matt Moon
"Not necessarily a landmark, but I love going to London parks, most notably Regent's Park and Primrose Hill." – Rosie Urbanovich
"There's too many. St Paul's Cathedral has a powerful presence, Tower Bridge is iconic, as are the Houses of Parliament. But London has too many that reflect itself in very different ways and I can't say one is 'the favourite'. It entirely depends on your mood and what you're doing." – Tim Knowles
What is one place fans should definitely check out?
"My personal favourite area is the Southbank. Start at Shakespeare's Globe Theatre, check out Borough food market, walk to the Tate Modern art gallery, then walk along the river to the Royal Festival Hall. Perfect for arts and culture, and people watching in the bars and restaurants along the way." – Paul Hirons
"You should try and see a soccer match in town. I have visited a lot of grounds as an away fan in London and you can have a great and relatively cheap Saturday. Barnet has a match on the Saturday before the Bengals game and is a very good club to visit." – Jamie Wroe
"Walk along the Thames and cross the bridges for a stunning view of the London skyline.  Always lots of things to do along the river and a good way to see a lot places whilst enjoying a nice walk by the water." – Nathan Palmer
"Borough Market and London Bridge is an awesome area. I take most of my visitors from the USA there. You can walk through Borough Market through to Bankside and visit places like the Tate Modern (go to the cafe at the top and see the panoramic views!) and the Globe. Far less crowded than further up the river where the London Eye/Aquarium is." – Rosie Urbanovich
"Impossible to state one. But sometimes, I spend time just walking from London Bridge to Tower Bridge through More London and take it all in." – Tim Knowles
"If visitors want to get out of London, Brighton (sometimes referred to as London-by-the-sea due to its popularity with London daytrippers) is an interesting place and relatively easy to get to. Much further away and harder to reach are the Lake District in the North West of England or the beaches of Cornwall in the South West but the scenery with either would make it worth the effort." – Matt Moon