Running back Giovani Bernard (25), maybe their most complete player, is out for the year with a torn ACL.
In the grim quiet of a locker room seething with another one that was had and got away, their teammates glanced across the room and saw end-of-season dejection on the faces of wide receiver A.J. Green and running back Giovani Bernard.
The post-game fears that both were done for the year came achingly closer Sunday night when multiple reports said Bernard tore his ACL during Sunday's 16-12 loss to the Bills at Paul Brown Stadium and the Bengals are waiting for Green to undergo an MRI Monday as they brace for the final six games of the season without their two top receivers.
(By the way, didn't Bernard show again why he may be their most complete player? He's run the ball for more than four yards per carry in his career, he's always one of the NFL's leading receivers out of the backfield and pass-blockers in the backfield, according to profootballfocus.com, and he saved a huge touchdown Sunday when he dragged down Bills cornerback Stephon Gilmore at the Bengals 3 and they forced a field goal.)
"Now we'll see what we've got," said one Bengal. "Strap it up and here we go. Hang on."
At 3-6-1, the Bengals are three games under .500 for the first time in the Green-Dalton Era. Since the Texans knocked them from the ranks of 8-0 a year and five days ago, they are 7-10-1. They haven't won in 29 days, they've got one more sack (four) than missed extra points (three) in the last three games, they've scored ten points combined in the last five fourth quarters, and the frustration is thicker than the fine Bengals linebacker Vontaze Burfict is going to get for flipping off fans in the stands late in the game.
"You're crazy," said right end Michael Johnson when asked what he would have said if he had been told they would win three of the first 10 games this season.  "I would have called them crazy. Commit this man."
With Baltimore and Pittsburgh tied for first place at 5-5 and next Sunday's date in Baltimore looming, the AFC North race is very weirdly tantalizing close and improbably distant at the same time.
"The playoffs? We don't need to talk about that. We have to win a game first," said cornerback Adam Jones.  
Bengals Pro Bowl left tackle Andrew Whitworth, who saw the 2008 Bengals rise out of the 4-12 ashes of injury and inconsistency to go to six of the last seven postseasons, may be staring at another Bengaldom crossroads.
"I wouldn't have thought it. But that's the NFL, man," said Whitworth, his 35th birthday next month threatening to coincide with a losing record. "In this league, if you're not getting better, someone else is. I might be surprised. I thought this team was better. But I'm not surprised if you don't perform in this league your record is this. Everybody gets paid to get better. If you're not getting better as a team, someone else is."
Suddenly, 11 teams in the AFC have a better record than a Bengals team that came into this season with the third best record in the AFC over the last five years.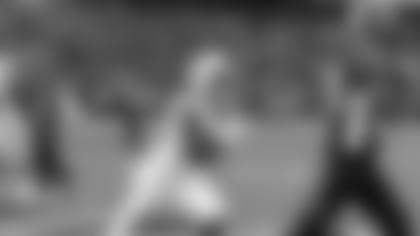 Tyler Boyd's first NFL TD gave the Bengals a 12-10 half-time lead.
"One of our main goals is to win the division. It has to start now in Baltimore next week," said nose tackle Domata Peko. "It's a key game. It's a must win. Our backs are against the wall.  The only way we can go is forward. Just get back to the training ground and get back to work."
The Bengals knew they had to win the game, but the tenor of the day changed so dramatically when Green was loaded on to the cart after two plays and 62 seconds when he got tangled with Bills cornerback Stephon Gilmore stretching out for an incomplete pass on the Cincinnati sideline. The anticipation from the crowd of 61,356 seeped away, the Bengals punted, and the defense gave up its only touchdown of the day in the next 4:23.
"Well, how good do you think A.J. is?" countered Whitworth when asked about the impact of the loss.  "It's tough. It's a tough thing to adjust to.  Just call it what it is. He's the best player on the field and probably the best player on the field every week on either team. It's a tough pill to swallow and obviously it changes things a lot for the rest of the game."
If you're wondering why the Bengals have fallen back to earth in the last 18 games, just look at the lack of a running game. In another instance when they really needed to run the ball, in this case against the Bills' No 1 pass rush, they couldn't do it.
(Remember, in 2014 the Bengals didn't have Green and wide receiver Marvin Jones for the bulk of five regular-season games and went 3-1-1 probably because in the wins and ties they ran for 170, 193, 111, and 207 yards.)  
But on Sunday Bernard could only get 21 yards on seven carries before he left with 38 seconds left and running back Jeremy Hill could only manage 62 yards on 16 carries for less than four yards per carry as they decisively lost the line of scrimmage again even though the Bills played bits of a deep zone in the second half.  On one play they had seven offensive linemen on the field with tackle Jake Fisher coming on as a tight end and backup center T.J. Johnson playing a wing and Bernard ran for a yard.
But it was hard to fault left guard Clint Boling on this day as Bills Pro Bowl defensive tackle Kyle Williams dominated since Boling is basically playing with one arm as he nurses a shoulder injury.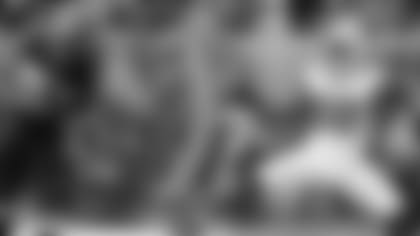 Bengals cornerback Dre Kirkpatrick, with his second pick in as many games, made a massive play with this interception at the goal-line that preserved a 12-10 lead.
The Bills sacked quarterback Andy Dalton only once, but that wasn't their plan in the second half. Bills head coach Rex Ryan called off the blitz, rushed three and four men, and Dalton couldn't connect with a receiver in a Green-less secondary populated with seven and eight men on the second half's first five third-down situations. That was after they went 6-for-8 on third down in the first half.
"In some of the third-down situations once they realized we don't have A.J.," Whitworth said, "it's kind of like, 'Drop as many people as you can into coverage,' and make you find a hole."
Without the big fella, Dalton went on to have his worst passer rating (57) in nearly two years. He connected on only one of his first seven throws in the second half, an underneath seven-yard shot to rookie wide receiver Alex Erickson. His only pass in the air longer than 20 yards looked to be the 21-yard completion to tight end Tyler Eifert down the sideline at the end of the first half. And the Hail Mary heave at the end of the game.
"I don't really feel like they had a ton of pressure," Whitworth said. "We just didn't do anything. They still rushed the four guys. They just didn't do any other stuff."
So the Bills covered Eifert like he was Green and kept a safety behind him. Slot receiver Tyler Boyd and wide receiver Brandon LaFell didn't have a catch in the second half until the Bills gave it to them in the last drive. After giving up 100 yards each to tight ends Rob Gronkowski and Jimmy Graham in the previous two games they held Eifert to three catches for 37 yards.
"They kept everything in front of them," said right tackle Eric Winston, who continued the rotation with Cedric Ogbuehi but also played the bulk of the fourth quarter. "We're not consistent enough. A good half followed by a crappy half. Run the ball well one game and don't run it well the next.  It's hard to game plan, it's hard to play, it's hard to do anything well when you don't do some of these things consistently … It's frustrating to say the least."
It's only the second time in the Green-Dalton Era they gave up 16 points or less and lost so the frustration also pulsated on defense. The Bills did rush slightly above their league average best with 5.4 even though running back LeSean McCoy missed half the game with a thumb injury and the Bengals allowed 180 yards rushing (183) for the third time this year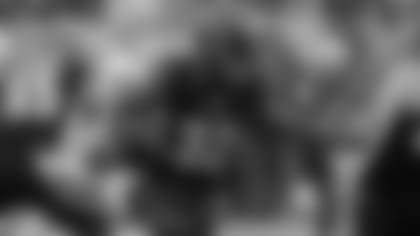 Running back Jeremy Hill had a 20-yard run and 17-yard run vs. Bills, but 25 on his other 14 carries.
But they stopped the Bills three times in the red zone (Michael Johnson dumping McCoy for a loss, safety Derron Smith batting away a pass, cornerback Dre Kirkpatrick coming up with an acrobatic goal-line pick) and gave their offense plenty of chances.
"We knew they were going to get their yards today,' Peko said. "We were just making sure the quarterback, five (Tyrod Taylor, the NFL's leading rushing quarterback) didn't run around all day and freaking make us look like idiots. So we were making sure they didn't have the big plays and for the most part we did that. When we got in the red zone we got three good stops. They scored 16 points. We have to win games like that."
The defense played good enough to win 88 of the 90 games in the Green-Dalton Era.
 "It felt good. We played with a lot of energy finally at home," Adam Jones said. "I think we did play with a lot of energy. On the field we were laughing and joking. 'All right, let's stop them.'"
But 3-6-1 is no laughing matter and someone wanted to know what the difference is between now and last year's 8-2.
"We've got a whole new team — what do you mean what's missing? " Jones asked. "No Marvin (Jones) here, no Mohamed Sanu here, different line — we've got different pieces in different places."
One of the replacements for the departed wide receivers Jones and Sanu, Boyd, the second-rounder from Pittsburgh, gave them a huge boost in the first half with five catches for 46 yards out of the slot that included his first NFL touchdown. He didn't get that sixth and last catch until after the two-minute warning, but the vets were encouraged.
"When key guys go down like that," Peko said, "everyone has step up a little bit extra and bring up the level of play. I thought 83 (Boyd) had some good catches today and stepped up for us.
With Green out, James Wright, he of four catches this season, moved into Green's spot on the outside. He had a huge catch to convert a third-and-14 on the first TD drive, but he made only one more the rest of the day. Boyd stayed in his spot in the slot and that's how he scored his touchdown, beating man-to-man coverage when the Bills corners tried to pass him off on his corner route and he caught a one-yard fling from Dalton with 3:10 left in the first half for the Bengals' only lead at 12-10.
"They pretty much kept their same game plan even after A.J.'s injury," Boyd said. "They didn't throw anything crazy at us that was unexpected. We just didn't execute plays. You know what? No team can ever beat us. We just beat ourselves. It's hard to pinpoint what exactly is the reason behind it."
Boyd said he spoke with Green after the game and Green told him he played great.
"There's no person that can step in and fill his shoes," Boyd said. "But we've got players that can come in and contribute and make plays and make it happen.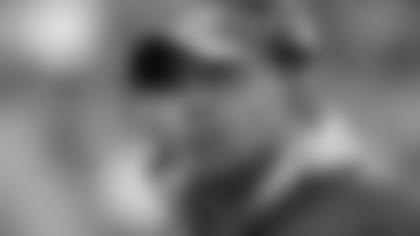 Marvin Lewis: three games under .500 for the first time since 2010.
"It was a big loss. I knew everybody including me had to step up and create plays and it probably eliminated deep threat plays a little bit. That meant we had to step up in the short stuff, but I still think we have guys that can go deep."
There were some deep thoughts on the other side of the ball. The only touchdown the Bengals allowed came on the dizzying first drive they allowed passes of 24 and 18 yards and McCoy's 21-yard run. Those were the only passes of more of than 10 yards except for old friend Brandon Tate's 34-yard catch in the second half.
Peko found himself talking about it with defensive tackle Geno Atkins after the game. It's the fifth time in the last seven games the defense has allowed a score on the first series.
"We have to settle down in that first drive. We'll talk about that with our teammates," Peko said. "We just can't tiptoe in the water to see if it's cold or not. We have to dive in there and get in there from the first snap."
After 10 games the Bengals never thought they'd be treading rising water.
Cincinnati Bengals host the Buffalo Bills at Paul Brown Stadium in week 11 of the regular season 11/20/2016