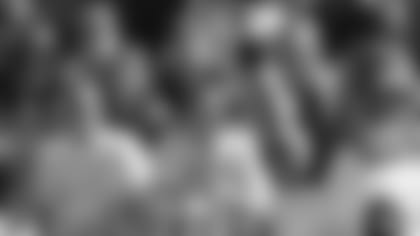 Palmer and the Bengals will look to keep the Pittsburgh defense guessing Sunday
PITTSBURGH - If the Bengals win Sunday, the magic number leading to their first division title in 15 years is two.
But their AFC North championship game here Sunday with the Steelers may come down to two magic words.
Since the Bengals need to score early and often to keep the Steelers running game at bay, their fast-break offense takes center stage of this playoff run just like it did in the 1988 AFC championship season of 1988.
During a week in what amounted to playoff preparation, Bengals cornerback Tory James compared Bengals quarterback Carson Palmer's handling of the No Huddle to that of New England maestro Tom Brady, the man that ran the No Huddle at times so well in the Foxboro snow against James's Raiders in one of the most memorable postseason games ever.
But Palmer, like his coaches, is cautious about its use despite the success of the No Huddle in the last two games. And, this is not the West Coast No Huddle of Boomer, Sam and Bruce.
"When you play an experienced defense like we're playing this week, they've played against Indy, they've played against Brady and some of their No Huddle stuff and been successful," Palmer said, "we're going to have to be really rolling and be in the right protections and really (identify) their defense to be successful."
On paper, the No Huddle seems to be Palmer's perfect antidote for a Steelers defense that has shut him down all three times he's played them, forcing five interceptions and two for touchdowns in three losses.
Since a bye-week analysis, the No Huddle has been as bountiful as its been since the Bengals '88 run with Esiason, even though they probably don't use it as much as the old champs, but are using it more than they did before the bye.
According to the play-by-play sheets of the last two games, the Bengals have executed about 30 No Huddle snaps including two touchdown bombs to wide receiver Chad Johnson, three balls of at least 20 yards to wide receiver T.J. Houshmandzadeh, and a 21-yard run by running back Rudi Johnson.
Plus, the Steelers are coming off a 26-7 loss to Indy in which the Colts rolled up 366 yards, primarily behind quarterback Peyton Manning's No Huddle artistry. And, back on Sept. 25 here at Heinz Field, Brady racked up 372 yards on 41 pass attempts in the Patriots' 23-20 victory over the Steelers.
But, depending how Sunday's game goes, the Bengals may not use it any more than they have, if that much, or at all.
"We don't like to say much about it," said Bengals running backs coach Jim Anderson, the one current coach who was in Cincinnati when the No Huddle of head coach Sam Wyche and offensive coordinator Bruce Coslet raced to the top of the NFL offensive rankings. "It's different. All teams have a different character and different emphasis, and it's not the same."
Reasons for not using it?
Crowd noise. The last two games have been in the cozy confines of Paul Brown Stadium, where, Palmer says, "Our fans do a great job of staying quiet. Our fans understand the game. They understand football. They know when to be loud, they know when to be quiet, they know when we're in No Huddle. It all changes when you play at a stadium as loud as Pittsburgh."
Game management. With their running game and defense, the Steelers scheme to shorten the game and take away snaps from the opposing offense. The No Huddle could play right into their hands, particularly if the Bengals have trouble again stopping the Steelers on the ground.
Steelers defensive coordinator Dick LeBeau's game plan. Bengals offensive coordinator Bob Bratkowski says he goes into each game with a No Huddle package, and is waiting for the right time to pull it out in relying on eyes as diverse as backup quarterbacks Jon Kitna and Craig Krenzel and quarterbacks coach Ken Zampese and wide receivers coach Hue Jackson.
"We use it as a tempo changer. A change of pace. Sometimes we'll start a game out with it," Bratkowski said. "We have a package every week going in and (we talk) on the sidelines between series. Krenzel and Kitna do a great job of watching the corners ... they watch how those guys are playing when we're No Huddle. So there is discussion on the sidelines, and we make the adjustments and go from there."
After the first play of Monday night's game in Indy, Manning's 80-yard bomb to Marvin Harrison, the Steelers eschewed the blitz in favor of a Cover Two defense.
(Side note: Like Anderson, LeBeau was also around for Boomer and the boys as the Bengals defensive coordinator in 1988.)
"That slowed down the Colts a little bit," said Bengals radio analyst Dave Lapham. "Dick LeBeau called off the blitz and they confused Peyton a little bit, and made him throw it a few times where he shouldn't have thrown it, getting him out of pocket."
Still, the Bengals have to run the ball against Cover Two and have proven they are effective giving Rudi Johnson the ball out of a No Huddle set. But Steelers head coach Bill Cowher knows the Bengals use it even though they had just three No Huddle snaps six weeks ago against Pittsburgh in the 27-13 loss, and said they practiced against it that week and this week.
This is why Palmer and Bratkowski preach caution. Palmer says if they try to do it too much, "it can be disastrous. We've taken it really slow and we're just trying to improve on it."
Compared to Esiason's crew in '88, this No Huddle seems to be in the embryonic stages. When they go No Huddle, its Palmer's plays. He's calling the shots. The voices of Bratkowski and Zampese may crackle out of the radio helmet once in awhile to remind him about certain things. But Bratkowski, whose father quarterbacked in the NFL in the '50s, '60s, and '70s, says, "It's like back in my dad's day. The quarterback is calling the plays."
Lapham, who analyzed Esiason in his 1988 MVP season and played with quarterback Ken Anderson in his 1981 MVP season, thinks Palmer's numbers are going to eventually dwarf them. But, after all, Sunday is just Palmer's 25th NFL start.
"I never saw a quarterback smarter than Boomer," Lapham said. "I think Carson has that same willingness to study it, but he needs the reps. That's all."
Anderson recalls the major reason Wyche went No Huddle is because of the plethora of versatility in the huddle represented by running back James Brooks and tight end Rodney Holman, and the nightmares it caused defenses in matching up.
The Bengals could continually keep a running back like Brooks on the field at all times because he was virtually a Pro Bowl receiver, while Holman ran routes and caught the ball like a split end and blocked like a tackle. The No Huddle prevented defenses from getting the right personnel on the field to match, although the substitution rules were eased in wake of the Bengals success.
"They can do that with (running back) Chris Perry, but not like they could every down with Brooks," Lapham said. "And I've never seen a better tight end than Rodney."
Trying to screw up defensive personnel is one reason the '05 Bengals do the No Huddle, but so is the attempt to wear down big, physical front sevens, as well as forcing defenses to call their alignments and play at a different pace.
"I love it. We love it as an offense," said Palmer, despite the possible drawbacks.
Lapham sees one drawback: "If my defense isn't stopping the run, and you go No Huddle and it's three and out, you've put them back on the field in 30 seconds. You can't have that."
But Lapham isn't so sure the crowd noise is going to hurt the Bengals. Running what amounts to a No Huddle out of the two-minute drill, they scored at the end of the half in rocking joints like Cleveland and Tennessee, thought to house the loudest stadium in the NFL.
"It's tougher on the road," Bratkowski said. "But we have ways to deal with it."
But, like Lapham said, "I think Sunday is going to be frenzied. As frenzied as they've seen it anywhere."
Playoff games usually are.