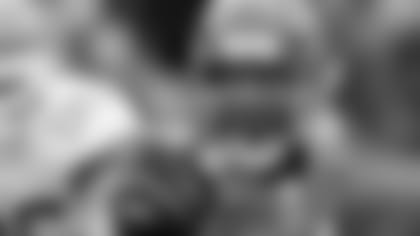 Houshmandzadeh: Go-to guy (Getty Images)
T.J. Houshmandzadeh is convinced if he didn't miss two games this season, he would be No. 2 in AFC receiving yards behind teammate Chad Johnson.
They are a mere 295 yards from breaking the Bengals record for wideout duos they set last season, and if you plug in his 61-yard game average for the two games he's missed, Houshmandzadeh would have 940 yards, 57 behind Chargers tight end Antonio Gates for No. 2. The real number is 796 with Houshmandzadeh proclaiming Chad-like Wednesday that he'll get to that 1,000-yard marker he missed by 22 last season.
But the absolute value of Houshmandzadeh's numbers are the four touchdown catches on third down, second in the NFL to only Larry Fitzgerald's five in Arizona. All have come in wins. Two broke ties. The one last week came with two seconds left in the third quarter and erased a deficit and gave the Bengals the lead for the first time all day. Meaning they only needed to kick a field goal instead of score a touchdown with no time left to beat the Browns, 23-20 in what amounted to the AFC North championship game.
NFL's LEADING TD RECEIVERS ON THIRD DOWN:
Larry Fitzgerald, Cardinals 5 T.J. Houshmandzadeh, Bengals 4 Steve Smith, Panthers 3 Joey Galloway, Bucs 3 Anquan Boldin, Cardinals 3 Keenan McCardell, Chargers 3 Domanick Davis, Texans 3
"I want the ball. I feel like I can make a play," said Houshmandzadeh of operating in the tight confines of the red zone as well as a close game. "It comes down to knowing how to get open and knowing what the defense is going to do. You expect it, so you're not surprised when something happens. You're already anticipating what they're going to do."
Exhibit A came in the Gold-and-Black din of Heinz Field two weeks ago in the first AFC North championship game. With the Bengals suddenly in a shootout with the Steelers midway through the second quarter in a 14-14 push, they faced a third-and-five from the Steelers 6.
Houshmandzadeh's software kicked in. After the game, he said, "You know what that route is called? Get open."
But it was more than that. Offensive coordinator Bob Bratkowski wouldn't have it any other way.
"Everything has to be very precise down there," Bratkowski said. "He's got a very good feel for the game. He's a smart guy. And he runs good, precise routes. When you score in those situations, that's really clutch."
This is what the software told Houshmandzadeh as he eyed the patch between Pro Bowl inside backer James Farrior and cornerback Deshea Townsend:
"It was a quarters defense. I knew they were going to bracket me inside out," Houshmandzadeh said. "I knew how far I could go inside before I went back outside and the guy would be there. I knew that."
It helped that a Pro Bowl quarterback delivered a strike just before Townsend could jump it. So while Houshmandzadeh read the defense, Palmer had to read Houshmandzadeh reading the defense. Which is why the software also says, "He needs protection on that play, and the only way you can make it is being on the same page."
Cincinnati's play in the red zone has been huge since kicker Shayne Graham missed a 30-yard field goal attempt on the first drive of the 27-13 loss to Pittsburgh on Oct. 23. Excluding one kneel down, the Bengals have gouged points out of the next 24 red-zone trips, 17 of them touchdowns for a 71-percent touchdown rate that would be second in the NFL if it was for a full season.
Running back Rudi Johnson has scored eight of those touchdowns on rushing plays and Houshmandzadeh is next with those three off third-down plays. (The other six: Chris Henry has two and fellow rookie wide receiver Tab Perry has one TD catch in the red zone, running back Chris Perry and tight end Reggie Kelly each have a TD catch and Palmer a TD run in the zone.)
"He's kind of a go-to guy inside the red zone, especially when teams are trying to shut Chad down, leaving him one-on-one," Palmer said of Houshmandzadeh. "Any time we get TJ one-on-one, that's the situation we want to be in offensively. He does a good job when he gets one-on-one, especially with linebackers. A lot of times, we get a good mismatch with TJ, whether it's a safety or linebacker, because he's a guy that's normally running routes on corners who do a good job of covering. And once you get a mismatch with him on somebody inside, that's an opportunity you want to take advantage of."
And, sometimes it's not as complicated as all that. Against Cleveland, one of the cornerbacks re-directed Johnson and Houshmandzadeh slid in the opening to execute the play called.
"That was simple," Houshmandzadeh said of the four-yard catch. "We could have run that all day."
Proving that last year was more than a salary drive, Houshmandzadeh's four-year, $12 million deal on the first day of free agency looks like the Cincinnati money with the most impact this side of the Second Congressional District. He's not craving for recognition, but the Pro Bowl vote for the four AFC receivers interests him.
"Who wouldn't want to go? I feel like I'd have a good shot, but it's hard for two receivers to go from the same team," he said. "Chad and Marvin Harrison are going. Hines Ward is going to go just because he's Hines Ward. My opinion, probably Reggie Wayne because he's done it two years in a row. He should go before Hines Ward, but the media talks about him."
Maybe there is hope for Houshmandzadeh at some point. Harrison and Wayne are on the same team, and Houshmandzadeh is delivering for a second year in a row.
Well enough that for the second straight year, Houshmandzadeh is flirting with making him and Johnson the first two Bengals wide receivers to have 1,000-yard seasons in the same year. Curtis-Collinsworth, Collinsworth-Brown, Brown-McGee, Pickens-Scott, Chad-Warrick never did that. In only seven seasons has the second receiver had the 796 yards Houshmandzadeh already has with three games to play.
"If I don't, I'm going to beat up Carson," Houshmandzadeh joked about 1,000. "No, I'm going to get it."
CLOSET BENGALS RECEIVER COMBOS TO 1,000 YARDS:
2004: Chad Johnson 1,274, T.J. Houshmandzadeh 978 1986: Cris Collinsworth 1,024, Eddie Brown 964 1985: Collinsworth 1,125, Brown 942 1994: Carl Pickens 1,127, Darnay Scott 866 1996: Pickens 1,180, Scott 833 1998: Pickens 1,023, Scott 817 1989: Tim McGee 1,211, Brown 814 2005: Johnson 1,161, Houshmandzadeh 796