Marvin Lewis had the upper hand when he faced Eagles head coach Doug Pederson  when Pederson started at quarterback for Cleveland.
It's not exactly like Bengals head coach Marvin Lewis relished the news but Sunday's game (1 p.m.-Cincinnati's Channel 19) marks just the second time in his 220 regular-season games that he's opposed a head coach that he also faced as a player and the first time in 11 years.
In his last of eight NFL seasons the Eagles' Doug Pederson quarterbacked Cleveland against Baltimore in the 2000 season the Ravens set the NFL's all-time single season defensive record with Lewis as their defensive coordinator.
"Not good,' said Pederson of his experience that day in Baltimore. " I actually cracked my ribs. Ray Lewis came on a stunt, we missed him and just as I was releasing the ball he caught me under the ribs protector."
For the record Cleveland lost that day, 44-7, and Pederson says he stayed in one more series before giving way to Spergon Wynn in the second half after hitting eight of 16 passes for 108 yards and a pick.
Since then, he's faced Lewis' Bengals as the Eagles quarterbacks coach in 2012 and the Chiefs offensive coordinator in 2015, both under head coach Andy Reid. Lewis may have noticed him more in those roles even though Cincinnati prevailed each time.
"It means I'm getting old," Lewis joked a bit wearily.  "I've been very impressed by him. I was around him when he got into coaching, and I know how highly Andy Reid thought of Doug. It hasn't surprised me that he's done so well and is a good fit."
The only other time Lewis head coached a game against a guy he also schemed against as a player was in 2005 when the Bengals won their PBS opener, 37-8, over Minnesota.  The Vikings head coach at the time, Mike Tice, played tight end for the Vikes in the early '90s when Lewis coached the Steelers linebackers.
"(Lewis) always has a great front seven. Very aggressive. Good pass rushers," Pederson said this week. "There's some of the same structure we saw in Minnesota. We're still seeing the same things with Marvin. Marvin is probably a little bit more of a two-deep Cover Two shell type of a defensive structure that gets after you with the front four, front five."
Pederson, whose club beat Mike Zimmer's Vikings, 21-10, in Philly the same day the Bengals won their last game (Oct. 23), has a unique perspective of the evolution of the Bengals defense.
"Even when Zim was there and now, they pride themselves in second and longs and third downs where it turns into a feeding frenzy for them," Pederson said. "That's where you get all your exotic pressures and blitz packages and that's where you have to be real sharp for your preparation for the week. It's not as exotic as say what Zimmer does in Minnesota.
"But what we're seeing on film when you go back and study this defense and you study (current defensive coordinator Paul) Guenther a little bit, you are seeing some of the same alignments, same techniques, some of the same structure pre-snap, but probably not as exotic in terms of what Zimmer is doing in Minnesota."
Lewis has a bigger tie on the defensive side of the ball, where Eagles defensive coordinator Jim Schwartz's first NFL coaching job came as Lewis' outside linebackers coach 20 years ago in Baltimore. Schwartz has the Eagles No. 8 in NFL defense despite struggling cornerbacks and an inconsistent pass rush.
"Jimmy is an incredibly smart guy and has done a great job with the defense," Lewis said. "He did well as the head coach there with the Lions, until things went south. I respect the job he does day in and day out. He gets the guys to play hard and sound. They do things that fit together well and make sense. You watch the tape and know what they're doing. They're doing a great job."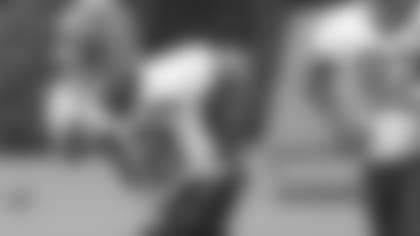 Alex Erickson is having an intriguing rookie year.
MIXED RETURNS: Bengals rookie wide receiver Alex Erickson is five returns away from becoming the second Bengal in three years to lead the AFC in kick returns, but the man who did it in 2014 is looking to get in on his action in punt returns.
Cornerback Adam Jones, a Pro Bowl cornerback who has logged half of Erickson's 16 punt returns this season,  lobbied to get on the field last Sunday with 4:19 left, the Bengals down by a touchdown, and Ravens Pro Bowl punter Sam Koch kicking from near his own goal line.
The week before against the Bills, when Buffalo had just taken a 13-12 lead midway through the third quarter, Jones fumbled a punt but still returned it 10 yards to the Buffalo 44. It was his second dropped punt of the season at midfield, but it has done nothing to dent his confidence spawned by five career punt return TDs.
"I wanted it," Jones said after the game. "I let Darrin know that I wanted it. I haven't had the opportunities this year. Anytime the game is on the line, I need the ball back there. Period. Point blank."
After practice this week special teams coordinator Darrin Simmons mulled his decision to let Erickson take it.
"In situations like that I have to trust (Jones) more," Simmons said. "He probably should have been back there."
It didn't help that Erickson committed a 17-yard gaffe on said punt when he failed to catch Koch's punt at the Bengals 36 and the ball rolled to the 19.
"I misjudged it. I thought I could get to it, but I didn't get there in time," Erickson said after Thursday's practice. "I hesitated for a split-second and it cost me a chance to run up and catch it."
Koch is known for having an assortment of punts and Erickson knew that his end-over-enders drop a little quicker than the others. He won't blame being a rookie on it because, "I had one just like it in the preseason."
Simmons had a lot on his plate Sunday. With A.J. Green and Shawn Williams down to start the game and then cornerback Chykie Brown going out in the first half, he had two brand new gunners in rookies Cody Core, a wider receiver in his third NFL game, and KeiVarae Russell, a cornerback playing in his first NFL game.
 So there was a lot going on, but Simmons needed Erickson to catch the ball.
"The gunner was on top of him. He's got to make the play. He put himself in position. He's got to make the tough catch," Simmons said. "He knows the gunner has to give him the right of way to catch the ball, so he's got to come up with a fair catch. You talk about punt returners managing plays. That's one of those managing punt plays. It saves us 17 yards. Plus, you don't risk the ball hitting your own player."
Some of the Bengals' biggest fourth-quarter victories have been set up by punt returns. Just take the 27-24 overtime win over Seattle last year. They cut the lead to 24-21 with the help of Brandon Tate's 17-yard punt return and Jones set up the winning points in OT on a 19-yarder. In the win that sent them to the 2014 playoffs, they took a 30-28 lead over Denver in the fourth quarter on Tate's 49-yard return.
So Erickson's play is no different from what has gone this season in the fourth quarter, when there has just been a lack of plays by everyone. The Bengals haven't scored a TD in five of the last six fourth quarters.
"Just signal fair catch, make the play and it's over," Erickson said.
But Erickson clearly has promise. Just look at his 30.1-yard average on kicks, nearly five yards better than Hall-of-Famer Devin Hester in the AFC and just 1.2 yards from the NFL title and Minnesota's Cordarrelle Patterson.  With his 31.3 in 2014, Jones became the first Bengal to lead the NFL in kick returns.
 ROOKIE QB: For the third time this season and 27th time under Lewis the Bengals are playing a rookie quarterback in Philly's Carson Wentz. They lost to Dallas fourth-rounder Dak Prescott, beat Cleveland third-rounder Cody Kessler and in between gave up 100 yards rushing to college free-agent Kevin Hogan when he came off the bench for the concussed Kessler in that now infamous Oct. 23 win.
Now they they the first rounder and the second pick in the draft. Prescott has more TD passes than Wentz (19-11) and Kessler has a better passer rating (92.6-83.4), but no one doubts the 6-5, 237-pound Wentz is the real deal. Certainly not the Browns faithful. He's tailed off to a 63 completion percentage and just 6.6 yards per attempt, but he's thrown just eight interceptions.
"He's a good prospect. He doesn't get flustered out there. He's calm, he's got a good arm, he can move around in the pocket," Guenther said. "He'll only get better. First three games he was good. He's had some ups and downs. He started real strong and has levelled off and that's natural for a rookie player."
Throw in Denver's Trevor Siemian and the Bengals have been singed by first-year starting quarterbacks for a passer rating of 122.4 on five TDs and no picks. The Bengals lost to Siemian in his third NFL start and to Prescott in his fifth and was it because of a lack of a book on them? Bengals cornerback Adam Jones doesn't think so because, "In Dallas we got run out of the building, so Prescott didn't really beat us. "
They'll have a book on Wentz because he's already thrown 325 NFL passes. Lewis is 15-11 against the rookies.
"Eight games on tape that's enough. I don't know how much of a book you need," Guenther said. "Prescott has a good team around him so you're playing the line, the backs, the receivers. Same thing with Siemian. Siemian would be a case (of not having a book)."
The only two times the opposing team hasn't scored points against the Bengals on its first offensive drive in the last nine games are against Siemian and Kessler. In six of the last eight games and the last four straight the Bengals have allowed TDs on the opening drive, a trend they are trying desperately to reverse. With Wentz 1-5 on the road and on a five-game losing streak, they hope the numbers match up for them.
"That one touchdown hurt us in the last game. If they didn't score it we may pull it out," said Bengals WILL linebacker Vontaze Burfict. "We can't put our toe in the water. We have to jump right in no matter how cold it is."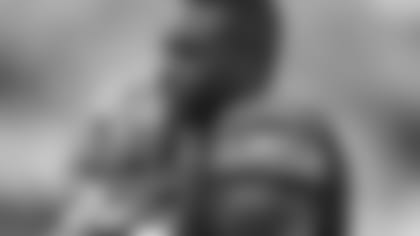 A.J. Green went through his second day of rehab on the field Thursday.
INJURY UPDATE:  Except for A.J. Green (out) and safety Derron Smith (probably out), the Bengals' injury report was a little hazy on Thursday. Backup defensive lineman Wallace Gilberry (calf) and backup tight end C.J. Uzomah (calf) were limited Wednesday but didn't practice Thursday. Starting safety Shawn Williams and long snapper Clark Harris (groin), who missed the last game, have been limited all week. So has fullback Ryan Hewitt (foot). And wide receiver James Wright (hamstring) surfaced on the report for the first time this week Thursday and was limited.
But a group led by starting left guard Clint Boling (shoulder) and starting left end Carlos Dunlap (thigh) went from limited to full Thursday. That included starting wide receiver Brandon LaFell (knee), backup tight end Tyler Kroft (concussion) and backup quarterback Andy Dalton (neck).
Bengals Players make an appearance at Dick's Sporting Goods store for Marvin Lewis Community Fund - Shop With A Pro Event 11/28/2016