Even though his "No Huddle" has been outlawed by NFL commissioner Pete Rozelle two hours before kickoff, Bengals head coach Sam Wyche is still clever enough to hatch a 21-10 win over the Bills and is carried off the Riverfront Stadium turf to Miami and a Super Bowl date against mentor Bill Walsh, his position coach on Paul Brown's Baby Bengals of 20 years ago. "It's so much sweeter the second time around," says Pro Bowl guard Max Montoya, one of seven Bengals who get a chance at redemption for their loss to Walsh's 49ers in Super Bowl XVI seven years ago. Sweet, too, for Brown, their 80-year-old owner. With eyes both glistening and twinkling, he accepts the AFC trophy, and after thanking the players and coaches says, "I'm happy to get a second chance. A guy like yours truly might not be able to wait 20, 25 years."
Hours before, Brown, a member of the NFL Competition Committee, is furious at Rozelle and lets him have it. "How this developed like it did is disconcerting," Brown says. "It is very late to have a football team change what it has been doing for years." The Bills have threatened to do what Seattle did the previous week at Riverfront and fake injury so they can regroup and sub their nickel package and the league has responded by telling the Bengals they must allow the Bills to sub. But Wyche says it strikes at the very heart of the scheme's concept. Which is to create mismatches by not allowing the other team to substitute. "Our style of play has been legal for 17 solid weeks," Wyche says. "We've used it for three and a half years. It is within the spirit of the rule as well as the letter of the law."
Wyche, in the glow of victory with a microphone in one hand and an unlit cigar in the other, is taking on the Bills and the NFL. He compares the ruling to a store that gets robbed and the police tell them to close it at 6:30 because they are more vulnerable at night. Bills coach Marv Levy wins the debate because it allows him to substitute his nickel package. But when the Bills can't stop the run, it has no impact and Bengals quarterback Boomer Esiason even waits a few times to run the ball against the nickel. The win is another stolen moment in running back Ickey Woods' storybook rookie season. For the sixth time in nine games he breaks 100 yards and his "Ickey Shuffle" touchdown dance bookends the day's scoring. His one-yard run in the first quarter and his one-yarder on the first play of the fourth quarter unleashes the celebration that has become a national craze. "It's wild looking around and seeing everyone do the dance you primarily created," Woods says.
Esiason has to pass only 20 times for 94 yards while the Bengals jackhammer the Bills on 50 carries for 175 yards as Woods bucks it 29 times for 102 yards. It not only neutralizes Bills sack ace Bruce Smith in his Hall of Fame matchup with left tackle Anthony Munoz, but it also takes the ball out of the hands of another future Hall of Famer in Bills quarterback Jim Kelly as the Bengals keep the ball for 39:29. And after terrorizing the Bengals on the first three series, Smith isn't the same player when he injures his thigh. "I'll never forget when the Houston Oilers called us a finesse team," Esiason says. "We're not. We pound the ball."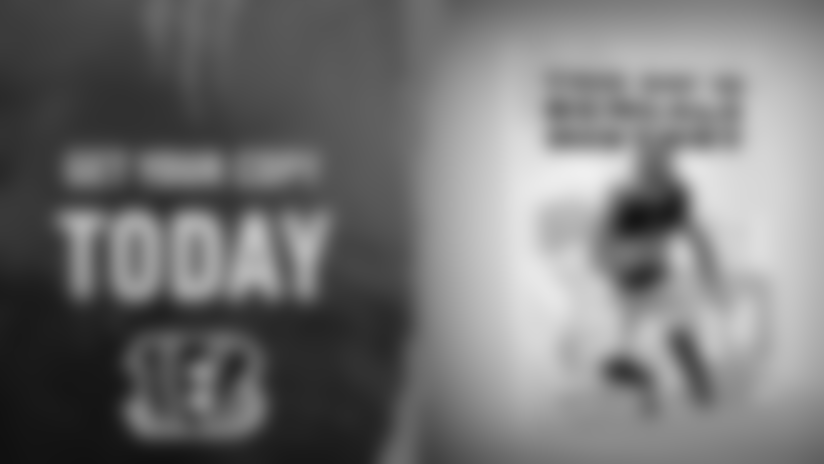 This is an excerpt from the limited edition book "This Day in Bengals History" by Geoff Hobson. To purchase the book, visit the Bengals Pro Shop or go to Bengals.com/Book.