Terrell Watson had interest from two other AFC North clubs, but chose the Bengals.
The Bengals tee it up for the third pre-season game Saturday (7:30 p.m.-Cincinnati's Channel 12) against the Bears and while the starters/regulars are expected to play for the longest and last time before the opener, The Undrafteds quietly keep churning for a spot on the 53-man roster or the 10-man practice squad.
"It's about opportunity,' says Terrell Watson, the Division II running back from Azusa Pacific with Division I size and speed. "Our game film is our resume. At the end of day, you never know. You just keep playing."
The Undrafteds. Otherwise known as college free agents. Otherwise known as CFAs.
The Bengals have become a CFA destination spot in the last several years, beginning with the 2009 signing of Grand Valley State linebacker Dan Skuta, a special teams maven for four years before he became a regular for the 49ers. In the first two pre-season games, the 2015 class has shown its potential, but several years of solid drafts have made this a difficult roster for CFAs to break in and it could be the first Opening Day roster without one since 2010.
In a world where privacy has been stripped bare, The Undrafteds have almost refreshing anonymity. Many of them don't have the glare of a NFL scouting combine press conference. None of them are in the hot lights of the ESPN or NFL Network cameras when the decision comes where they will play their pro ball.  Most of their signing bonuses would barely cover their travel and hotel to their rookie minicamp if they had to pay.
Even when they play it is in the forgettable slop of the final hectic minutes of a pre-season game that can look, at times, like it was thrown together like a campus intramural scrum.
But those moments are personal Super Bowls.
"It's been invaluable having three veteran guys help me get through my first camp and first couple of games," says kicker Tom Obarski, who has gone from little Concordia in St. Paul, Minn., to leading the Bengals in scoring this preseason. "It's been an awesome experience."
Somehow, The Undrafteds find their way here and they have played big roles in the success of a perennial post-season team. One, WILL linebacker Vontaze Burfict, has been to a Pro Bowl. Another, Ryan Hewitt, is considered by some in his building as the best fullback in the league. Another, tight end Colin Cochart, played just one season in the NFL. But his one TD catch against Tennessee helped them win the game they needed to get the Green-Dalton Bengals into the playoffs for the first time.
Ever since that 2011 season, the Bengals have had at least one undrafted rookie make the Opening Day roster. In 2012 they had two, Burfict and Notre Dame center Trevor Robinson, who made seven starts down the stretch for a playoff team before ending up in San Diego the next season. Last year it was Hewitt, a big factor in the Bengals rising to No. 6 in rushing.
In part because of The Information Age, CFAs are a trend league-wide. A total of 64 undrafted rookies made Opening Day rosters last season, according to The Pittsburgh Post-Gazette, and 36 didn't attend the combine. Only four teams the Steelers, Jets, Bills, and Cowboys didn't have one.
But in Cincinnati they don't have to make the roster right away. Linebacker Emmanuel Lamur went from the practice squad to a Wild Card start as a rookie in 2012. Linebacker Vincent Rey, who led the Bengals in tackles last season, started 2010 on the practice squad before becoming the special teams co-captain and valued backer who plays all three spots. All he had to do was look at Skuta, who did the same thing the year before.
The Bengals' scouts liked Division III's Jake Kumerow's hands and size and then he showed up well in an all-star game.
How do they get here? From Concordia and Azusa and South Dakota State (Cochart) and Stanford (Hewitt)?
Even though most draftnicks toast the Bengals' last several drafts, it is The Undrafteds that show how effective director of player personnel Duke Tobin's scouts have teamed with head coach Marvin Lewis and his staff to unearth talent.
"Turn over every rock, that's not the case," Tobin says. "You have to turn over the right rocks. Or take the guy on top of the rock instead of the guy underneath. There is an efficient way to do it. You work all fall to thin the herd. Then focus on the herd, not the wanderers."
The one advantage The Undrafteds have is they can choose their team, which makes this part of the drafting process a lot like college recruiting. But you still have to find out who to recruit. What helps is the Bengals have become a CFA hot spot for a number of reasons.
"We've got a good track with CFAs and they see that," Tobin says. "With Marvin, we've got a coaching staff who tries to give people opportunities and they're going to be open-minded about it. We're going to keep the best guys."
And while much has been made about the madness that ensues after the draft and the scramble for The Undrafteds, much of the work and the selling has been done. Even though the Bengals targeted Wisconsin-Whitewater wide receiver Jake Kumerow, wide receivers coach James Urban didn't call him during the draft to give him a recruiting pitch. He waited until after the draft because he had spent so much time with him on the phone and during his visit to the facility.
"That message has already been passed long before the draft," Urban says. "We like you. We want you here. We think you're draftable or else we wouldn't have brought you in here."
After the Bengals send their scouts to work the campuses and the film during the fall and then set up their board, the list of the players invited to the NFL Scouting Combine sets the process in motion.
If the Bengals like a player not invited to the combine, and Tobin says there are always several players they like a lot more than some that get invited, they know they'll have to get to that campus workout to confirm their first reports. If it all checks out, then they have to bring that player into their facility for a physical.
But they can only invite 30 players to PBS and maybe half of them are going to be players who went to the combine. For instance, five of the first six players the Bengals ended up drafting were combine guys they brought in for visits: first-rounder Cedric Ogbuehi, second-rounder Jake Fisher, third-rounder P.J. Dawson, and both fourth-rounders in Josh Shaw and Marcus Hardiston.
They also brought in a slew of non-combine guys and ended up signing Watson, Obarski, and Kumerow, as well as Clemson defensive lineman DeShawn Williams and a pair of tight ends in Eastern Kentucky's Matt Lengel and Mount St. Joseph's John Peters.
Tobin says that PBS visit is a big factor in the CFA process. Not only does it give the coaches a chance to develop a relationship with the player and find out more about him, it gives the player a chance to put a team with a bunch of faces when the post-draft assault begins.
That surfaced this season when they also brought in Auburn tight end C.J. Uzomah for a visit, a guy they ended up drafting in the fifth round. The 6-6, 265-pound Uzomah hadn't been invited to the combine, but they were all over him once he ran 4.65 seconds in the 40-yard dash at his pro day.
A fifth-round selection here was not odd.
"The fifth through seventh-rounders and the priority free agents are very similar," Tobin says. "You make sure you're true to your board, but the board is big at this point. There are a lot of names and you have a little more freedom to fill in your roster where you think you have some holes."
 Uzomah didn't go unnoticed. The Steelers also invited him to visit. Uzomah, who worked out of a spread offense in college, had a case to present.
"The visit here was big," Uzomah says. "I just wanted to get in front of the coaches and tell them that even though my role in college wasn't traditional, I could show them that I could fit what this team needed. Ultimately, I wanted a shot."
Uzomah didn't have to wait until after the draft to make a call, but he said he would have signed here instead of Pittsburgh. He liked his meeting with a former Steeler, Bengals tight ends coach Jon Hayes, and he knew the roster lacked veteran tight ends.
The AFC North also noticed the 240-pound Watson, another combine non-invite. Baltimore and Cleveland were among the interested teams, as well as Washington, the Cowboys, Falcons, Texans, and Dolphins. Houston and Miami sent coaches to work him out. The Bengals were the only team that brought him in to visit. When all those teams called during the sixth and seventh rounds and after the draft, that resonated. He saw up close the commitment to run the ball from a team that finished sixth in NFL rushing last season.
"It felt familiar. I had an idea about the coaching staff," Watson says. "And they play in a (physical) division."
The Bengals were also the only team to bring in Kumerow, an intriguing 6-4 receiver who has been impressive and caught two balls in last Monday night's lone touchdown drive. Midwest scout Bill Tobin recommended him because of his size, production, and football pedigree as the son of former Dolphins first-round pick Eric Kumerow.
"Mr. Tobin really liked him and then I could see why," Urban says. "He had a real good burst off the line. I watched tape of (the pro day at Wisconsin) and he played in the East-West Shrine Game. I liked what he was doing against Division I draftable guys. It looked like he could make that transition from Division III."
Urban wasn't at the pro day, so a PBS visit was in order and it was a good one. They watched Bengals' tape and Whitewater tape and spent a lot of time together. No teams called Kumerow Draft Day until after he quickly agreed with the Bengals.
In that half-hour after the draft, scouts team with position coaches. They talk with the agents, the coaches talk to the players. In this case East Coast scout Greg Seamon, who cross-checked the wide receivers, buddied up with Urban and it was quick. Then the calls from other teams started.
"I didn't care," Kumerow said. "My agent told me the Bengals were a good fit and not to worry about the other teams. And I talked to the coach. It was good."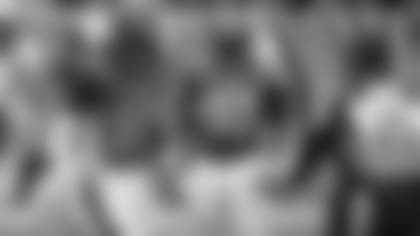 DeShawn Williams knew that guys like Emmaneul Lamur (59) had gone from CFA to starters for the Bengals.
Tobin sends coaches to various workouts for a reason and he had plenty to send defensive line coach Jay Hayes to Clemson. The Tigers were blessed with a deep defensive line on a dominant defense. The engaging Hayes runs the D-Line workouts wherever he goes and he had a blast on this day, immediately developing a rapport with tackle DeShawn Williams.
After drafting Pro Bowler Geno Atkins in 2010, the Bengals weren't put off by the 6-1 Williams' height. They liked his energy and his power he generated from his 295 pounds and he's had a terrific training camp at both end and tackle.
"I ran my first 40 and it was something like 5.1 seconds," says Williams, who also didn't get invited to the combine. "Coach Hayes told me, 'You've got to run faster than that.' Then I ran it again and it was 4.97. He was telling me, 'There you go.' "
After the workout, the southeast scout at the time, Robert Livingston offered a visit and Williams, a guy that knew all about the Bengals, accepted. After all, his father Ronald had been a running back in the 1992 and 1993 Cincinnati training camps.
"I watched Cincinnati when I was younger and I knew what type of team they were," Williams says. "I knew the kind of coach that Coach Hayes is and that he produces a lot of talent. I knew Coach Lewis coached the Ravens when they won their first Super Bowl . . . I knew they were blue collar. The system fit me like a glove."
It also helped that a former Clemson defensive tackle, 2012 third-round pick Brandon Thompson, was already here and hooked up with Williams on his visit. It was a textbook display of Tobin's CFA efforts at using a team effort to I.D. the talent, confirm it, and then recruit it with relationships.
"It was a no-brainer," Williams says.
Even though Williams ran that 4.97, Livingston's visit was the only one offered.  The Bengals and one other team called Williams in the fifth round or so with Hayes telling him, 'We think we've got a spot for you whether we draft you or not."
Hayes didn't have to say much. Williams, watching the draft with his family, says he had already made up his mind. After the draft a handful of teams called, but the deal was done even though Williams faced one of the toughest defensive lines to crack in the NFL.
"I didn't think of it as a numbers thing,' Williams says. "If you're worried about a depth chart in this game, you're slowly going to fall apart. My thing was to show them how hard I can work and get better with more reps and it's paying off now."
There was another part of the decision-making process. Williams remembered seeing on NFL.com a video with Bengals defensive coordinator Paul Guenther talking about how he felt drafts are made with players from beyond the fifth round to free agency.
"That stuck with me," Williams says.
 That's how they got here. Now they're trying to stick.