MOBILE, Ala. - West Virginia's David Long answers questions about playing linebacker in his pre-snap stance. He not only plays linebacker, he talks it and walks it. The big word the scouts like there is "instincts."
So he's as good as any place to start talking about the Bengals' draft needs. As a Winton Woods High School product he's Cincinnati through and through and if the Bengals need to draft anything it's an instinctive versatile linebacker that can run, right?
Meet the 5-11, 230-pound Long and he was only 230 at the weigh-in because he didn't want to be "super light. So I ate a big breakfast." He played at 224-225 pounds and he said he was "content," after getting off the scales.
"I think so. Especially the way I play," said Long, when asked if that's big enough. "I could probably go out there at 221 and play the same way. But I feel like it shouldn't be a problem. That's why I'm here, that's what I'm here to show this whole week."
His whole week is showing the scouts he can bang and dig out tackles. They know he can run. They think he can cover. He's a bit like current Bengals linebacker Jordan Evans coming out in 2017 and has to prove he can be NFL physical after starring in the tear-away jersey Big 12.
But despite being 6-2, 230 pounds, Evans didn't get invited to showcases like the Senior Bowl and the combine and after two seasons he's fought injuries and the transition in the search to marry his formidable physical skills with the instincts.
It's been a battle recently for the Bengals finding those backers that can run and react. In free agency, A.J. Hawk, Karlos Dansby and Kevin Minter were savvy guys but they were at the end athletically. Evans and 2018 third-round pick Malik Jefferson are draft picks that are physical marvels still learning the game.
Along with trying to figure out WILL backer Vontaze Burfict's status, they're looking to find more guys like 2016 third-round pick Nick Vigil. Vigil can run, call the signals and no one will ever doubt his toughness after this past season when he came back in a bad year with a bad knee and gave the defense a shot. A badly needed shot. Exhibit A is the 17 tackles in Pittsburgh in the season finale.
Long is here, in no small part, because of those instincts and he's going to the combine in an effort to wedge his way into Friday night's second and third rounds.
But, really, isn't it ridiculous to keep asking these guys if they're big enough?
Last year's best rookie linebacker, the Colts' Darius Leonard, began to get noticed a year ago here despite being 6-2, 234 pounds. Look at two of the Ravens' linebackers in their top-ranked defense, the 6-2, 250-pound C.J. Mosley and the 5-11, 207-pound Anthony Levine. On Wednesday, New Mexico's Terrill Hanks (6-2, 230) beat Long to the punch and was tabbed this year's Leonard after Wednesday's run periods in the South practice.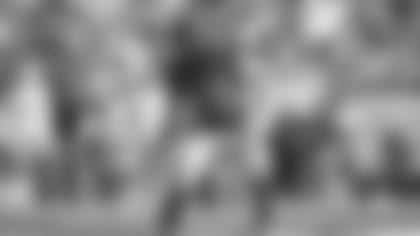 "The games has gotten fast," Long said. "Linebackers have to be able to play the run and go out there and cover a back one-one-one when needed to. I feel like I have a lot of that in my game … I haven't run the 40 yet. But I feel like I'm pretty fast on the field. I feel like my film would say so."
Fast enough that his height doesn't appear to be scaring people away. With the media and most scouts closed out of Wednesday's workouts because rain sent the teams inside to practice in the cramped facility at the University of South Alabama, there was a lot of time to chew the fat in the hotel lobbies. One scout called him fearless and aggressive and compared his style to the down-hill 233-pound relentlessness of Tampa Bay's Lavonte David.
Still, David is 6-1. But the guy said, "We're all looking for linebackers that can run and hit and this guy can run and hit."
And on the first day of this week's practice, those instincts showed up right away because No. 11 kept showing up and getting his nose into drills.
That means moving inside and out and he thinks West Virginia's 3-3 stacked defense helped him do exactly that.
"The MIKE and WILL (are) interchangeable," said Long, walking through his alignment against three wide receivers and a back. "A three by one would go to MIKE. MIKE goes to the outside. Now I'm in the middle, inside zone and I've got to get down there and bang like a MIKE.
"MIKE is more in the box than the WILL. WILL is kind of an out-in-space backer. With MIKE you're more in hole, taking on blocks. But I feel like I did both by playing WILL in the 3-3 stack. You kind of do play MIKE. Well, inside and outside. I think I'm prepared to do both."
No matter the size, Long has been watching NFL linebackers. The first guy he mentions is another Cincinnatian, the 6-3, 238-pound Luke Kuechly. Even the retired guys, the 6-1, 245-pound Ray Lewis and the 6-1, 242-pound Patrick Willis. And Leonard.
If it sounds like Long loves and lives the game, he does. He was born in Cincinnati, moved to Dayton with his mother and moved back in eighth grade "to play ball."
The hometown guy figures this week is no different.
"Show them I can play ball. That's the big thing for me. Show them I can play ball," he said, almost dropping into a back pedal.