Domata Peko has a fan  in one Senior Bowl prospect.
MOBILE, Ala. - The kids are watching. They're always watching. Kids on both sides of the ball here at the Senior Bowl. North and South. They know the Bengals.
Kids like Stevie Tu'ikolovatu, USC nose tackle playing for the North this week. He's been watching the middle of the Bengals defense since he was a kid growing up in Salt Lake City, Utah. Tu'ikolovatu is Tongan and he looked up to the pair of Samoans that give the Bengals their fire, nose tackle Domata Peko and USC's own Rey Maualuga at middle linebacker.
"First time I met Rey was this year when he came out to a game," Tu'ikolovatu said after Tuesday's practice. "I knew he was an 'SC legend and I had to meet this guy.  He looked super fit. I'm thinking, 'That's the fittest Polynesian I've ever seen,' because we like to eat."
It was a brief conversation because Maualuga came over to him on the sideline to say hello and Tu'ikolovatu was headed out to take the next snap. But it was memorable.
"It was crazy. I've only seen him on video. I remember watching him at 'SC when I was small and I was cheering for that long-haired middle linebacker," Tu'ikolovatu  said. "I finally met him and it was a surreal experience."
Tu'ikolovatu, projected to go in the sixth round by the web site nfldraftscout.com earlier in the season, never heard of Peko until he got to Cincinnati and he's been watching him ever since. His favorite NFL player is Texans nose tackle Vince Wilfork, but he watches fellow Islanders Peko and Haloti Ngata that play on the line.
"Peko has played for a long time.  He must be doing something right," Tu'ikolovatu said. "He's a real technician. And physical."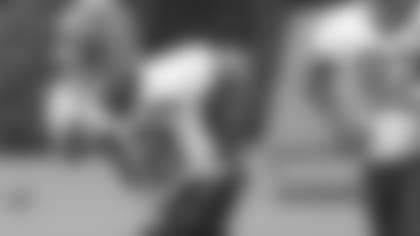 Wisconsin linebacker Vince Biegel is looking to follow Bengals wide receiver Alex Erickson's NFL footsteps.
Kids like Wisconsin outside linebacker Vince Biegel, who played with Bengals rookie wide receiver Alex Erickson, the Badgers walk-on who arrived in Cincinnati as the NFL's version of a college walk-on and led the AFC in kickoff returns as an undrafted free agent.
"I've talked to him here and there," said Biegel after the North workout. "He's loving it out there in Cincy. More than anything he's a fun story to watch. He's the Wisconsin story. He's a small-town Wisconsin guy who went through the ranks and became our star receiver his senior year and then has had success in the NFL. I'm not surprised with the way he practices, but its fun to watch."
Biegel, a 242-pounder with early projections to go in the fifth to sixth rounds, has a similar upbringing. He's also from a small blue-collar Wisconsin town, this one best known for the cranberry marshes of Wisconsin Rapids, Wis., where Biegel helped farm as a youngster before football called.
He watched the Bengals plenty following Erickson and liked what he saw.
"I really liked the type of defense they play," Biegel said. "Big, physical defensive line that really gets after the quarterback. Aggressive linebackers. .You can tell it's a well-coached group that likes to fly around."
Told the Bengals are looking to get younger all over the defense, such as outside backer, Biegel smiled.
"I'm not opposed to staying somewhat in the Midwest," Biegel said.
Or there are kids like LSU wide receiver Travin Dural who struck up a relationship with Bengals wide receiver Brandon LaFell, an LSU alum that advised Dural last season when he pondered leaving Baton Rouge early.
"Then I got hurt and I had no choice but to stay in school," said Dural of the torn hamstring late in 2015. "He told me to be smart. He said he couldn't tell me what to do because he wasn't in my shoes. But he just talked about it with me. He's always been there for me …  
He loves LSU. You wouldn't think a guy from Houston would be all about Baton Rouge, but he loves it."
Dural, projected earlier as a fifth-to-sixth rounder, played with Bengals running back Jeremy Hill in college, but he says he watches the Bengals because he's looking at the passing game that includes another LSU teammate, wide receiver James Wright.
"I don't watch it for Jeremy because I'm a receiver, but I'm watching A.J. Green, too, " Dural said.
But Dural's most memorable brush with a Bengal Tiger might have been last offseason in the weight room. He saw this huge guy in there and he looked extremely familiar, but he couldn't quite place him. He finally decided the guy was a recruit, a high school senior on a visit.  Until he asked around.
"That's Andrew Whitworth," he was told and his eyes almost popped out when he realized it was the long-time left tackle heading into his 11th season.
"I thought this guy looks pretty good for his age," Dural said. "We ended up talking about his shoes. He was wearing Jordans and we had a conversation about that. He's a cool guy."
Like LaFell, the Bengals obviously like Baton Rouge.
"I think they're on a trend over there," Dural said. "I wouldn't mind following."
Make no mistake. The kids are watching.