The Bengals are pointing at left guard Clint Boling's revamped offensive line to revive their skill players.
ORLANDO, Fla. _ The Bengals broke from this week's NFL meetings encouraged that their busy offseason has them on track to return to the postseason for the seventh time this decade.
Buoyed by a trade for veteran left tackle Cordy Glenn and boosted by the signing of reigning NFL tackles champion in middle linebacker Preston Brown, they join a roster that continues to get high draft grades and has convinced management it is good enough to win in 2018.
"We are not in a building program. We have too many good players to be building for the future," said Bengals vice president Troy Blackburn Wednesday after commissioner Roger Goodell closed the meetings. "We have so many good players we feel we have to build for now … I think very much the offseason for us has been focused on win now."
The husband and wife team of Blackburn and Bengals executive vice president Katie Blackburn pinch hit this week for Bengals president Mike Brown, back in Cincinnati recovering from artificial hip surgery and hoping to return to Paul Brown Stadium next week to chair the last month of draft preparation.
So it was business as usual. Like the other 31 clubs, the Bengals voted for player safety and the new catch definition. They also winced as the NFL handed out a $250 million loan for the $1.8 billion stadium project in Las Vegas for the Raiders.
That's just 18 years after the Bengals began playing in The Paul, which cost about $350 million to build. The new buildings in Vegas and Los Angeles continue to drive the NFL salary cap, always a point of concern for the Bengals but it hasn't stopped them from barging into the upper half of the league in salary cap dollars spent this year, according to spotrac.com
"For the Reds, for the Bengals, that is always going to be a challenge. I think we have the smallest market in America that has professional baseball and professional football," Troy Blackburn said. "When you see meetings over the last two days and you see deals for Los Angeles, for Las Vegas, and you recently saw what happened in Atlanta and Minneapolis with new facilities, you know those continue to present challenges. But what we have tried to do with our franchise is structure it in such way to be able to continue to spend at the highest levels for players and coaches and things that affect play on the field even though we're one of the smallest markets in the NFL."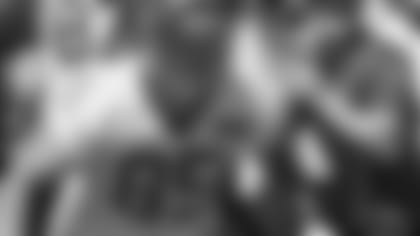 Tyler Eifert counts his jersey number against the cap if he stays healthy: $8.5 million.
The Bengals had budgeted about $15 million in free agency, but they couldn't pass up the opportunities to raid the Bills for positions they needed to upgrade and went about $10 million over after they also signed a pair of former NFL starters looking to revive their careers in Cincinnati when they inked former Tampa Bay defensive tackle Chris Baker and Giants right tackle Bobby Hart. They believe those deals, along with retaining erstwhile Pro Bowl tight end Tyler Eifert, have sent a message to Bengaldom that the future is now.
And that means now. Like the draft, where they have 11 picks.
"That's really what drove us," Troy Blackburn said. "When we look to the draft we want to keep the pipeline of high-end talent fresh and vibrant. We pay various high-end consultants to get feedback on how we are doing from a personnel standpoint. We met with them down here. They did a survey for over a decade of how effectively we were or were not drafting and they rated our draft to be third or fourth best in the National Football League over say the last dozen years."
The Bengals supplement their own personnel department by paying for reports from the scouting services of Giddings and Pro Football Scouting.
"That tells us if we can have an effective offseason in free agency to build for now and also look to the draft to build the pipeline for future players that has a chance to be a positive thing for our football season this year," Troy Blackburn said. "Not in two years. Not in four years. Now."
 Management is banking on revitalizing the offensive line, an area it feels has let down their skill players, starting with quarterback Andy Dalton.
"We think Andy has proven he is a quality, high-end quarterback in the National Football League. You can win at a high level with Andy," Troy Blackburn said. ""What we have not done as well in years is given Andy the appropriate opportunity to shine. We are hoping with what we have done at a very aggressive level in addressing our offensive line play this past offseason with offensive coordinator, with offensive line coach, with personnel, we will get back to playing effectively at offensive line so the skill position players can shine.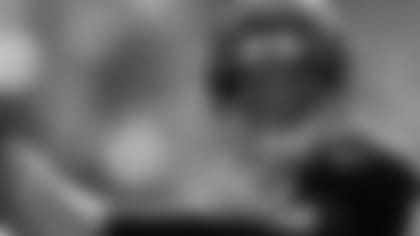 The Bengals are banking for help on Dalton.
 "We have a very good group of skill position players. Whether it is Joe Mixon, whether it is Gio Bernard, whether it is A.J. Green, Tyler Eifert, Tyler Kroft, Andy Dalton, we hope John Ross, Josh Malone, Brandon LaFell, Tyler Boyd, it's a very good group of players. But our offensive line play has not been strong enough to give that group a chance to shine. If we can improve up front I think fans may be pleased with what they see at the quarterback position."
Katie Blackburn has also been encouraged by head coach Marvin Lewis' off-season emphasis on nagging issues that has dotted the 13-18-1 record of the past two seasons. The hiring of their first new offensive line coach in 23 years along with the installation of Bill Lazor as offensive coordinator in his own right have guaranteed they won't be strolling out there with the same playbooks. 
"They are impressive. They are good communicators. They have great ideas," Katie Blackburn said. "I think they are enthusiastic. I think our players will benefit from them and be excited to see what they can do.
"I also think Marvin has focused on a couple areas he needs to focus on. Whether third-down conversions on defense and doing things with our offensive line, obviously there are going to be other things he can focus on. I think with some of the new coaches, you see some great feedback from them for what they are looking to at this point. I'm encouraged in that feeling and hope its felt by everyone else."
Mike Brown's decision to stick with Lewis also was a hefty investment based in winning now as opposed to re-building.  Lewis figures to make about $6 million per year and his decision to bring in highly-regarded and well-paid assistants such as defensive coordinator Teryl Austin and offensive line coach Frank Pollack made the Bengals winners in bidding wars.
"We think this season will be from a fan standpoint a bit of a Missouri approach, a Show me. We understand that," Troy Blackburn said. "We'll probably modify where we start. We hope to rebuild that quickly. The No. 1 thing fans are looking for is they want to see good on-field results. We gave them that for a long time. The last two years have not been as strong as you would want and our belief this is a very mature football team that can have high-end success. That's why everything we have done this offseason is to focus on the now."
Take that trade for Bengals WILL backer Vontaze Burfict. You know. That rumor he was going to Oakland? Forget it.
"Our focus is on having the best 2018 we can," Troy Blackburn said, "and we feel Vontaze helps us do that."
Burfict faces his third straight opening month on the banned list as he appeals a four-game suspension for testing positive for performance-enhancing drugs. But he's not on any other list.
"Vontaze is well-liked and respected in the locker room," Troy Blackburn said. "The players know that, a) he's a special player and b) he's a really smart football player. I don't think there is going to be a negative that way. The negative is going to be lost time. When you are not there you are not helping the team win."