Vincent Rey and the rest of the Bengals are making their final push into camp.
Bengals jack-of-all-trades linebacker Vincent Rey, who is close to shedding 20 pounds on "The Caveman Diet," of meat, vegetables, and fruit, has jotted the evolution in his green composition notebook. That consists of documenting every morsel he's eaten since the Bengals started spring practice in late May.
Even the pint of vanilla ice cream he wolfed down late at night a few weeks back when both wife Noel and baby daughter Talia were asleep and he was watching Bruce Willis blow up reality in "RED."
All he could think about was the line head coach Marvin Lewis uses on them.
"I had to write it down and I said, 'What's wrong with me?'" recalls Rey, who started the diet at the urging of new linebackers coach Jim Haslett. "That's not going to make me better. Coach Lewis always talks about how your body is your corporation.  Put money into it. Put good stuff in and good stuff will come out."
Welcome to the NFL player's conundrum starting in mid-June and ending when most teams like the Bengals report for training camp Thursday and have their first practice of the season Friday at 3 p.m. on the practice fields adjacent to Paul Brown Stadium.
During those five weeks the players are off the 2011 collective bargaining agreement doesn't allow them to work out with their strength coaches in team facilities after spending the previous eight weeks in the weight room and on the practice field.
If it sounds like a rather odd arrangement, many Bengals have found a unique work-out alternative about 20 miles up the road from PBS in Mason, Ohio at Ignition Sports. Clif Marshall, who has run Ignition since 2008, is a  former intern in Bengals head strength and conditioning coach Chip Morton's program who works with the Bengals once a week during the season.
The Bengals have a working agreement with Marshall's staff where his coaches help Morton and assistant Jeff Friday at the PBS facility during the season. Marshall figures about 20 or so Bengals have passed through his doors at one time or another since Lewis broke the spring camp on June 16. That includes five-time Pro Bowl wide receiver A.J. Green, who stopped in to work out last week while he was in town hosting his annual youth football camp at nearby Sycamore High School.
"We do a lot of the same workouts. That's why I like it. There's about 20-25 guys who live in the area. Most of them don't play for the Bengals. They play all around the NFL," says Rey one day last week, cooling down with Bengals defensive linemen DeShawn Williams and Andrew Billings. "A lot of the workouts are the same exact same that we do with Chip, so I like the continuity.
 "You do want to get some time off to relax. After (June 16) I took a week and a half off. I got a little cardio in, but I was mainly just hanging out with family and friends. On weekends I'll go to Chicago, which is a four-and-a-half hour drive. But during the week I have to have discipline coming in here because even though there's nothing you can do to prepare for training camp, you're going to be sore. But you can do certain things so you don't get injured. Just come in here and push your body to the limit."
If there is any player who shows how much the Bengals have benefitted from having a symbiotic relationship with a workout facility, it is Rey. Even before the Bengals signed him as an undrafted free agent out of Duke in 2010, he chose to train for his NFL shot with Marshall in Cincinnati.
That was back when players reported for the off-season program in late March and they could work out in the facility with coaches looking on in the interregnum between OTAs and camp before the 2011 work-place rules shrunk players' time on site. Now the off-season program starts around April 20, which limits it to eight weeks.
"Basically NFL strength coaches lost almost a month, a month and a half with the players," Marshall says, "and that made facilities like Ignition imperative. Or college strength coach a player can trust to train under."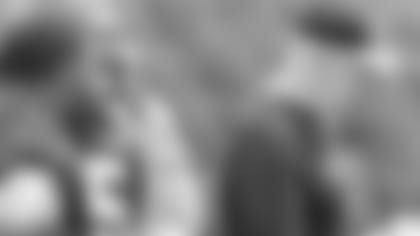 Rey (left) listened to linebackers coach Jim Haslett (right) and got down to his rookie weight.
That's what it's all about with Rey, who signed a three-year deal back in March to keep him in town as one of the most valued players on the club as a special teams co-captain and backup linebacker who has started 21 games the last two seasons at two different spots.
Marshall has the trust factor with Morton and Lewis. Rey has it with Marshall. And even though Haslett just came into his life in January, he trusts him as a long-time respected defensive coordinator and head coach.
"The more the corps of linebackers can trust Jim Haslett, it's going to make us that much better," Rey says. "Coach Haslett is telling me to drop the weight. He's been a very successful coach and a player, so I'm listening to him. Get a little quicker. A step here or step there might mean an extra sack or turnover."
Rey came out of Duke at about 242 pounds, but lately he's been playing at about 250-255 pounds and getting closer to 260 when Haslett approached him back in the spring. Rey indicates their new coach wants pretty much everyone down to near their rookie weight.
Rey admits his role as punishing 255-pound middle linebacker Rey Maualuga's chief backup has him wondering just how much weight he should shed.
"I've put on muscle every year. It's a physical division," Rey says. "I worried about that a little bit at first. I thought that was the reason I was gaining weight. If I have to go in for Rey, there's no dropoff. But Coach Has said that it shouldn't be a problem. That's the way the NFL is turning right now. You have to be able to run. I trust him."
Rey knows Haslett came into the league a decade before he was born as the 1979 NFL Defensive Rookie of the Year, so that's one reason to listen. Another reason is the new guy in the linebacker room, 34-year-old Karlos Dansby heading into his 13th season. When Dansby came into the NFL in 2004, Rey was leading Bayside High School to New York City glory in Queens.
"It's crazy, I'm 28 years old. I'm an older guy now," Rey says. "It's my seventh year. I should drop my weight. Even a guy like Karlos Dansby, he's saying everything Has is telling me is true. He said he dropped weight around his seventh, eighth year and it prolonged his career. You don't meet many guys in their mid-30s still playing football."
So the green notebook has notations like this one from this past Tuesday at 9:30 a.m.:
A three-egg omelette. Three turkey sausages. A banana; 1 p.m.: catfish, broccoli; 6 p.m.: Caesar's Salad (from Noodles and Company), grapes, strawberries.
"There's a lot of catfish. You can put a little hot sauce on it," says Rey of the lunch that is prepared by his chef. "Tomorrow it might be salmon and asparagus."
Now the scale has come full circle at 242 pounds. He laughs when asked if Vikings head coach Mike Zimmer is going to recognize him when he brings Minnesota to PBS for practices on Aug. 10 and 11 before the Aug. 12 pre-season opener. In four seasons under Zimmer as the Bengals defensive coordinator, Rey went from little-used special-teamer to a key player in his sub packages when Zimmer saw he could exploit his versatility.
"I think so. It's not like I'm wasting away," Rey says. "(Zimmer) is the definition of discipline and right now disciple is what is taking me to this level."
But you can take away all the slick facilities and the corporation pitches and staying in shape comes down to one major driving force. It's usually the guy next to you. Rey has been on his phone texting with the backers working out elsewhere, like Marquis Flowers in California and Vontaze Burfict in Florida.
"I don't want be the guy that comes back not in shape," he says.