Given what went on around him, Andy Dalton may have played better in 2016 with half the wins of 2015.
Like it always does, Black Monday has given way to an offseason streaked with Gray.
As in a panorama of maybes-what-ifs-let's-try-it-on moves with a slew of coaching changes piled on last year's batch. That's about half the league.
But the Bengals believe they're closer to reaching a Super Bowl with the current roster of coaches and players rather than blowing it up with what head coach Marvin Lewis calls "a re-boot."
And after a season they missed 13 field goals and extra points, lost their last five games by a total of 16 points, and played just two full games together with A.J. Green and Tyler Eifert, they just may be right. How far away can they be?
Here's even more stability. The Bengals.com end of year awards and everyone is coming back:
MOST VALUABLE PLAYER: QB Andy Dalton
He didn't have a league MVP-type year like he did last season, when he missed the last three games with a broken throwing thumb. But he may have been more impressive in 2016.
He had fewer weapons, five new wide receivers, and a non-existent running game while getting hit more than he's ever been hit and that included a career-high 41 sacks. It was the first time in 20 years a Bengals quarterback got sacked more than 40 times and Dalton never let it get out of control.
Sure, he had a career-low 18 touchdown passes. But he has also a career-low interceptions over 16 games with eight, a major reason they were that close in so many games. Plus, he had the second highest yards per attempt, second best completion percentage and second highest passer rating of his career in the face of all that pressure that made him move off his spot more often than not.
A Most Valuable Vignette?
It's not much of a re-wind. Just go back to Sunday's regular-season finale and the end of the first half against Baltimore. With the clock ticking down from 30 seconds at the Ravens 6 after wide receiver Tyler Boyd's rookie mistake kept time moving and everyone screaming for a snap, Dalton had the presence of mind to move Rex Burkhead out of the backfield on to the line to avoid a penalty that would have expired the clock.
Instead, Dalton was able to spike it with seven seconds left. While everyone was screaming about Lewis not taking one last shot at the end zone, they were lucky to get even three.
"To me, he has had his best season, unfortunately, we as a team we haven't. He continues to grow and be the quarterback that we expect," said Lewis about two hours later. "I think the things we did offensively with the checks, the things he has done and how he has handled it engineering the offense. He has gone through a stretch where he hasn't had the experienced players he has had in the past. He has had to mentor and bring guys along that way and that's been good. That is great experience that you gain as a quarterback that will be helpful moving forward."
OFFENSIVE PLAYER OF THE YEAR: Wide receiver A.J. Green
Before handing this one out, something must be said for two warriors who went through all 16 games during the toughest year the Bengals offensive line can remember.
Left tackle Andrew Whitworth and right guard Kevin Zeitler answered the bell well enough and consistently enough to both be ranked in the top five in profootballfocus.com's position rankings. Either one or both could have received this award. And either one or both must be back in free agency, for that matter.
But Green was so good in just nine games that it's a no brainer. Despite not having Eifert for six games, playing with five other receivers that weren't with him in 2015, and defenses draped all over him, he was still on pace to smash the Bengals' single-season record with 117 catches and 1,713 yards before he partially tore his hamstring on the second snap of the Nov. 20 game against Buffalo.
Fittingly it began and ended in the Big Apple, where his Opening Day 180-yard clinic started Jets cornerback Darrelle Revis' move to safety and his seven catches, 68 yards (long of 21), and a TD matched Odell Beckham's 10 catches for 97 yards (long of 21) and a TD for the Giants.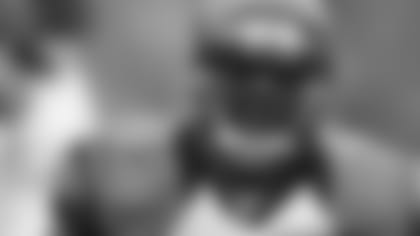 Versatile Vontaze Burfict only needed 11 games to be DPOY.
DEFENSIVE PLAYER OF THE YEAR: WLB Vontaze Burfict
He played in just 11 games but, like Green, he was so dominant he can't be ignored. While racking up 101 tackles, Burfict's versatility surfaced in the PFF rankings for 4-3 outside linebackers. He was rated No. 2 in run stop efficiency, No. 4 in pass-rush productivity, and he had the fourth lowest passer rating in his coverage area.
Pro Bowl defensive tackle Geno Atkins gave Burfict a run after his nine sacks edged Aaron Donald's eight in their annual derby for the NFL interior sack crown.
SPECIAL TEAMS PLAYER OF THE YEAR: WR Alex Erickson
Not as clear cut as you think since Erickson, the undrafted free agent out of Wisconsin, won the AFC kick return title.
But running back Rex Burkhead stepped into the Pro Bowl vacancy of running back Cedric Peerman's injury to lead teams in tackles and another rookie, seventh-round safety Clayton Fejedelem, emerged as an effective player in impact spots.  Fejedelem played inside on both kickoff teams as well as the slot on the punt team and Burkhead took over Peerman's quarterback role as the personal protector on the punt team while supplying a big block on one of Erickson's three mega returns.
In the end, though, it had to be Erickson. In a year the kicking game imploded he tried to flip the field and became the first Bengal to have three returns of at least 65 yards in a season while finishing at 27.9 per return. The man he replaced, Brandon Tate, finished second in the AFC at 22.8 for Buffalo.
 Ironically it was Erickson's outrageous punt returning in the preseason (a 41-yard average heading into the finale) that pushed Tate off the club. But Tate finished second in the AFC in punt returns with an 11.6 average while Erickson was nine at 7.0.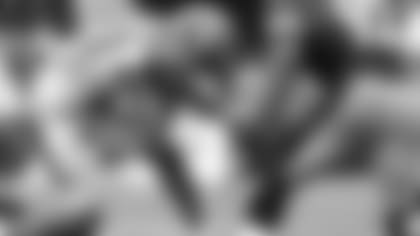 Tyler Boyd had six catches for 78 yards in his hometown of Pittsburgh.
ROOKIE OF THE YEAR: WR Tyler Boyd
The second-round pick from Pitt came as advertised.  A crafty, resourceful slot that could help right away to try and replace Mohamed Sanu.  Big shoes to fill. PFF has the Falcons' Sanu as the NFL's No. 3 slot receiver and Boyd as No. 24.
But look at Boyd's work on third down, where he had 22 catches for 216 yards and a 9.8-yard average. Last year Sanu was 13-155-11.9 on third down.  Boyd, the 55th pick, led all rookie receivers in third-down catches, one more than the Giants' Sterling Shepard, the 40th pick.
After he had six catches in Cleveland, Boyd had 48 for the season but he seemed to hit the Rookie Wall with just six catches in the last three games. But his 54 catches were the most by a Bengals' non-A.J.rookie receiver since Cris Collinsworth's club rookie record 67 in 1981.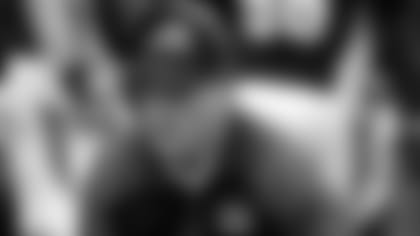 James Urban led the wide receivers through a productive season.
ASSISTANT COACH OF THE YEAR: WRs James Urban
When they came into the season, the only wide receiver who played here in 2015 was Green. And yet the position that was supposed to be a weakness became strength.
 Green was having the best season of his career before he got hurt.
Veteran free-agent Brandon LaFell had the second best year of his seven-year career even though he was coming off an injury-plagued season in New England, where he was limited to 37 catches and hounded by drops. Even early on in this past training camp he looked out-of-sync and torn ligaments in his thumb didn't help. But he turned out to be a rock and when they were trying to replace Marvin Jones'   65 catches, 816 yards and four TDs, LaFell gave them 64-862-6.  Now that's a solid free-agent signing.
But Urban also was handed three rookies and even though Erickson and sixth-rounder Cody Core didn't play much, when they did play they produced and that is ultimately how you have to judge any coach. Do their players produce? Boyd certainly did like few rookie receivers have here.
And Core is an interesting case. He ended up starting against Houston two weeks ago and really struggled with eight catches for just 39 yards  even though they threw it to him 14 times. But Green got the practice reps that week before they decided not to risk him. When Core took all the reps the next week, he had a bust-out game on 82 yards with four catches.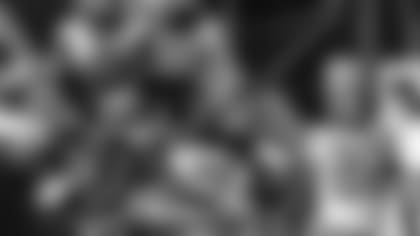 A.J. Green's Hail Mary worth another look.
PLAY OF THE YEAR OFFENSE:  Naturally, Green's Hail Mary TD catch at the end of the first half vs. Cleveland that was the dilettante juggler's ultimate act.
Think about this.  How special is this guy? Six years in and we've already seen two Hail Marys when you go back to the one that tied Baltimore at the end of the 2013 game there. Think back to how many Hail Marys Chad Johnson, Carl Pickens and Cris Collinsworth combined for and it makes you wonder.
PLAY OF THE YEAR DEFENSE: Burfict's leaping interception in the middle of his blitz of Eagles rookie quarterback Carson Wentz and his ensuing 47-yard return. Lewis has been lamenting how a team can have 33 sacks and just three fumble recoveries. But this was the rare case of an explosive play for the defense.
*PLAY OF THE YEAR SPECIAL TEAMS: *
Defensive lineman Margus Hunt's blocked field goal in the opener in New York against the Jets, the first of his league-leading three blocked kicks and it was a foreshadowing of how the kicking game would impact the season.
Already up 7-0, the Jets looked like they were going up 10-0 barely ten minutes into the season with Nick Folk's 22-yarder. But Hunt got a hand on it to set up a Bengals' field goal and they won, 23-22.  What if they didn't win that one?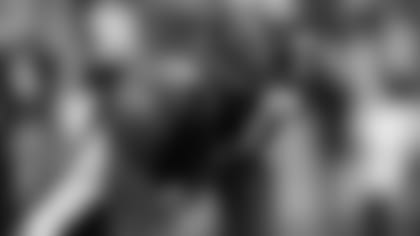 A.J. Green had a big game against Josh Norman in Wembley, but it wasn't enough.
SEASON's TURNING POINT I: The 1-1 Bengals are leading the Broncos and their first-year starting quarterback Trevor Siemian , 7-3, and are threatening to blow it open on the last play of the first quarter at Paul Brown Stadium when they force a punt from the Denver 9.
 Usually returner Adam Jones is lethal in those plus 50 situations and they're looking at a field goal at least. But Jones fumbles at the Bengals 46, Denver scores three plays later on one of Siemian's first completed passes longer than 20 yards, and the Broncos go on to win, 29-17. When the Bengals roll the Dolphins four days later, how close were they to 3-1?
SEASON's TURNING POINT II: The 3-4 Bengals, leading Washington, 20-17, are driving one minute into the fourth quarter at Wembley at the Washington 20. On second-and-10, running back Jeremy Hill doesn't pick up a blitz off the edge, Dalton gets drilled as he throws and Eifert doesn't keep running through the zone. Interception.
On the next snap Washington quarterback Kirk Cousins hits tight end Vernon Davis for 26 yards to start a TD drive and the Bengals walk out with a 27-27 tie that easily could have been a victory to get back to 4-4 for the second half of the season.
QUOTE OF THE YEAR I: "I feel blah. I feel like nothing," said A.J. Green after the 27-27 tie in Wembley.
QUOTE OF THE YEAR II:  "I had some good ones in college and some good ones in high school," Green said when asked if the Hail Mary was the best catch of his career.
QUOTE OF THE YEAR III:  "You in there?" asked Adam Jones as he shook the waste basket next to his locker in Cleveland looking for Browns wide receiver Terrelle Pryor.
Cincinnati Bengals host Baltimore Ravens at Paul Brown Stadium in week 17 of the regular season.