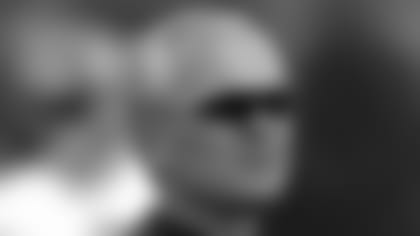 Bratkowski: Keeping defenses off balance (Bengals photo)
Call them "The Brat Pack."
They are the Bengals teeming with possibilities and options in Bengals offensive coordinator Bob Bratkowski's system, which has racked up more yards than any other playbook in the NFL during the first two weeks of the season.
Palmer looks more like an ACC point guard dishing the ball at the command of a Dean Smith-like Bratkowski. His five touchdown passes have gone to five different receivers from three different position groups. A total of eight receivers have caught balls of at least 12 yards. And four non-quarterback runners have carried 19 times in addition to workhorse Rudi Johnson.
"(Bratkowski) is aggressive, that's what I like," said quarterback Carson Palmer, the leader of the pack with the most yards passing in the league. "A lot of coordinators and coaches get scared when they see defenses (make plays). He's not scared of any defense or anybody. He likes to attack and put the defense back on their heels."
Compare those numbers to last year after a 1-1 start. There had been just two touchdown passes, three receivers had catches longer than a dozen yards, and Johnson had all the rushing attempts but 10. This year backup running back Chris Perry, otherwise known as The X-factor, has 14 carries by himself.
If Bratkowski has no fear, then why should his offense? As the only unit to return all 11 starters in the NFL, it came into 2005 with plenty of battle scars from 2004. Eleven times in the last 15 games, the Bengals faced a Top 10 defense and three were ranked No. 1 the week they played Cincinnati. And, still, with a new quarterback the Bengals scored their most points (374) in 15 years.
"It helped us a lot," Bratkowski said. "First off, we played Baltimore and Pittsburgh twice and both were top five defenses. We're not shocked by many teams right now defensively. We've played some good defenses. We know what kind of level we have to play at, with the good technique and pad level and precision in the passing game. That has helped us."
Marvin Lewis' first gamble as a head coach turned out to be his best. Sit Palmer his rookie year and let him watch a pro like Jon Kitna work.
"The quarterback is getting the ball to everybody," said wide receiver Chad Johnson, whose 16 catches have him on track for a third straight Pro Bowl despite the share-the-wealth stats. "It's the quarterback who is actually executing and making the decisions based on what's out in front of him. We're using everything. You can keep everyone guessing. No one knows who to key on, so it's going to make it very difficult for everybody we play."
During Monday's media session, Johnson played the broadcasting bit when he shoved his cell phone through a group of reporters around Palmer and basically asked, "What are the chances of me breaking the streak of no 20-catch games?"
"You got your work cut out for you," Palmer said, but, of course everyone is laughing now.
The quarterback is starting to separate himself from his peers. Palmer not only leads the NFL in throwing for 617 yards, but he's second in the key passing categories of touchdowns (five), completion percentage (71.6) and average gain of 8.3 yards.
Bratkowski has been the overseer of a project that is purring on pace with the league's elite quarterbacks. In a comparative chart compiled by bengals.com looking at statistics after a quarterback's first 15 NFL starts, Palmer more than holds up.
At this stage in his career, he has more touchdown passes than Ben Roethlisberger and Brett Favre, the same completion percentage and yards per attempt as Tom Brady, the same number of yards as Peyton Manning, and more wins than Donovan McNabb.
Stacked up against the two best quarterbacks in Bengals history, Palmer leads Ken Anderson and Boomer Esiason in the best part of their games with a higher completion percentage than Anderson and more touchdowns than Esiason.
**

NFL QBS - FIRST 15 STARTS

**
**Name**
**Record**
**Att.**
**Comp.**
**Yds.**
**Yds/ Att**
**TD**
**INT**
**Rating**
Ken Anderson
7-8
327
189
2090
6.4
9
6
78.4
Boomer Esiason
9-6
375
217
2791
7.4
21
11
87.8
Chad Pennington
9-6
438
295
3537
8.1
31
6
109.7
Ben Roethlisberger
15-0
307
207
2917
9.5
21
11
105.7
Daunte Culpepper
11-4
464
290
3840
8.3
32
16
97.3
Tom Brady
12-3
446
288
3091
6.9
21
12
89.3
Brett Favre
9-6
471
303
3240
6.9
20
15
85.2
**Carson Palmer**
**8-7**
**506**
**316**
**3514**
**6.9**
**23**
**20**
**81.7**
Mike Vick
8-6-1
384
206
2451
6.4
13
8
76.0
Jake Delhomme
8-7
437
249
3147
7.2
15
17
74.8
Steve McNair
8-7
401
223
2967
7.4
17
10
83.0
Matt Hasselback
6-9
428
250
2702
6.3
10
8
77.1
Drew Brees
8-7
477
293
2952
6.2
14
15
75.7
Donovan McNabb
7-8
467
255
2525
5.4
19
14
71.2
Jake Plummer
6-9
486
271
3186
6.6
19
24
68.3
Peyton Manning
3-12
551
305
3514
6.8
25
26
72.0
And that's not as easy as it looks. Chris Palmer, the other finalist for this job Bratkowski got after the 2000 season, got fired in Houston on Monday because of the trials of David Carr, the No. 1 pick the year before Carson Palmer went first. Plus, Chris Palmer had already been fired in Cleveland for not being able to get another No. 1 pick, Tim Couch, off the ground in Cleveland.
And there's the uproar in Detroit over the ups and downs of a No. 3 pick, Joey Harrington, and a mid first-rounder has been benched in Washington in Patrick Ramsey and ...
But it's not the numbers that please Bratkowski, it's the way Palmer has managed the first two games of the season. There have been two interceptions, but not killing ones because each ended up in the foes' end zone and not the Bengals'. There have been two-minute-drill touchdowns at the end of both first halves, and the dispersal of the ball accurately to the open people.
"Part of it is Carson's maturity of being able to read the defenses and knowing where to get the ball," said Bratkowski of the expanded offense. "Part of it is we have the same group of guys and they know the system and they know how to run it and where each other are going to be and how we expect them to get there."
In the 37-8 win Sunday over the Vikings, Bratkowski called a shovel pass, a couple of reverses, a circle screen to Perry that went for an 86-yard touchdown before it got called back for holding, and the big one: A long bomb on the second play of the game to Chad Johnson that worked and set the tone for the day. Then, he reverted to the no huddle offense on the next series in an eight-play drive for another touchdown.
"He makes you cover everything," Palmer said. "We do everything but the option. ... Guys understand their roles ... not bickering, not jealousy between anybody. We all understand the roles."
And Bratkowski is using them all.
"They do get concerned. They start to play a little soft," said Bratkowski of the effect a bomb has on a defense. "There are more things available to you underneath. We probably could have taken more shots down the field. We probably should have, but the flow of the game was going along pretty good."
The early strike is the kind of call Palmer loves.
"He's adjusted to me. I like to be aggressive," Palmer said. "He knows I'm going to make mistakes and throw picks and that stuff is going to happen. But that doesn't take away from his aggressiveness."
Actually, it hasn't had to be too much of an adjustment. Bratkowski has been going for the throats of defenses since Palmer was in knickers. He coordinated two national championship offenses for Dennis Erickson at the University of Miami and then under Erickson in the pros in 1997 he coordinated Seattle's top-rated pass offense. The Erickson influence is still felt. Especially since starting receivers Chad Johnson and T.J. Houshmandzadeh played for Erickson at Oregon State.
"(Erickson) was known as a wide-open coach when I started working with him and it kind of stuck with me over the years," Bratkowski said. "You have to try and keep them off balance."
The Bengals won with balance Sunday as Bratkowski called 40 passes and 39 runs in producing 504 yards. It's not a circus out there as Rudi Johnson's season average of 4.5 yards per carry can attest.
"Chad's not going to get 20 balls a game thrown to him like T.O.," Houshmandzadeh said. "If there's 40 passes a game and about five or six screens, that leaves about 34 and you're just not going to see 20 balls thrown at anybody in this offense."
Houshmandzadeh scored his first NFL rushing touchdown Sunday off a 16-yard reverse, as well as his first touchdown pass of the season on a 12-yarder. He sees similarities in the Oregon State and Bengals systems.
"He'll get the ball to the guys who need it," Houshmandzadeh said. "And if he can't get to him, he'll find a way without trying to force it, but he will get it to the guy."
Like Perry, who is basically a faster, bigger Peter Warrick. Perry's bounce and elusiveness has been immense as the third down back.
"Chris has tremendous speed and quickness, and he can jump outside of things and take it outside of the defense, where we know he's such a good runner and breaks tackles," Bratkowski said. "Second, in the pass game, he's not only a good pass protector but a good route runner. ... He's explosive and fast and gives us some mismatch (possibilities)."
While Chad Johnson's speed has stretched the field, the burst of Perry and Palmer's rifle arm to areas beyond the hash marks have widened the field for the offense. That particularly helped last week against a Vikings defense so strong up the middle with tackles Kevin and Pat Williams, but one that also got tired chasing plays from sideline-to-sideline.
"Every throw that you want to make, he makes," Bratkowski said. "He makes throws that a lot of starting quarterbacks in this league don't make and we've incorporated those things into the offense. As long as we're consistently making those throws and winning on the outside, I think we'll continue to have success."
Bratkowski's philosophy revolves around multi-personnel groups and different formations so that the defense can't get a read on tendencies. But he also says good teams can be predictable because the defense can't stop it even if they know it's headed at them. He says the offense has clearly changed since the switch was made from Kitna to Palmer because the two each have different strengths. But, just as clearly, Kitna didn't have the weapons of Palmer, and Bratkowski wants to be careful about not giving Palmer too much.
"We've all been in the system so long, we're running fast and not thinking," Houshmandzadeh said.
"We're walking a line," Bratkowski said. "We don't want to confuse them with new things, and yet we want to continue to challenge them and challenge the defense with different looks."
Houshmandzadeh has been here all the way with Bratkowski, ever since that 2001 draft when Bratkowski made a call to Erickson during the seventh round to re-hash their pre-draft discussions. It had been something like, "If you draft Chad, you have to take T.J., too."
"A few years ago they were saying our play calling was horrible," Houshmandzadeh said. "Now that we're playing well, the play-calling is good. It's all about getting your players into the system."
Bratkowski shrugs at the criticism. "The people on the outside don't know why a particular play is called," he says. "It could have been a defensive change, or something caught in pictures during the game, or tendencies of the defense, or any other number of hidden factors.
"It's like the (long) pass we threw to Chad. We've thrown that ball on the first or second play a number of times. ... You look like a fool if it's picked off and like a hero when it's a touchdown."
Someone asked Palmer the day after the Minnesota game if he could run the option.
"I hope it doesn't come to that," he said.
Right now, that looks to be last on an endless list.