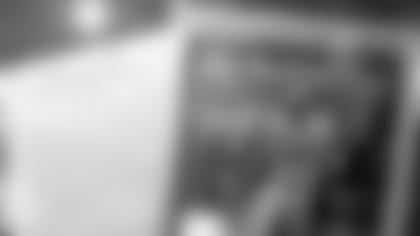 An old issue of The Sporting News with Curtis on the cover hangs next to the former Bengals receiver's original contract in the Isaac Curtis suite at Paul Brown Stadium.
The old man would never say it. But you knew it was Cleveland week simply by the way he snapped, crackled, and popped through the work week.
And when one game separated his Bengals and those Browns with two games left, the kid sprinter personally ran the Bengals into the playoffs when he hauled in touchdown passes of nine, 70 and 20 yards from Ken Anderson in the first 29 minutes to make the Bengals 9-4 and the Browns 7-4-2. That was way back in the Watergate fall of 1973 and yet the kid can still hear the old man in the locker room because he never said all that much to begin with.
"That," Paul Brown said to Isaac Curtis, "was something special."
Anthony Muñoz might be a Hall of Famer and Ken Anderson and Boomer Esiason might have been MVPs and Chad Johnson may be a walking billboard. But if there was ever a special player in Bengaldom it was Curtis, the man with the flypaper hands and Olympic speed who was so special Paul Brown made them invent the five-yard rule.
"Jerry Rice before Jerry Rice," Anderson said simply. "People forget but when he came into the league as a rookie, he had as much impact as Jerry Rice did as a rookie. This is how special he was. When he was a rookie in training camp one day he said, 'I think I might have a tight hamstring,' and that was enough to get him a day off. That's how much he meant to us."
"You could never overthrow him," Anderson said.
Like he has ever since he gained the last of his 7,101 yards and caught the last of his 416 passes, Curtis is going to use his season tickets Sunday to watch that Browns team he started torturing in the 1973 draft and didn't stop until he helped the Bengals win up in Cleveland in overtime two games before he retired at the end of the 1984 season.
And he may pop into the suite that bears his name, but Curtis doesn't have a ticket to the Isaac Curtis Suite for the first regular season game for the fleet of seven new corporate suites.
"I may not be able to get in. My tickets are on the good old plaza level," Curtis said. "I love the Bengals, but I'm not going to pay $65,000 to watch a game. I'm going to be outside with the people that have waited all this time. We've got a great bunch around us. It's great out there."
The old man never said much, and he passed on to his kids an anathema for pomp and circumstance. Hence there is no Bengals Hall of Fame or Ring of Honor.
So when the club approached Curtis this summer to ask permission to put his name and the names of six other Bengal greats on new suites, he was deeply touched.
"To be able to play in the NFL and play for a legend like Paul Brown and to have suite named after me in the stadium that's named after him is a tremendous honor," Curtis said. "I know they don't do much of that, so it's something that I think is a big honor."
It's the 25th anniversary of the best Bengals team ever, the 1981 AFC champions. They must be, right? Five of the seven suites are named after players on that team: Curtis, Anderson, Muñoz, Ken Riley and Cris Collinsworth. Curtis isn't so sure.
"Every era is different," Curtis said. "I think our team and the '88 team could have beaten any team in the league. I think this team is getting to that point. I know one thing that '81 team had was unity. We just got along so well.
"Everybody looked out for each other. It was a great group of guys. We just had fun being together. I know on offense we felt like nobody could stop us, and I think that the defense felt that way, too."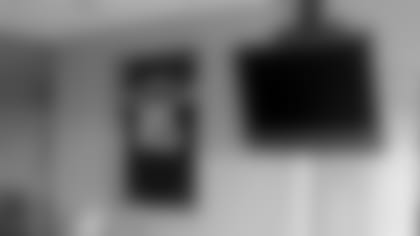 An autographed jersey adorns the Isaac Curtis suite.
Anderson, the quarterback who remade his career that season, knows it was a great team. But he has always thought the teams from the mid-70s are overlooked.
"You look at those teams in '73, '75, '76, those were good teams," Anderson said of a stretch his Bengals went 31-11 and to the playoffs twice. "We just happened to be in the same division with the team of the decade (Steelers), but one year we made the Wild Card and went 11-3." Another year the Bengals won 10 games and didn't make the playoffs.
Curtis made sure a slice of the '70s got into the suite when they asked for some mementos. A Sporting News cover. His plaque honoring him as Offensive Rookie of the Year. That first check signed by current Bengals president Mike Brown.
$22,000 for the first-round draft choice from San Diego State.
"Those guys would get a laugh out of that," Curtis said. "Now they get more taken out in taxes."
In the end, Curtis was priceless. It turned out that if Paul Brown had been a part owner of the Browns when Art Modell fired him as head coach after the 1962 season, Curtis owned them on the field in the '70s.
Six of his club-record 20 100-yard games came against the team named after the coach they fired.
"I remember one of their corners," said Bengals radio analyst Dave Lapham, an offensive linemen on those Cincinnati teams, "and he always looked like he was scared to death whenever he saw Isaac. I mean, he caught everything, and he had world-class speed. Think about that. He had this knack for catching the bottom of third of the ball over his shoulder at the last minute."
Curtis knew the story about Paul and the Browns. Who didn't in football then?
"And the veterans made sure the rookies knew it if they didn't," Curtis said. "Guys like Kenny Riley, Leaping Lemar (Parrish). (Al) Beauchamp. We knew it. Whatever was your high school rivalry, this was it. Ohio State-Michigan. That was what it was."
And there was even more history.
The Bengals shocked Curtis taking him with the 15th pick. He had no idea they were interested. He thought for sure he was going to Cleveland. It's hard to believe that Tony Grossi wasn't covering the Browns then for The Cleveland Plain Dealer, but as a long-time observer he remembers the Browns applauding when Curtis was selected so they could take another wide receiver. Someone named Steve Holden out of Arizona State.
While we waited in gas lines, Holden waited in obscurity. As Curtis set the table for Rice with 45 catches for 843 yards at a monstrous 18.7 yards per catch that rookie season, Holden caught three balls for 27 yards. He played through 1976 in Cleveland and after 62 catches and four touchdowns he is now a trivia answer while Curtis is a community icon.
Curtis never hesitated making the move to Cincinnati from California. As the long-time national sales director for the hotel outfit Winegardner & Hammons Inc. in Blue Ash, Curtis has never lost his visibility in town.
He has sent two children to high school here and has teamed with former teammate Louis Breeden to host one of the community's most successful celebrity golf tournaments for the past 16 years.
Hard to believe, isn't it, now that Curtis has raced past the Browns and Steve Holden and into a suite he is now a grandfather twice and a new No. 85 is at the center of Bengaldom.
Hard to believe, but the year Chad Johnson was born, Curtis had one of his three 100-yard games in 1978 against the Browns. The Bengals finished a brutal 4-12 that year and Anderson missed the first month with a broken hand, but there was enough pride to smoke Cleveland, 48-16, in the final game of the season at Riverfront with seven catches and 138 yards from Curtis.
"I always liked it here," Curtis said. 'It's just a nice town. I met so many great families when I got here. Yeah, it's almost like everyone knows everybody else. I do sometimes think about what would have happened if I went to Cleveland. But for me, it's been, what? (33 years). I don't think it could have worked out much better. It was a thrill to play here and I've really enjoyed staying."
That means he also enjoys watching the new 85. If there is an antithesis to Johnson, it's Curtis. The times, of course, are as different as Mohawks and Afros, and Curtis is as quiet as Johnson is flamboyant. But he loves the guy.
"He's so fun to watch; he's such an exciting player," Curtis said. "The thing I like about Chad is that he brings excitement to the game and he genuinely loves it."
Curtis will be there watching Sunday, but not from the luxury suite that costs three times as much as what Paul Brown paid him that year to beat the Browns in late December and get to the playoffs.
"Paul always respected his players," Curtis said. "But you had to earn that respect. I think I earned it that day."
The fireworks will go off at this home opener, and the music will rattle the earth and the crowd will swallow up whatever sound is left. And Isaac Curtis can still hear Paul Brown talking to him after the Browns were beat.
"That was something special."
Bengals.com is taking a look back this season at the players who made the 1981 season possible on the 25th anniversary of the Bengals' first Super Bowl appearance. For a look at Cris Collinsworth, click here.