Vontaze Burfict faced press coverage Wednesday.
For the third straight season Vontaze Burfict, regarded as the Bengals' best defender, comes off a list Sunday in Cleveland (1 p.m.-Cincinnati's Channel 12) to join his team in mid-swim after just a few days of practice.
So expect 36 snaps, the awe of his teammates and a defensive gem in a victory, which has happened in each of the last two seasons. As defensive coordinator Paul Guenther said contently after practice Wednesday with a huge division road game between winless clubs looming, "To get back your leader is always a good thing. He knows the defense inside and out. He's the emotional leader and brings that element."
2015? Burfict missed the first six games while coming back from micro fracture knee surgery and after a week of practice ended up playing 76 percent of the snaps in Pittsburgh when middle linebacker Rey Maualuga injured his calf running on to the field and only lasted the first snap in a 16-10 victory that moved the Bengals to 7-0.
"I told him that was bleeping unbelievable to go out there and play likes that with just one practice," said cornerback Adam Jones after it was over.
2016? Just like this season, Burfict is coming off a three-game suspension for violating player safety rules, and ended up playing 48 percent of the snaps against Miami as the Bengals won, 22-7, and didn't allow any points after their opening series.
"Those are football instinctive plays," said left end Carlos Dunlap later. "Those are things you can't coach. He came off the couch and played like he's been with us the whole time. We're glad to have him because we've got him for the long haul now. We just need to get his wind back."
On Wednesday, Vincent Rey, the man who has replaced him at WILL backer the last three years, predicted that Burfict would play 85 percent of the snaps in Cleveland. Burfict is making no promises, but word is he went hard for 15 straight plays Wednesday to get ready.
 "I'm not sure if they're (planning to) throw me in hot water on Sunday and make me play the whole game, but I'm ready for whatever and whatever can help us win," Burfict said after practice. "Once things start being competitive, I'm pretty sure I'm going to want to stay in, but it's up to the coaches. They don't want me being over too many plays and obviously getting hurt or something like that. So it's up to them. I'm prepared to play the whole game but if they put me to come out, I've got to come out."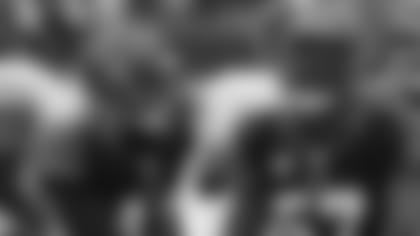 As usual, Vincent Rey (57) kept it all together with Burfict out.
This season may not be such a scramble to force feed Burfict right away. Oh, they want him and need him to make some big plays like he did in the preseason when he pick-sixed Kirk Cousins in Washington. But unlike the past two years, they're deep, healthy, and talented at backer.
Gone from last year are the 30-the-year-old Maualuga and the 34-year-old Karlos Dansby and the additions of second-year year man Nick Vigil as well as middle linebacker Kevin Minter, a 27-year-old vet picked up from Arizona in free agency, and sixth-round pick Jordan Evans have made them much faster and versatile. Vigil's specialty is the nickel package and Rey has also been very good in it. Burfict also excels in it as well as the regular package, so he may be able to get some breathers early on.
"Nick is playing really well. As well as anybody," said linebackers coach Jim Haslett. "Kevin has had limited reps, but he's played really well. The other day he had five tackles in 20 plays. He's a physical presence in there. Vinny has done a really good job in there."
Evans hasn't played much at all since the opener because Haslett said he didn't want to sit anyone since they were playing well enough. Rey is quietly sixth in the league in tackles.
"I'm going to try and get them all in the game," Haslett said. "They're all deserving. They really are."
But everyone from Haslett, a five-decade figure in the NFL, to Browns head coach Hue Jackson, a coach on the Bengals defense in Burfict's rookie year, to Carl Lawson, a rookie pass rusher, knows what Burfict's return means.
Haslett: "He's smart, he's instinctive, and he gives us a lift."
Jackson: "Vontaze is the ultimate player for that defense. He is kind of the straw that stirs the drink there. I have a fondness for Vontaze because of the way he plays the game. He's a true professional. Loves football. Plays the way anybody would want any linebacker to play." Lawson: It's a great feeling to have Vontaze. All through OTAs, all through camp, he's been one of the mentors for me. Just like Vinny has. He's always helped me. It's great to have him back on the team."
Burfict has never, ever been on a winless team. Well, when they lost the openers in his first two seasons in 2012 and 2013, they won the next week. The only Bengal who has been 0-3 as a Bengal is defensive tackle Pat Sims and it's not going over well with guys like Burfict.
"Take one game at a time, one day at a time. Things happen," Burfict said. "Like I said, you just have to rebound from the negativity. It's a long season. It's not a sprint. So you've just got to finish strong. Each game is a different game so we just have to go out on Sunday and try to get a win."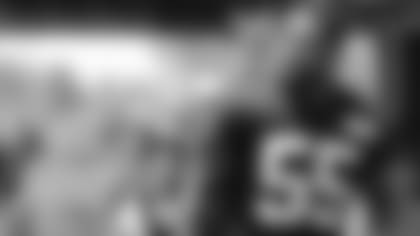 Burfict, seen here in the preseason, practiced Wednesday for the first time with his new deal.
He has been watching them like a hawk, not to mention a captain. He knows the defense has played we'll except for three killing big plays. They are seventh in total defense and tied for ninth in scoring, and yet a 72-yard pass beat them in overtime in Green Bay last Sunday, Texans rookie quarterback Deshaun Watson scored the only touchdown on a 49-yard scramble, and Baltimore's only extended touchdown drive was capped by a 48-yard TD pass flipped five yards in the air.
 "There are certain plays we're missing on and they're game-changing plays," Burfict said. "So we've just got to clean up the little of errors we have, and we can go on a streak. Like I said, you've got to go one play at a time, one game at a time, one day at a time. So that's where we're at right now and we're on to Cleveland and just try to get a win."
The one difference this year is that Burfict started his suspension signing a three-year extension reportedly calling for nearly $39 million that puts him in Cincy through the 2020 season and his 30th birthday. That makes him their highest paid defender and puts him in the top five among NFL inside linebackers. It's believed the extension can max out to between $38-39 million and the new deal figures to work out to close to $11 million per year, behind only Carolina's Luke Kuechly ($12.7 million), Cleveland's Jamie Collins ($12.1 million), and the Rams' Mark Barron ($11 million), according to spot.rac.com.
The talks had been percolating in and around Burfict's suspension stemming from his Aug. 19 hit on Kansas City fullback Anthony Sherman, a ruling that Bengals head coach Marvin Lewis publicly disputed and the Bengals front office vigorously appealed. Burfict said he wasn't worried that the suspension would impact the talks even as it knocked him out of his 23rd, 24th, and 25th games in the 51 games since 2014.
Burfict believes the deal shows he and the Bengals have each other's back.
"I hope so," he said. "I give my blood, sweat and tears out on the field. It's vice versa. I appreciate everything they do for me and my family and like I said, let's go get a win on Sunday."