Vontaze Burfict has seen plenty of new Bengals linebacker Karlos Dansby. On tape.
The Bengals report to work Monday for the first time since, well, that day back in January head coach Marvin Lewis has expunged from the rolls of Bengaldom.
And that's just fine with linebacker Vontaze Burfict. We're not talking suspension, schedule or Steelers. He's talking about what he talks best. The game. His teammates. His defense. And, most specifically, his fellow linebackers, the deepest group of them Lewis has had in his 14 years.
"Once the Super Bowl is over, everybody is 0-0. It's a new year," Burfict said. "Monday is the biggest testimony to that. You're no longer working out by yourself. It's building team chemistry."
The league has deemed his aggressive play as over-the-top. Enough that the NFL has suspended him for the first three games of the season. That's a ruling that didn't go over well in his building and the flame was re-lit on Thursday when the league scheduled one of his missed games against the Steelers. And it will be debated until he returns in prime time against the Dolphins on a Thursday at Paul Brown Stadium Sept. 29.
But what has never been debated are his instincts and X-and-O I.Q. So sharp that defensive coordinator Paul Guenther has already started recruiting him to coach. With Monday almost here, he's the guy to ask about this defense. 
In Burfict's last full season in 2013 before suffering a knee injury, the Bengals defense finished third in the NFL. Asked if they can get there again, he makes no promises, sounding like the coach he is on the field.
"I can't answer that question. We let our play talk," Burfict said. "For me to say we're in the middle or we're ranked high, it's too early. I think we have guys that are smart on defense and understand the defense that Coach G puts in. It allows us to play fast and that's what we use to make plays."
There are changes. Starting safety Reggie Nelson has moved to Oakland. Rotational lineman Wallace Gilberry is in Detroit and sub-package linebacker Emmanuel Lamur is in Minnesota.
But cornerback Adam Jones and safety George Iloka re-signed and backup safety Shawn Williams has put in three years to earn the job next to Iloka. Burfict doesn't see a lot of collateral damage, but admits "I'm sick about," losing Nelson.
"Shawn and George are going to make plays. I trust them in the back end," Burfict said. "Reggie is going to be missed . . . But 43 and 36 are going to make plays back there . . .   (Jones) is my dog. He makes plays. I'm pretty sure he's hungry this year. He got an extension. He'll be ready to ball out."
Burfict is a fan of Gilberry, but he doesn't see this defensive line losing much with everybody else back.
"Gil is solid," Burfict said. "Our defensive line always keeps us rolling. They're always hungry up front. If they do well, we do well. They have that chemistry. They're always down there in their little corner coming up with games and ways to rush the passer."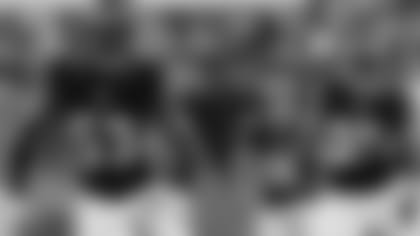 Marquis Flowers: Burfict's man to watch.
Which brings us to his backers, where one thing may surprise you and one won't.
When 13-year veteran backer Karlos Dansby recently signed, Burfict texted him, "Welcome to the family." He hasn't talked to him, but he's already watched Dansby plenty on tape because that's what he does.
"I study the linebackers that make plays. I study 4-3 linebackers that play the same nickel packages we play," Burfict said. "See how they undercut routes and jam the receivers. I watched Dansby the past two years and he's good at covering and he can come down the line and thump somebody, too. With E-Man gone, I think he fills some roles for us."
And the thing that may surprise you is that despite his Pro Bowl berth, his NFL tackling title, and his monstrous efforts in big games, Burfict says he gives way to middle linebacker Rey Maualuga, three years his senior.
"I don't want to step on anyone's toes I let him control the room. He's been here longer than me. I'll take the backseat right now, and follow Rey in that linebacker room and that's what he does great. He's been here longer and he's the vet," Burfict said. "He's the engine for our linebackers. He's the one that sets the tone. Hard hitting and Rey is pretty smart, too. A lot of people don't understand that. Rey's been here for I don't know how long (eight years) and he sets the front and knows where the blitzes are coming from. It's complicated."
But it's clear to see why Burfict has high regard for the veterans, Vincent Rey and A.J. Hawk. Rey and Maualuga are the only two linebackers who have been here longer than Burfict and he noticed that Rey had also signed an extension. There are many backer meetings where those two will stop the tape and they'll ask each other what they saw and then they'll promptly break down a resolution.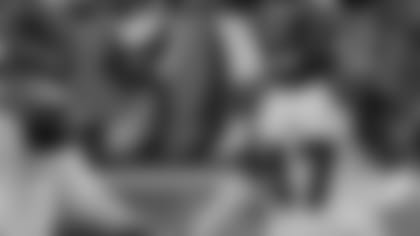 Burfict sees a bit of himself in P.J. Dawson's playmaking.
"Vinny is the jackrabbit. He can play Sam, Mike, Will, dime, the backer's spot at nickel," Burfict said. "He's just a smart guy. Vinny and I feed off each other.  I feel like Vinny and I are the same. In this defense, we both understand the ins and outs. We know how this defense is supposed to be run."
But Burfict is also bullish on a couple of kids he sees as up-and-comers,  a pair of recent draft picks the Bengals are looking at this year to get a return on their investment in that backer corps. He sees a little of himself in P.J. Dawson, last year's third-rounder, and he remembers what 2014 sixth-rounder Marquis Flowers looked like before he missed all of 2015 with a pre-season shoulder injury.
"I feel like everybody is sleeping on Marquis. Honestly, he's the best cover linebacker we have right now," Burfict said. "He's very athletic, very fast. The only thing we have to get from him is to be a little more physical.  I think he'll make heads turn this offseason."
Dawson came out of Texas Christian after a career he was known for coming up big in games while struggling with the details during the week. When he played only 35 snaps as a rookie, Dawson heard from Burfict.
"We need him to get to Sunday," Burfict said. "He'll be more focused this year. Last year he felt like he was never going to play. I kept telling him, 'You're a snap away.' I'm pretty sure he had his mind right this offseason. It looks like he's training pretty hard. I'll stay on him. I love Paul. He reminds me of myself. I'll stay on him. I just want the best for him."
There it is. Burfict's look at his crew. They don't get on the field for five more weeks and they don't put on pads for three more weeks. But right now, everybody is 0-0. Even on the depth chart.
"It's mano a mano," Burfict said. "Paul has to compete with Karlos Dansby and Marquis and all the other guys. We're not short-handed at linebacker."