David Pollack was set to be the quarterback of the Bengals defense.
The halo screwed into David Pollack's skull that kept his neck and head in the right position while his fractured vertebrae healed is still in his closet. In fact, right by his underwear drawer.
"So every day I go in there and look at it," Pollack says in the repose of his offseason.  "It reminds me how fast things can change in life. Enjoy every day. Make the most of every day. You don't know when that turn from God is going to take you down a different road that you didn't plan on."
NFL teams would be wise to do the same as they approach the April 30-May 2 draft.  Pollack is the headliner of the Bengals' star-crossed draft class from a decade ago that still reverberates through today's draft-room decisions.
The only player that made it into the next decade was the last player taken, seventh-rounder Jon Fanene, a defensive lineman who played seven seasons.
Fourth-rounder Eric Ghiaciuc had the most starts with 42 at center, but after his fourth season he never made it back into the NFL. The fifth-rounder, Ghiaciuc's Central Michigan teammate, tackle Adam Kieft, tore his ACL and MCL in the Mock Game, and was never seen again. Sixth-rounder Tab Perry, a wide receiver from UCLA, played 20 NFL games after a career-threatening hip injury with the Bengals and a torn Achilles' with the Dolphins cut short his career.
But it was the fate of the first three picks that defy even imagination on the 10th anniversary of the biggest what-if draft in Bengals history.
Pollack, the energetic pass rusher from Georgia, retired after a collision in his 16th game broke his neck. Second-round pick Odell Thurman, Pollack's college teammate, was a finalist for NFL Rookie of the Year but never took another snap after a suspension and failed reinstatement helped curtail the career of one of the brightest Bengals rookies ever. The third-rounder, West Virginia wide receiver Chris Henry, died during his fifth season in the NFL in a traffic accident.
"I don't think that's a game anybody wants to play. What if?" Pollack says. "It's like saying you had potential. If you get to be 30, 40 years old and you're still living off potential, that's a problem. I don't think you can play the what if game in life. I think you can drive yourself crazy."
But what if that draft class had stayed intact for the Bengals, like the last six pretty much have?
Pollack gave a mediocre defense searching for identity a pass rusher and charismatic leader that still shines through in his job as a college football analyst for ESPN. In Thurman they had a middle linebacker who was so good head coach Marvin Lewis said he reminded him of Hall-of-Famer Ray Lewis after just one practice. Before Henry's own off-field problems tripped him up, his blazing speed and 6-4 knack for the ball resulted in 15 touchdowns in his first two seasons.
Would the Bengals have missed the playoffs with a combined record of 19-28-1 from 2006-2008 with defenses that were ranked 30th, 27th and 12th? Would that 2006 team that finished eighth on offense and one win out of the playoffs get in with Pollack and Thurman? Would the '07 team have finished 7-9 if Henry played a full season instead of being suspended for the first eight games in a first half they lost six games by an average of 10 points?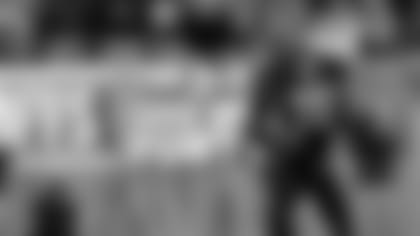 The late Chris Henry always seemed to get past the Pittsburgh secondary.
Who knows? What we do know is that it took them four years to get back to the playoffs with a new defensive coordinator and completely new defensive personnel and a totally new offensive philosophy with an entirely rebuilt offensive line.
We also know the five rookies that played in 2005's defining game of the regular season all had huge roles in the 38-31 win in Pittsburgh that basically gave the Bengals the AFC North title.
And it started with Pollack's game-long pressure of Steelers quarterback Ben Roethlisberger and sack in the last series. Thurman's fifth interception of the season with just under seven minutes left set up the Bengals' insurance score. Henry's career-high five catches included a six-yard grab on third-and-four on that last touchdown drive. Perry's 94-yard kick return put them ahead for good at 31-24. Fanene's NFL debut included a four-yard loss on Steelers running back Willie Parker on his first snap and when he ran Roethlisberger out of bounds on the last series Big Ben appeared to hurt his thumb.
"I think the organization has done a heck of a job rebounding," Pollack says. "It's a tough thing when you don't get much out of a draft class. They've had some tremendous success since that draft."
Part of the success is because some of the object lessons drawn from the '05 class are still being used.
Before they took Pollack with the 17th pick and switched him from defensive end to SAM linebacker, the Bengals frowned on projecting first-round picks to other positions. It's still not desired, but Marvin Lewis also believes there has to be a place in the league for undersized defensive ends who can rush the passer.
Excited about Pollack's five-star intangibles and ability to rush on third down with his hand on the ground, Lewis had images of Ravens linebacker Peter Boulware, his former player that would retire in '05 with 70 career sacks. And one NFL insider called the Bengals' offices the morning of the draft with instructions to give Lewis a very close comparison of the college numbers of Pollack and Colts sack ace Dwight Freeney.
Hampered by the switch, a contract holdout that wiped out three weeks of his rookie training camp, and an October knee sprain, Pollack got off to a slow start but both he and Lewis felt like the switch was working. Particularly when he finished his rookie year with 3.5 sacks in his last seven games and added a sack in the playoff game.
"We had him in Friday the week before the draft. The last visit you could have, the last second," Lewis said. "He lit up this building. That's why we picked him. To be the quarterback of our defense. He was going to be the Carson Palmer of the defense. That's the point he was reaching in the last four games and the playoff game against the Steelers.
"Not in my mind,' said Lewis, when asked if it was a gamble. "We took a smart guy who played every position known to man at Georgia. We made him a linebacker and I don't know of a better athlete or a guy that loved football more than him."
Pollack still has enormous faith in Lewis. Only two players are left from the 2006 Paul Brown Stadium opener when Pollack made his last tackle on Browns running back Reuben Droughns' draw play (Domata Peko and Andrew Whitworth), so Lewis is the only guy in the building with whom he stays in touch with any regularity.
"The first year was more like your head is swimming, but I think it would have been a very good switch. The second year was so much better," Pollack says. "I was an instinctive player and I could feel where to be at linebacker. You can use your smarts and instincts to make a lot of plays. I didn't have enough opportunity to prove that, but I have complete and total faith in Marvin Lewis and I think he would have helped me and whatever staff came in. I think it would have been very successful."
This is why that first year was tough, his first season dropping three or four steps and reading more than he was rushing:
"You might play a combo coverage. You're playing cover two against a certain formation," Pollack says. "If they go in motion, you might switch to cover four. Well, they line up and you play cover two thinking what you have to do and then they go in motion and its (quick). You're like, 'What just happened?'"
What happened on the last play? Nothing of note, Pollack recalls. It wasn't a textbook heads-up tackle, but like he says, it also wasn't on a tape of what not to do. And he'd been hit much harder in his career.
"A freak play," Pollack says.
We'll never really know if the switch would have worked. But the Pollack experience has been noted in the draft process. If you project a guy, he better have the brains and the intangibles first.
If it sounds like Pollack is still the X and O junkie that showed up at PBS the Friday before the draft, it's because he is. It's why he loves his current gig, which has him plastered all over the country during the college football season. In addition to working the Thursday Night Game of the Week, he help anchors Saturday's College Game Day's studio show. He's on the road Tuesday through Sundays and in the run-up to the playoffs he wedges in a Tu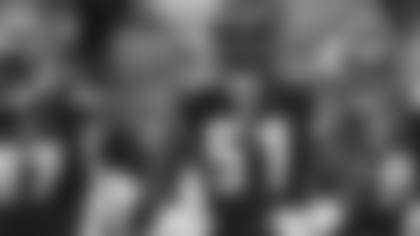 Would Odell Thurman have been the Bengals' answer to Ray Lewis?
"I've been playing football since I was six years old," Pollack says. "I can't imagine life without football. To be preparing for something where you watch tape and be a part of what's going on, that runs through my veins."
He won't rule out coaching, but right now he's having too much fun during the season with the game and during the offseason with his wife Lindsey and his two children at their home just outside Athens, Ga. With Nicholas, 6, in school this week, Leah, 4, had big afternoons planned in the gym where she would run around with her dad while her mom works with her stable of 10-15 clients as a personal trainer.
"I want to raise my own kids," Pollack says.
But coaching pulls at him and, in a way, some of it is because of that connection with Thurman. Pollack says football isn't war, but Thurman is a guy he wants in a foxhole of trust and dependability.
"You have a chance to change so many lives. Odell is the perfect example," Pollack says. "If I could have a guy like Odell on my team and I could get a kid and actually help him become dependable, get rid of those demons, teach him how…to lead a successful life, that's how you make a difference. That would be a heck of a lot of fun…That would be the best part of coaching.
"This is fun,' he says of TV. "I don't know how many lives I'm impacting, but we're entertainment."
Thurman is hard to find these days. At the moment, you can only reach him through a cousin in his hometown of Monticello, Ga. and when you get him on the horn twice, he says he's happy to hear from you and would love to talk about that '05 draft class when gets the chance, but the appointed times fall through.
He says he has a son in middle school playing football and enjoys going to his games. Pollack has seen him off and on at Georgia working on his degree at the behest of head coach Mark Richt and Thurman says he's "back and forth."
"Sometimes you can get him. Sometimes you can't," Pollack says. "He had his demons with the off-field stuff that have been well documented. But when he showed up, he played. When he was there, it was time to hit somebody. He just flipped that switch and was just a hyper competitive guy. I loved being around him, loved him as a teammate. I wish he could have kept his nose clean and stayed off the stuff that got him into trouble.  That dude could have been an all-timer. He would have been talked about for all-time as a 10-year guy making Pro Bowls every year.
"Odell was a smart cat. He was quick, he was fast, he was strong. He would run through you. He had some nastiness. He had what you wanted in the middle of your defense for 10 years."
That decade would have been up last season, a decade where the Bengals wrestled with character issues in the draft and have seemingly concluded to stay away from the red flags.
Thurman and Henry had some of the biggest question marks coming out of that draft, but they were fine until late in the season.
"Right up until Christmas everything was going so positively," Lewis says.
News of Henry's marijuana arrest broke as the team left its Christmas party, starting a string of incidents that eventually got him suspended. After Lewis lunched with Thurman at the Super Bowl that year, where Thurman appeared as the Rookie of the Year finalist, Lewis says "he began to go sideways."
"The big thing with (red flags) is if you take them, you have to get them from the first year to the second year. If you can do that, get them through, they're usually going to be OK."
Thurman couldn't overcome his personal problems, but the Bengals tried mightily to help him before releasing him in the spring of 2008. Henry did get his life together with the help of the club and teammates before his death.
Would they make the same selections today? Probably not. But then, this is a different team with more veteran leaders than ever before, a benefit Thurman and Henry didn't have.
But Lewis agrees that the Bengals have looked at character differently in the draft since that stretch in '05-'06 that included the red flag of linebacker Ahmad Brooks in the 2006 supplemental draft. Brooks has gone on to become a Pro Bowl player in San Francisco, but he had a tough time fitting in with what the Bengals coaches wanted him to do, and he also got cut in San Francisco for three days before the light came on.
Since Brooks and the selection of small school wide receiver Jerome Simpson in the second round in 2008, the Bengals haven't gambled like they used to in the early rounds. They've gone through the experience of '05, plus the emergence of director of player personnel Duke Tobin organizing the draft, the growing input of the scouts, and the sheer volume of information that now inundates draft rooms.
Like Lewis says, they're looking for "clean," guys. Never was it more evident than last year in the first round at No. 24, when the Bengals had their pick of two fine cornerbacks, Michigan State's Darqueze Dennard and Ohio State's Bradley Roby. Roby had some off-field nicks, but not enough to prevent the Broncos from taking him No. 31. Dennard was clearly the best player on the board with an impeccable pedigree, but Roby is seen as an extremely athletic guy with a big upside.
Maybe in the past there would have been a debate. Not last year. When the Bengals opted for a little bit more athleticism (Chris Perry over Steven Jackson, Simpson over the field), it never seemed to work out.
And now Dennard is on the brink of becoming the latest in a line of solid, veteran cornerbacks who will be a team leader.
But, sometimes it doesn't go right for just plain luck. Pollack has it all, it would seem. But down deep gnaws the what if. He'll catch himself flipping on NFL Network, watch a guy make a tackle, and wonder.
"I don't ever question what God had for my life, the purpose and the reasons," Pollack says. "I live my life and it's great. But what I think about is I could have given more. Look at the Brown (family). You invest in a first-round pick, you're counting on giving something in return and you didn't. That's the part that makes you feel like you pretty much let a bunch of people down and I wish that wouldn't have happened. That's what stinks."
The draft may still be one big round-by-round Ouija board ten years later. But with less than two weeks left, the Bengals can only ask what now instead of what if.