Rex Burkhead is leading the re-emergence of the Bengals special teams.
Transitions, like mud, run downhill.
So when the Bengals replaced all their receivers but one, opted for younger players in the back seven on defense, and then promptly lost Pro Bowl special teamer Cedric Peerman just before the regular season with a broken arm, special teams coach Darrin Simmons took one of the hits. His unit, with three top ten rankings in the Green-Dalton Era by profootballfocus.com, is currently mired at No. 23.
But they're rising and their effort to join the units that have been so crucial in a run of five straight post-season berths coincides with Sunday's appointment against a key figure in that stretch. At Paul Brown Stadium (1 p.m.-Cincinnati's Channel 19), Simmons' men come face-to-face with their past success in Bills returner Brandon Tate. How many times does a franchise's all-time punt return leader get the chance to run one back against said franchise?
According to Elias, rookie wide receiver Alex Erickson, who pushed Tate off the roster in the preseason, is making history of his own. He's coming off two games in which he became the first kick returner in Simmons' 14 seasons to have back-to-back games of at least a 65-yard return, bolting the Bengals to fifth in kick return average and seventh in average drive start in the NFL. Compare that to a month ago after the sixth game of the year, when they were 25th in kick return average and 27th in drive start.
(It was 14 years ago this week on Nov. 17, 2002 that running back Brandon Bennett took one back 82 yards against the Browns but didn't score. That book-ended his 94-yard kick return for a TD against Baltimore the week before. Then on Nov. 24 in Pittsburgh he took one back 52 yards, so Erickson has a number to shoot for.)
 And Simmons is getting results from kick cover as well.  Back on Oct. 17 they were 23rd in average foe drive start. Now they're 10th in a season that began with running back Rex Burkhead, safety Derron Smith and kicker Mike Nugent as the only players in the same position as last year.
"Think about it if an offense or defense had nine new starters," Simmons mused after practice one day this week. "That is also the nature of special teams. The back half of your roster changes a lot. We just had more change than in other years. Hopefully these guys are finally starting to come together. We've got a couple of guys showing up on a weekly basis, improving every play they go out there because they're starting to feel their way. They're starting to sew their oats a little bit."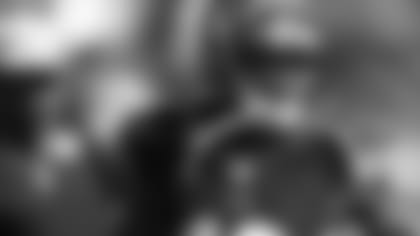 Brandon Tate, the Bengals' all-time punt return leader, is also 67 yards shy of being their kick return leader. But he'll be trying to get yards for the Bills Sunday.
The guy really emerging is fourth-year running back Rex Burkhead, Erickson's fellow kick returner who not only delivered the first critical blocks on his returns of 65 and 84 yards, but who has also replaced Peerman as the specialists' quarterback as punter Kevin Huber's personal protector.
"He's playing fantastic. I really think he's playing fantastic," Simmons said. "I don't think anybody can ever completely fill the shoes of Ced Peerman. But Rex is playing a lot of the same roles, a lot of the same positions, and he's trying his best to help fill some of those and be in position to make some plays. Rex is doing a good job. He just has to keep doing what he's doing.
"Rex has always played that way. Sometimes I think he got overshadowed by Ced, but I still think he had a fantastic year a year ago. Ced got a lot of recognition and played more impact positions. Now Rex is playing those positions and I think you see his production go up."
Burkhead and defensive lineman Margus Hunt are tied for 45th in the NFL in PFF's rankings of specials teams players, good for the top 20 for non-kickers. Burkhead is leading the team in teams' tackles with nine while assuming a leadership role.
"I've looked up to Ced ever since I've been here and he's still helping me," Burkhead said after Thursday's practice. "He's still coming to meetings and helping everyone … We've made a lot of big improvements from the first few weeks. We had a lot of young guys and I think we're starting to learn how to play off each other in all the phases. We have to improve more, but we're going in the right direction."
Just go down the special teams tackles' list behind the veterans Burkhead and wide receiver James Wright (eight tackles) and you'll see the guys developing into Simmons' go-to guys.
There is second-year safety Josh Shaw (seven tackles) and linebacker Marquis Flowers (six) in what amounts to his second season. Behind them is a pair of draft picks. Linebacker Nick Vigil has six tackles and safety Clayton Fejedelem five. Burkhead, one of the most prolific running backs in the history of Nebraska, never had to do the grimy stuff in Lincoln.
"Going from college special teams to NFL special teams, it's a completely different game," said Burkhead, describing how many rookies have to deal with special teams when they arrive in the league. "You spread the punts out in college and I remember that as a rookie it was a whole new learning experience for me."
The 29-year-old Tate is right where you'd figure he'd be. Ninth in the league with 10.2 yard per average after his career here of 9.2 on a franchise record 153 returns.
Tate was a magnet for fan criticism because he was solid instead of explosive. But his reliability won the Bengals some games that got them into the postseason. He's a big reason why since Simmons arrived here in 2003 they have the league's fewest fumbled punts (18) and fumbled punts (four). So don't look for a fumbled punt Sunday.
"He's a pro's pro," Erickson said. "I appreciate everything he did for me. He helped me with not only returning, but at wide receiver. You see how he went about his job, that's why everybody loved. He always secured the ball and made the right cuts."
The punt returns have not been as bountiful as they were in the preseason, when Erickson ran off Tate with five returns of at least 18 yards.  They are ranked 29th (Buffalo is 16th), but they're coming, too. On Monday night Erickson had his best game returning punts and that included a career-long 18-yarder. That came after a bye week Simmons implored him to get vertical quicker.
"Everybody knows my feelings on Brandon Tate. I still have a great, great, great amount of respect for Brandon," Simmons said. "It's someone we have to go against this week.  Somebody who I don't want to go against, but that's the way this league works.
"In the end I think Alex won the job. It's nothing that Brandon didn't do. I think Alex went out and made plays and won the job. We haven't gotten him and Adam (Jones) off to a good enough start. I'm hoping that script is getting flipped and in the second half of our season we can really get that part of our game going."
The mud no longer seems to be sliding downhill