A tale of two quarterbacks as they left for an offseason of doubt:
Andy Dalton, who is thanking Buffalo instead of shuffling off to it as the hottest quarterback in Western New York since the iconic Jim Kelly, is cool to the idea of a change at the top. Andy Dalton just wants change.
McCarron, the No. 2 would like to get a shot elsewhere if he's ruled an unrestricted free agent or not by Feb. 15 because he knows there's no shot for him here. If Dalton is going anywhere it is to speaking engagements Upstate after his 49-yard May-The-Force-Be-With-You bolt put the Bills in the postseason for the first time this century.
"Anytime you come into a place where a guy is established like A.D., who's led them to the playoffs however many times and they are paying him that much, it's not going to happen," McCarron said as he packed up his locker for what he hopes is the last time. "It's just the way it goes. Like I said, I just want a chance to compete so I'm just waiting on that opportunity."
That's what he told head coach Marvin Lewis in his exit interview Monday on a day both were supposed to be exiting. Now, both could be back here if Lewis gets his coaching staff straightened out with management and an arbitrator rules McCarron is a restricted free agent.
Crazy business, right? Of course, McCarron is hoping they try to trade him again if he is restricted.
 "I would think so, but then again, you never know in this business so I don't know what's going to happen," McCarron said.
Nothing personal.  He loves the place and the people, but he loves playing more. His locker is empty with hope.
"It's just hard. As a competitor, you just see other guys playing and you want your chance to be able to showcase what you can truly do, and that's just being a competitor," McCarron said. "Like I've said before, God's plan doesn't work out when we want it to. It's on his time. I've always truly believed that, and my wife always does an excellent job of reminding me that, and it's just something you've got to buy into and trust and realize."
He's in good company. Dalton doesn't know what's going on either. The starting QB is in the same spot as the backup, the beat hack, and the fan in the stands. He has no idea if Lewis is still going to be the coach. He knows if the only NFL head coach he's ever known is not, that means some major stuff.
"You're going to be going with a new head coach, it could be a completely new staff," Dalton said. "There's just a lot of uncertainty with that. I think that's the biggest thing is just the unknown."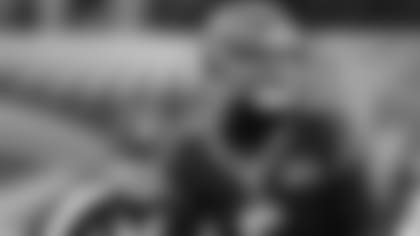 AJ McCarron: Last look as a Bengal?
And his owner, Bengals president Mike Brown, detests that very same unknown and that may be what's driving these talks to take Lewis' temperature about a return. Hue Jackson is staying in Cleveland. Jay Gruden is staying in Washington. Gruden jump-started Dalton's NFL career and Jackson took it to its greatest heights, but they're not available to revive his offense as he heads into his eighth season.
And that has to be the focus of the offseason. Dalton's offense is sick and broken. If there's one thing that galls Brown it is a weak offense for a franchise that was founded by an offensive genius. You can't get through a conversation with him without him mentioning they are ranked dead last in offense in the NFL. In 50 years he can't ever remember that being so. And he's right because they've never been last when their starting quarterback played every game. The only time they were ever last was nine years ago when Carson Palmer played just four games.
"We just have to be consistent," Dalton said. "With everything we're doing in the passing game, for me, I've got to be accurate with it. We've got to make the plays. Everybody's got to be on the same page. That's what the off season will be for, to look at everything."
And everything needs help. It's the worst running game in franchise history. Their best player, wide receiver A.J. Green, played every game and had his fewest yards since his rookie year. Dalton had the worst completion percentage (59.9) and lowest yards per attempt (6.7) since his rookie year.
But there's that unknown again.  If Lewis stays, he may very well keep Bill Lazor as his offensive coordinator after he turned to him four days into the season to run a disheveled offense as well as coach the quarterbacks. Lewis is very impressed with how Lazor got Dalton back on track after the horrendous start. Yet Dalton struggled enough late that he had the worst back-to-back games of his career in the dismal December losses to Chicago and Minnesota.
Still, Dalton had several excellent moments in his 14 games with Lazor.  Enough that Lewis is apparently thinking that Lazor may have the potential to take it to the next level with a full season and staff under his command. In the last 14 games, only Russell Wilson (33), Tom Brady (29), Carson Wentz (29), and Jared Goff (26) threw more TDs than Dalton's 25. Dalton and Brady each threw eight picks in that stretch, Wentz and Goff, five and six respectively. And as shaky as Dalton's protection was, his 31 sacks were fewer than Wilson's 37 and almost as many as Brady's 30, although Brady threw 76 more passes and Wilson 57 more.
As tough as the season was, Dalton remained upbeat out the door. They did rack up 359 yards Sunday in one of the toughest NFL buildings against an estimable defense looking to make the postseason. They were up 17-0 on the Steelers and 17-3 on the Ravens in the last month. Behind a revamped offensive line in the last two games, they finally rustled in the run game with their second best outings of the year in the last two games. He's convinced there's enough here for another run.
"I think it's the point in the year where we'll look back at what we did this year and try to learn from it. I think we've got a great group of guys here," Dalton said. "A lot of guys who are going to work really hard this offseason and do whatever they can to make this team the best we can be. That's what we've got to look forward to now. We've got to better ourselves and be ready to go for next year."
He thinks the roster is a reason to bring back Lewis' stability.
"We feel like we have a really talented team," Dalton said. "If you look at some of the losses this year, we were close in those games. I definitely think this team is close."
Cincinnati Bengals take on the Baltimore Ravens in week 17 of the regular season.