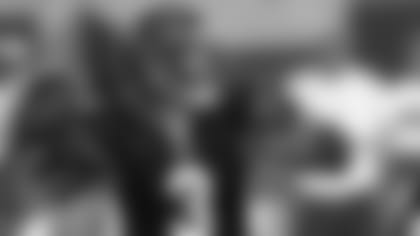 Backup QB Jon Kitna continues to help starter Carson Palmer develop into one of the game's best QBs.
Another example of why Jon Kitna is going nowhere this season and wants to go nowhere and would like to stay. And why Bengals quarterback Carson Palmer is playing so well. It comes to town Sunday when beleaguered Texans quarterback David Carr tries pull the winless Houston offense out of a mystifying mess in Palmer's second matchup with another overall No. 1 draft pick.
Carr, who preceded Palmer as the NFL's top pick in 2002, was rushed into an Opening Day start for an expansion team and it's been pretty much downhill since. Without a mentor or protection, Carr careens into the third start of his fourth season with a new bye week offensive coordinator. And he's already been sacked 13 times in two games in which he has thrown just one touchdown pass.
That makes 153 sacks in 48 games. Or a sack every eight throws.
Meanwhile, Palmer, who watched Kitna enjoy a Comeback Player of the Year season while Palmer was a rookie in 2003, is playing like a No. 1 pick. In his last six games, the Bengals quarterback has thrown for 17 touchdowns, seven interceptions and completed 74 percent of his passes while getting sacked just six times.
Take a look at Carr's rookie year compared to Palmer's first 16 starts:
Palmer attempts: 529; Carr 444 Palmer completions: 332; Carr 233 Palmer percentage: 62.7; Carr 52.5 Palmer yards 3,863; Carr 2,592 Palmer avg. yds/pass: 7.0; Carr 5.8 Palmer TDs 26; Carr 20 Palmer INTs: 20; Carr 15 Palmer sacks 28; Carr 76. Palmer passer rating 84.0; Carr 62.8
Still, Bengals secondary coach Kevin Coyle lined up against Carr every day for four years when Coyle was the defensive coordinator at Fresno State and he spent Wednesday warning his players.
"He's an upper level NFL talent as a quarterback in terms of his arm strength and making plays going down the field," Coyle said.
Again Wednesday, as he always does, Palmer shrugged when asked if sitting behind Kitna turned out for the best even though after just 16 starts he leads the NFL in touchdown passes and completion percentage.
"It's great to sit and learn, and it's great to get in there and get experience," Palmer said. "I don't think there is a right or wrong way to do it. It just depends on what the team needs. In Dave's situation, they didn't have a quarterback so he had to play."
But one thing Palmer is adamant about; he doesn't want Kitna going anywhere in a mid-season trade and, don't worry, it's not going to happen. Head coach Marvin Lewis shot it down like grouse Wednesday, and the Bengals are convinced they have a legit shot at a playoff run and want as much insurance as possible.
"I'd be happy for Kit, but he's a guy I can't afford to lose right now," Palmer said.
Kitna, 33, a free agent after this season, said Wednesday no one has talked to him about a trade, doubts they will, and he's glad. And he even sounded like he would prefer to back up Palmer for a few more seasons rather than start elsewhere if the situation were right.
"If you're talking about staying here as a backup or going somewhere else to play, obviously the money is going to be better somewhere else, so it's not about money. I like working with Carson," Kitna said. "I'm just happy doing what I'm doing right now. I would love to see if they wanted to do it, I'd love to see what they had to say."
The Bengals haven't approached him yet about next year, but he's certain he'll be here for the rest of this year.
"Trades just don't happen in this league and I don't expect it to happen here," Kitna said. "That would weaken this team and it would help some other team. It's not going to happen."
Maybe Palmer didn't like sitting that rookie year, but there's no question that he feels he's benefited greatly from having Kitna as a mentor.
"A ton. He's been with me from the first time that I've started here and he's been on my side and helped me out just as much as he is right now," Palmer said. "He's been a huge part and not just with this offense. He's the guy who went through the growing pains with Chad when Chad was young and kind of helped Chad mature and become the receiver that he is. Then he helped me along. He's been great. He's been a huge part of this offense.
"Kit is just a guy I rely on all game long, all week long in preparation and practice. And then on gameday to get what he's feeling from the sideline, what he's seeing from the sideline."
Carr has had veteran Tony Banks backing him up since 2003, but Banks wasn't there in that rookie year. Carr admitted Wednesday in a conference call with the Cincinnati media that he wonders often about the what if of playing right away for an expansion team rather than an established team.
"Always. Especially when you watch the playoffs with Pittsburgh and watching Ben (Roethlisberger) and he's sitting back there and it looks like he's having a blast," Carr said. "If I could have done that my first year, yeah, it definitely would have been fun. But I wouldn't change as far what I've gone through. It's been tough at times. We haven't won as many games as we wanted to. But I've had fun playing football. That's what it comes down to."
Houston, we have a problem
It hasn't been fun this year. Head coach Dom Capers fired Chris Palmer nine days ago, but it didn't sound like Carr misses the only offensive coordinator he's had. He said Joe Pendry, promoted from guards/center coach, has put things in black-and-white and taken pressure off the "Big Three" of Carr, wide receiver Andre Johnson, and running back Domanick Davis.
"He's very demanding. It's like I'm back in college again," Carr said. "The pressure ... is on the entire offense. If it wasn't, I'd be playing golf. I'd do something else, an individual sport. That's why I love football so much because it encompasses all 11 guys to do the same things."
Capers believes before this season that Carr was right on schedule. He admits Carr hasn't played well this season, but he also puts that on the rest of the offense. Capers points to last season when the Texans were one of six teams to have a 1,000-yard rusher in Davis, a 1,000-yard receiver in Johnson, and a 3,000-yard passer in Carr, and says the tools are there.
Capers insists he did the right thing playing Carr right away. He says he was in a different situation than Lewis was with an expansion team, and Lewis agrees.
While Lewis argues his franchise couldn't handle any more losing as the reason he played Kitna over Palmer, Capers said his past experience as head coach of the expansion Carolina Panthers told him to get the first-round rookie quarterback in as soon as possible.
When Capers did finally go with Kerry Collins in the third game of his rookie season, he was rewarded with a 7-6 finish (the most wins by a rookie QB since Dan Marino) and then a berth in the NFC championship game the next season.
"We started trying to go the veteran route and it didn't take us long that we switched and put the No. 1 pick in there," Capers said. "We just felt it was best starting out doing that."
Carr and Palmer are no strangers. They worked at a football camp together, and they are forever joined by the No. 1 selection. Carr is 1-7 in such matchups and 0-6 against Peyton Manning. Palmer, who plays Manning Nov. 20, missed last year's dates with Eli Manning and Drew Bledsoe because of his sprained knee. He's 1-0 in the No. 1 derby after leadng the Bengals to a 26-3 win over Vinny Testaverde's Cowboys.
Palmer was actually born in Fresno, where Coyle is reminding his DBs he saw Carr do some remarkable things of which they should take note.
"He's a great talent. A real competitor with tremendous arm strength," Coyle said. "He's weight-room strong. He's a hard worker. He trains real hard and prepares real well. The guy has all the qualities you want. He's got tremendous leadership qualities. He's got toughness. Since he's been in the league, he's taken a lot of hits, and he keeps coming back."
Coyle saw enough that he won't sleep easily this week.
"He's a dangerous quarterback," he said, "because of how well he throws it."