Marvin Lewis' Bengals still have something to play for Sunday against the Ravens.
A few takeaways heading into Sunday's regular-season finale at Paul Brown Stadium (1 p.m.-Cincinnati's Channel 19) against Baltimore.
GIVE IT TO DUNLAP: There are at least two games left, but give left end Carlos Dunlap the Bengals' Defensive Player of the Year Award right now. Yes, Pro Bowl safety Reggie Nelson is the NFL's co-interceptions leader with eight and four-time Pro Bowl defensive tackle Geno Atkins has regained his dominant form.
People keep saying that the cast around backup quarterback AJ McCarron has to step up its play. Well, Dunlap certainly has done that. With the Bengals grinding down the stretch, Dunlap has been virtually unblockable and on Monday night he did what he was supposed to do. Strafe Broncos right tackle Michael Schofield and he got him for a hat trick. That gives Dunlap 13.5 sacks, the most since Eddie Edwards hauled down 13 in 1983 and the team record according to the NFL, which doesn't recognize Coy Bacon's 22 sacks in 1976 like the Bengals do.
But we can recognize that during the Monday Night Football broadcast analyst John Gruden said Dunlap shouldn't have first alternate next his Pro Bowl selection. He's 1.5 sacks shy of NFL leader Khalil Mack and Atkins (10) is one off interior sack leader Aaron Donald.
HOW DOES LEWIS PLAY IT? The Bengals are still in the hunt for a bye, but only if the Broncos lose to San Diego at home while they beat the Ravens at Paul Brown Stadium (1 p.m.-Cincinnati's Channel 19) or the Chiefs win and the Broncos lose.
But how dicey is AJ McCarron's strained left wrist? It sounds like he can go Sunday. But, forget for a minute about getting Andy Dalton back in time for a divisional game. How close are they to starting Keith Wenning in a Wild Card Game?
Plus, Pro Bowl tight end Tyler Eifert has been hurt his last two times on the field, backup tight end Ryan Hewitt has a sprained knee, cornerback Adam Jones is still nursing a foot sprain, and guys like Pro Bowl wide receiver A.J. Green who have played 90 percent of the snaps are talking about how their bodies are beat up.
The bye is too valuable to throw away, but Lewis probably has to do some thinking about how badly he wants it.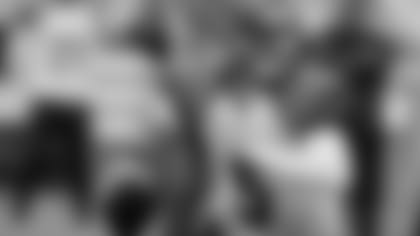 A.J. McCarron has proven winning a home play-off with him under center isn't out of the question.
MCCARRON CAN WIN ONE: Because if there is one thing that has come out of McCarron's first two NFL starts it is that he's capable of winning a home play-off game. He didn't win Monday night a Mile High, but he played as well as anyone could expect on the road against the NFL's No. 1 defense.
 Yes, he didn't do as well against a zone combo and more pressure when Broncos defensive
coordinator Wade Phillips unleashed a new look in the second half. And it looked like he took a bad coverage sack on second down when the Bengals got new life on right end Michael Johnson 's forced fumble and the Bengals were trying to drive for the winning field goal at the end of regulation.
But McCarron made a great third -down throw to running back Rex Burkhead on a rollout to briefly keep that drive alive, underlining just how good he was on third down Monday. He was 10 of 14 for 113 yards and a touchdown with no picks. And that's including the third-and-five incompletion on a 34-yard bomb where Green said he could have had a TD if he kept running.
And it also included a hellaciously courageous 20-yard throw to wide receiver Mohamed Sanu on third-and-16 as he was getting smoked by outside linebacker Von Miller.
Miller gave right tackle Andre Smith fits and it was a precursor to Miller blowing up McCarron in a collapsing pocket on the next-to-last play of the game, which was almost ruled a fumble but McCarron made sure he got his arm forward even though Miller had jettisoned it out of there. When McCarron took his eye off the shot-gun snap on the last play of the game and committed the fumble, he may have been looking at more than Green going in motion. To be fair to the tackles on that last series, the Broncos knew they had to throw and they had the Rocky Mountain din on their side.
Here's a comparison. Both Dalton and McCarron made their first two starts on the road. Both won the first one and lost a tight one in Denver in the second one. The only difference is that Dalton missed the second half of his debut with, of all things, a wrist injury. Here the numbers from those two starts:
Dalton: 37-55, 413 yards, three TDs, 0 INTS, 107.6 passer rating. McCarron 37-56, 392 yards, 2 TDs, 0 INTs, 98.2
HEATING IT UP: Denver quarterback Brock Osweiler was making just his sixth start while McCarron made his second and they were treated very differently by their opposing defensive coordinators. According to profootballfocus.com, Phillips blitzed McCarron on 21 of his 39 drop-back passes. Cincinnati's Paul Guenther blitzed Osweiler seven times on his 44 drop-backs.  Osweiler actually had better numbers under pressure (10 of 12 for a TD and a 142 passer rating compared to 17 of 27 for 79.6 without), but when he was blitzed he completed just three of six passes, although one was for an eight-yard TD pass.
PFF charted McCarron for a 71.7 rating against pressure and 98.5 vs. none, but the third-down stat stands tall.
KUBIAK AGAIN: Denver head coach Gary Kubiak is 6-0 against the Bengals as a head coach and in 2011 with Houston he beat the Bengals' top ten defense twice with a backup QB named T.J. Yates in his first and fifth NFL starts and an undrafted running back named Arian Foster. On Monday night in Denver he beat the NFL's No. 1 scoring defense with a backup named Brock Osweiler in his sixth NFL start and an undrafted running back named C.J. Anderson.
The one thing Kubiak can do against the Bengals is zone run the ball effectively even when the Bengals are stopping everyone else. Since Nov. 5 in the last seven games, the Bengals had not allowed 100 yards rushing , were giving up 3.6 yards per rush, and the only rushing TDs had been three one-yard runs, two by the Steelers' DeAngelo Williams and one by the Niners' Bruce Miller. Until Anderson's stunning 39-yard run off that zone cut-back, like Foster before him. It was the big one in a game the Broncos rushed for 113 yards on 5.4 yards per carry.
But then, this is what Kubiak does. In his previous 20 seasons as a coordinator or head coach, 15 years he's had a 1,000-yard rusher. The Bengals aren't going to have a 1,000-yard rusher in 2015 for the second time in three years. But both teams won the AFC North.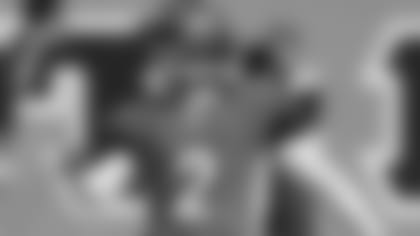 *                  This time Mike Nugent hit a 50-yarder a Mile High.*
MARV MEMORY:  Maybe Lewis remembered. Or maybe it was just a much different situation. (It probably is the latter.) The last time the Bengals were in Denver Sept. 18, 2011 the Bengals trailed, 24-22, with about three minutes left when Lewis eschewed Mike Nugent's 54-yard field goal and went for it on fourth-and-one. Rookie Von Miller blew up the rookie Andy Dalton bootleg and the Bengals lost, 24-22.
On Monday night with 6:46 left and down 17-14 on the Denver 34 with a fourth-and-five, it was not four-down territory and Nugent drilled a 52-yarder to tie it on his first 50-plus field goal in the regular season since his 54-yarder on Halloween night, 2013, briefly gave the Bengals a 20-17 lead in Miami with 1:24 left. Irony of ironies, the Bengals lost that one in OT on a walk-off sack safety. They lost this one on a walk-off QB fumble in OT.
If the Bengals could have got a typical day out of their special teams, they could have won Monday night. Nugent missed a 45-yarder that would have given them a 17-0 lead. Punter Kevin Huber, who came into the game with just four touchbacks, couldn't sync up with his coverage team and dropped two into the end zone when he could have buried Denver. And his 46-yard punt down the middle of the field led to a 14-yard return that put the Broncos on their 48 to set up Anderson's go-ahead TD.
The Bengals have been dominant in field position all year. How dominant have Huber and his guys been? Since giving up a 21-yard punt return to Baltimore's Michael Campanaro in the third game, the longest returns they have allowed were Jordan Norwood's return Monday and San Francisco's Bruce Ellington had a 17-yarder last week. Meanwhile, with Adam Jones pretty much shelved, the Bengals have had a hard time blocking on returns. Their longest one this month is Brandon Tate's 12-yarder.
 They've only lost the field position battle three times this season, all in losses to the Texans, Cards, and Steelers. On Monday night each team's average drive start was their own 25 in a standoff.