Giovani Bernard: clean sweep.
The Cincinnati chapter of the Pro Football Writers of America, esteemed scribes all, handed out their awards after the season and dished MVP to defensive tackle Geno Atkins and the Good Guy Award to left end Carlos Dunlap.
Bengals.com applauds the honors and would like to roll out a red carpet all its own in honor of the 50th season just past:
Ken Anderson MVP Award: RB Giovani Bernard
With all due respect to Atkins and his NFL-best nine interior sacks, where would the Bengals have been without Bernard? Jeremy Hill opted for free agency in midseason, by the time rookie Joe Mixon got on the good side of the coaches he got dinged up, Tyler Eifert played two games, and John Ross played 17 snaps.
Bernard and A.J. Green were the only quick-strike threats left. They finished last in offense, but on the worst running team in Bengals history Bernard averaged 4.4 yards per carry. On an offense the Bengals had their fewest first downs with a starting quarterback since the days of Akili Smith, Bernard had nearly as many first downs receiving (16) as he did rushing (20). He walked in from 61 yards on a screen to put away the Browns, he ran away from 12 to bury the Lions,  and he picked up the blitz well enough against the marauding Ravens in that winning finale that for the second straight year he finished in the top five in profootballfocus.com's pass-blocking efficiency for running backs.  Pound for pound at 5-9, 205 pounds, Bernard just may be their best all-round player. He does it all.
That's why we give Bernard the clean sweep with the Corey Dillon Offensive Player of the Year and the Tim Krumrie Comeback Player of the Year. He did all this after he was carted off the field on Nov. 20, 2016 with a torn ACL and made good on his vow to be ready for the opener.
How big is this guy's heart? He added the Ed Block Courage Award this year to his bookshelf that already has the Brian Piccolo Award as the most courageous player in the ACC that he picked up in college.
Given the challenges, Andy Dalton showed this offense is fixable.
And we were thinking about quarterback Andy Dalton as Offensive Player of the Year, but not in a year he got outplayed by Blake Bortles and nearly got beat by Jacoby Brissett in his own building. But a lot of it wasn't his fault in his most challenging season since his rookie year began with a lockout. He showed he's got plenty left if Bill Lazor can fix the offense. Under Lazor in the last 14 games he threw 25 touchdown passes and just eight interceptions, which put him among the NFL's top five in that stretch. Despite working behind a struggling revamped offensive line, he had the longest stretch of his career without an interception. In head-to-head matchups he outplayed Matthew Stafford and had Aaron Rodgers and Big Ben beat late.  
He found a powerful enough rhythm in the last two games that Lazor has begun his off-season facelift looking at Dalton's effectiveness in an up-tempo system as well as his ability to execute run-pass options. The key is to match it up with his new offensive line coach, a search which appears to be focused on veteran NFL names such as Jeff Davidson and Harold Goodwin. The Bengals reportedly also interviewed Utah's Jim Harding but they may opt for pro experience here in an effort to meld what Lazor is piecing together with his NFL background.
While the Bengals interviewed former quarterback Jon Kitna for the quarterbacks job, they also seem to be looking at NFL experience there, too. Reports say they've also talked to Alex Van Pelt, who has coached QBs in Buffalo and Green Bay. Kitna, now a high school head coach in Texas, has some skins with head coach Marvin Lewis. In Lewis' first season in Cincinnati Kitna was named NFL Comeback Player of the Year.       
The Reggie Williams Defensive Player of the Year: DT Geno Atkins
Maybe closer than you think with cornerback William Jackson giving it a run. But, look, with Atkins you're watching a first ballot Hall-of-Famer at work. With nine sacks he led all interior linemen. Again. The fifth time he's either led the league or tied. And don't look now, but he's got more sacks per game than Hall-of-Famer Warren Sapp, the man with the second most interior sacks of all-time.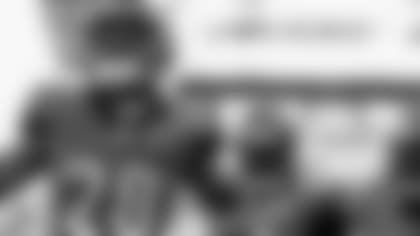 Joe Mixon strutted his stuff late in the year.
The Pete Brown Offensive Rookie of the Year: RB Joe Mixon.
This one is named in honor of the Bengals'  personnel chief who died late in the season at age 74. Brown loved big, athletic backs. He's the reason they drafted one early in 2014 (they opted for Jeremy Hill) and he famously expressed his displeasure in his last draft when the Bengals decided not to take Mixon in the second round and traded down. He was very happy when they still got him a few picks later.
The numbers weren't good. Not with the NFL's worst run game and his 3.5 yards per carry. But Mixon didn't get a lot of help. He should have been getting the amount of snaps at the beginning of the year he was getting at the end of the year and the kid showed why he's going to be an elite back when they settle on a scheme. Running and receiving,
And he showed 1,000-yard character when he played on a bum ankle in the finale, racking up 96 yards on 18 carries against a top defense looking to get into the postseason. That's a good place to start. Against the Steelers and Ravens he averaged 4.7 yards per on 40 carries.
The Justin Smith Defensive Rookie of the Year Award: DE Carl Lawson
The Bengals tried to start the last day of the draft by trading up to get him at the top of the fourth round, but good things are worth the wait. He led all rookies with sacks and that includes the guy at the top of the first round, Cleveland pass rusher Myles Garrett. Lawson had the same number of sacks Smith had as a rookie in 2001 (8.5) on about half the snaps (477 for 42 percent) and his role was complicated when he had to play linebacker at times in the last few weeks, especially in the finale. That probably cost him a shot to get Carlos Dunlap's 2010 rookie record of 9.5 sacks. Dunlap sighed after it was over, but Lawson's second wind should make him a consistent double-digit sacker over the next decade.
The Chris Crocker Defensive Newcomer of the Year:  CB William Jackson
Because he missed his entire first year with a pectoral injury, you can't technically call him a rookie, but you have to give him something. The guy's a Pro Bowler in waiting. You know every week the question is if the foe's best corner is going to shadow A.J. Green? Well, here's a guy the Bengals have to sick on the Antonio Browns and DeAndre Hopkins of the world. He's a pure cover corner. How pure? According to profootballfocus.com, Jackson led the NFL among all corners when he allowed just 35 percent of the passes in his area to be completed. Press him on the best receiver and let him go.
What will be interesting to see is how Jackson adjusts to a new cornerback coach.  Kevin Coyle, who helped draft Jackson with the first pick in 2016, isn't returning. Coyle also oversaw Darqueze Dennard's best season as a pro (and he also developed Johnathan Joseph and Leon Hall in the Way Back Machine), but they are keeping safeties coach Robert Livingston and that's a plus. He's an emerging young coach they like that provides a familiar figure in the room that can smooth the transition.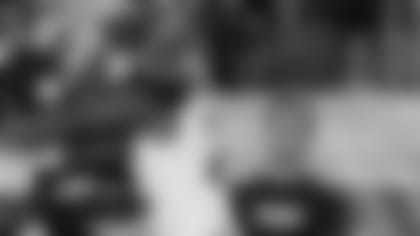 Cornerback William Jackson emerged.
Jim Breech Special Teams Player of the Year: P Kevin Huber
Huber hit a lull in the middle of the season after he went forever without putting a punt in the end zone, but he really came on when the Bengals needed him late in the year. In the last four games the Bengals played top eight punt returners and Huber kept them at bay. He was a big reason they won the last two games against the league's top two return teams despite a revolving door of gunners.
The Jim Anderson Assistant Coach of the Year: LB Jim Haslett
If the Bengals went overtime in the finale in Baltimore, Haslett's next move was putting in equipment managers Adam Knollman, Sam Staley, and Tyler Runk. There was nobody left. Staring SAM Nick Vigil hadn't played in weeks, starting MIKE  Kevin Minter was out the last three games and hurt before that, and WILL backer Vontaze Burfict, their best defensive player, could only play six quarters in the last month and didn't finish a game in December.
When Vincent Rey knocked down Ravens tight end Ben Watson to end it, Rey got the Red Badge of Courage Award because he couldn't have come back for the OT. Heck, he'd already been led off the field three times. And after the game Rey talked about playing for Haslett as well as head coach Marvin Lewis.  Somehow Rey, a backup, played 67 snaps, but every other linebacker working in the last six quarters of the season was a rookie with a late draft pick in Jordan Evans and rookie free agents Hardy Nickerson and Brandon Bell, two guys on the practice squad much of the season.
Nickerson got a game ball in the win over Detroit when he replaced Burfict and then played 67 snaps in Baltimore. In the last two games Bell had eight tackles on 36 snaps. Plus, Lawson, who had his hand on the ground all season after toying with backer in the spring, had to be pressed into service. It wasn't pretty, but they won and there was some serious coaching going on.