Safety George Iloka took a tie at Thursday's news conference.
George Iloka got the hometown vibe from an owner of a downtown Cincinnati custom tailor shop Thursday morning just before his appointment to sign his $30 million contract. Vincent Rey got the vibe from the owner of the team as he signed his $11.5 million deal Thursday afternoon.
Such were the emotions at the end of a 24-hour spin cycle that spit out the richest deals in NFL free agency history when two of the Bengals' more reliable defenders on one of the NFL's most reliable defenses put aside the messy dollar signs of free agency as they starched and pressed what it meant to stay in Cincinnati.
Oh, the money was there. But so was something else as Bengals president Mike Brown walked into the conference room to congratulate Rey, defensive coordinator Paul Guenther's indestructable jack of all linebackers.
Like a belt, a baby, and a boss.
"He told me, 'It's good you're back. We respect you as a leader on this team,'" Rey recalled. "I know I'm a leader on this team, but I'm glad he respects me as a leader. That meant a lot."
It meant enough that Rey talked about it before at his news conference, an appearance that was enough of a rarity for the special teams co-captain that he wondered how frequent media room guest Andy Dalton squared up his shoulders when he sat at the podium.
"Money's very important, but even more than that, I know I'm an important piece to this team," Rey said. "That means the world to me. To know that I'm important here. That's validation right there.
"I know I'm pretty important here. I've made plays in this league, but to know that people believe you're an important piece, for them to tell you that . . . Maybe I'm just a words of affirmation guy."
Then Rey went to the car to take his wife Noel, due later this month with their first child, shopping for baby girl things. At some point, they're also going to look to buy a house, but they don't know on which side of the river yet.
 All Iloka needed was a belt Thursday morning because he forget it in Wednesday's excitement of flying from Miami to sign the deal.
But there was nothing open downtown before 9. Iloka mentioned to his agent, Ron Slavin, that, too bad, he did business nearby at Mike Trotta's tailor shop on Walnut Street but it wasn't open. Slavin said call anyway.
"And Mike answered the phone," Iloka said. "I told him it's me. I'm right outside your store. I've got (a meeting) in a few minutes and I need a belt. I went in and made the purchase."
Getting a guy to open his store before hours and getting ready for a baby and a new house and hearing appreciation from the boss are things you just don't get in a new town. There was money, for sure. But a new belt and a new baby and a few words can give you insight on why some guys want to stick around.
Iloka, the big, heady safety who is one of the more candid Bengals, admitted at his own news conference that if he moved teams it would have been for money and not to go to a contender.
"It would have probably been for money purposes. Cincinnati is a contender. I didn't need to go far to be with a contender. Does that make sense?" Iloka asked. "I definitely wanted to come back for the simple fact that I wanted to be part of the group that got over the hump. They drafted me here, the fans know me here, the coaches, I know them, I know the organization. I'm kind of invested into it emotionally."
 It turned out there were two mindsets at work Wednesday as Iloka and Bengals wide receiver Marvin Jones perused what were believed to be pretty close to identical offers from Cincinnati and Detroit. The five years, $30 million for Iloka and the five years, $40 million for Jones.
Iloka stayed. Jones left.
"A no brainer," Slavin said. "He knows the defense, he likes it here, they've got a chance to win. A no-brainer."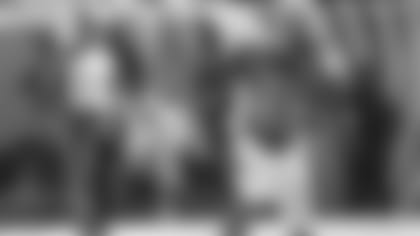 Vincent Rey is back at it for three more years.
As long as we're talking about comfort and reliability, Iloka and his 44 starts feel at home in Guenther's scheme. And that's another factor for Iloka, who prides himself on being mistake-free at a positon where you can't be free with mistakes. It looks like his safety partner, Reggie Nelson, won't be back after a career year with eight interceptions. But in the last two years, Iloka has finished in the top 20 for safety coverage as charted by profootballfocus.com.
"(The defense) is predicated on being sound and disciplined and plays are made with that," Iloka said. "When we're clicking, we're disciplined and accountable. I like that. I don't like chaotic defenses where it's kind of you just wing it. They coach you up here pretty well. You're not ever out there guessing. They get you ready for almost anything, any scenario or adjustments. That's the kind of player I am. That style is very important."
Rey, undrafted out of Duke in 2010, the year after they took middle linebacker Rey Maualuga in the second round and two years before they grabbed Pro Bowl WILL backer Vontaze Burfict from the college free agents, has an appreciation for the enormous talent around him. He may not be the tallest (6-0) or the sleekest (250 pounds), but he's smart enough and good enough to know he's a part of something special. He's supposed to be a backup, but he's got 21 starts and just a tick under 1,700 snaps in the last two seasons.
"There are so many star players on the defense. I'm honored to just be out there with those guys," Rey said. "Every time I get a chance to run out there with Geno Atkins, Carlos Dunlap, Vontaze, Rey, it's an honor to be out there with guys of that caliber. And make plays with those guys if I have the opportunity to do so."
And he's made his share of plays. He led the team in tackles the past two seasons. Before that, in 2013, he became the only Bengal to have three sacks and an interception in the same game. The new linebackers coach, Jim Haslett, is the kind of guy who is going to love Rey's ability of knowing where to be and how at all times.
"He's a well-rounded person on and off the field," Iloka said. "He's real spiritual, and you need a guy like that in your locker room, not to mention the things he adds on the field -- consistency and dependable and things like that."
"Consistency," and "dependable,' aren't the kind of sexy words that get you an NFL Network spot at the height of Free Agent Frenzy. But they've won this defense a lot of games lately. A defense that Iloka and Rey have grown up in.
"When I'm out there and I see Rey Maualuga and Vontaze Burfict, those two guys, its fun out there," Rey said. "Playing behind that defensive line, you have a whole lot of fun. We'll have lot fun this year. The season is so far away, but we'll be anxious. We'll be fired up to go. We've got a lot guys with experience."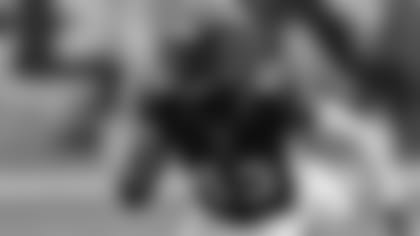 George Iloka: from fifth round to round contract.
It looks like they'll be without Nelson's 138 NFL games at safety. Iloka's 51 games and Shawn Williams' 48 add up to 99, which seems to be a plan that fits into their drafting model. Iloka says he's ready to assume the mantle.
"Now you're accountable more to the team, to the organization and the position in which they put me in," Iloka said. "I wouldn't rather be in any other position. It just means you have to do everything right and be consistent. If you're going to be that guy, you have to do it week in and week out, play by play, and it starts in practice. I just want to be consistent and show them that you all made the right decision and keep doing what I've done here the past four years and excel on top of that. Because I really feel like my better days are ahead of me"
There's no question the Bengals have based this five-year surge on sign-your-own familiarity. The comfort level paid off for both Iloka and Guenther. Iloka admitted he had some tough times when they couldn't agree on a long-term deal back in August.
Iloka said he doesn't think the snafu affected his play, but it gnawed at him off the field.
"The injuries affected me," said Iloka, who missed four games. "The field was my happy place. That's where I got away from it. It bothered me off the field. It was a learning experience. Paulie taught me a few things I can take with me in any profession in life.  
"Take the emotion out of business. There are times you can get emotionally in things and there are times you can't.  Contract negotiations. Take it out. Don't cloud your judgment and make you bitter or salty. It's like anything else. I didn't handle myself badly. There are things I wish I could have done better. Sometimes you have to fall of the bike to know it hurts. I'm glad it happened. Now I understand what to do and not do."
Mike Brown also stopped by Iloka's signing. Just like he complimented Rey on his green shirt ("That's the right color," he joked), he noted Iloka's fashionable tie.
"He's a man of few words," Iloka said. "But he said enough for me to know that he's happy I'm here, happy that I'm back. He's the head dog. Me being back, that says enough to me."
Sure, there were dollar signs Thursday.
But there was also a belt, a baby, and a word from the boss to go with a defense that fits.