Jake Fisher puts a different hand on the ground Thursday.
With the Bengals wondering just exactly how long they're going to be without right tackle Cedric Ogbuehi, the word of the day Tuesday turned out to be "versatility."
After head coach Marvin Lewis directed them through their last public workout of training camp before a group of season ticket holders on the Paul Brown Stadium field, Lewis told a group of reporters he doesn't think Ogbuehi is going to miss the Sept. 11 regular-season opener with what is believed to be a toe injury.
But they're also not sure when he'll be back, either. Bengals.com reported Monday that it's unclear if Ogbuehi will get any more work in the preseason as Jake Fisher flips from left tackle to right tackle for Thursday night's pre-season game (7:30-Cincinnati's Channel 12) in Detroit.
The versatility not only comes in for Fisher, who last year as a rookie started as a tight end, played as a fullback, and extra tackle, and practiced at guard. But it also comes in for the no longer forgotten Trey Hopkins as he battles for the roster spot that was all his before he broke his leg in the third pre-season game of his rookie year in 2014.
Hopkins is channeling long-time Bengals radio analyst Dave Lapham and his ability to play all five offensive line spots during his 10 seasons with the Bengals in the '70s and '80s. Undrafted out of Texas, Hopkins proved he could play both guards and center as a rookie, but the leg wasn't quite ready and he spent all last season on the practice squad.
The 6-3, 310-pound Hopkins has been nimble enough this camp that he played some left tackle in Friday night's pre-season opener and got the thumbs-up from offensive line coach Paul Alexander.
The Ogbuehi injury probably means they'll do what they've usually done in the past and keep four tackles among the nine offensive linemen they traditionally keep at the 53-player cut down. Whether that makes Hopkins even more attractive to keep depends on how he plays outside after playing mainly guard in college.
Lapham, a former Big 12 TV analyst who covered him in Austin, thinks he can do it. And it sounds like Hopkins is going to get plenty of chances at tackle because Alexander is encouraged by a raft of good, young interior linemen, led by fifth-rounder Christian Westerman, the Arizona State strongman.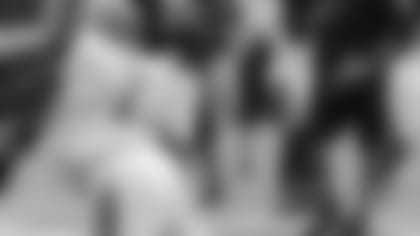 Trey Hopkins, who wore No. 73 in his great rookie camp of 2014, is playing well with No. 66.
"Long arms," Lapham said of Hopkins.  "He's a strong kid. Athletic. I'm not sure why he wasn't drafted his senior year. His line coach had different techniques and maybe some teams sided on staying away from the technique he was using. I thought physically he was draftable and when they got him I thought it was a good signing. He turned into one of those free-agent gems."
As usual, Lapham seems to have hit it again because that's what Alexander was thinking during the draft process.
"I saw a very good athlete who just needed to refine his skills," Alexander said of Hopkins. "He was a little bit out of whack. His techniques were whacky.
"He has the longest arms in our room. Extremely long arms. He's a little short. Andre (Smith) was short, but had real long arms. Some of these guys can do it."
It's not easy, of course. Just ask Fisher, who has been playing left tackle this training camp behind Andrew Whitworth and took a team-high 39 snaps in his place against the Vikings Friday night.
Just ask Lapham. He actually played all five spots in the same game. Twice.
"Each spot requires you to do different things," Lapham said. "Centers are a different ballgame with the nose guard breathing down your neck and you have to snap the ball as opposed to being uncovered. And you've got a lot of the responsibility for the calls and checks.
"Left tackle was the other real challenge. In those days the premier pass rushers were at right end. Now they're all over the place. For me, pass protecting at left tackle and run blocking at center were the biggest challenges … Each one is different. No doubt about it."
Maybe that's why whenever Alexander is looking for Fisher to play center, he can't find him. The other four spots are OK, but …
 "Six-six, 295 against Haloti Ngata snapping the ball?" an amazed Fisher asks. "I think I'm going to have stay at tackle. Sounds about right for me."
That's why he's been shooting admiring glances at Hopkins.
"He's been really fluid with everything he's done," Fisher said. "Anytime coaches ask him to do anything he goes up there and does it and gets his job done. "
 Now Fisher has to do his job when figures to draw the start at right tackle in Detroit after he lined up there during Monday's practice after two weeks of being on the left side.  And there are differences.
"Punching someone with your left hand instead of your right hand. You probably aren't going to knock someone out with your left hand," Fisher said. "Have to make sure it's in the right spots. It's like anything. If you are driving a car, you are driving in America on the left side in Europe in some spots you are driving on the right. It's getting comfortable in a place in your mind where you are able to not think about the actual plays and think about technique.
"Compete flip. You develop muscle in your legs and in your technique and in your body that it's kind of like boxing a Southpaw and not," Fisher said. "For us it's developing those muscles. Unfortunately this week I only have one day to do it. (Monday) was the first day and I have to move on and continue to build and continue to grow as a player and just accept whatever comes your way."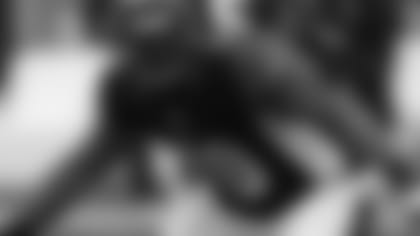 Cedric Ogbuehi hurt his toe on one of his 39 snaps on Friday.
Fisher embraces it. It's his role as the first guy off the bench at either guard or tackle and he does it in front of about 100 people Thursday at Ford Field that he says is mostly family.
"I think tickets are about nine bucks now. Pretty cheap," Fisher said. 
"It's just three and a half hours from his home in Traverse City, Mich., where he spurned the struggling Lions 11 years ago and rooted for the Chad Johnson Bengals who clinched the2005 AFC North that December in Detroit.
 "The year that (Carson) Palmer got hurt. Disappointing year for me," Fisher said.
But '16 figures to be a better year for Fisher in his second NFL season. He's made the tough transition from Oregon's spread offense that bears no resemblance to a pro look and played more spots than any rookie Alexander ever had.
"I've never had a guy deal with that as a rookie. He played four spots and fullback and tight end crazy and he can do it," Alexander said. "So he's a very good athlete.  Different players have different skills; some are bigger, some are quicker, some have traits of being good players.
"I think he's had an outstanding training camp in the practices," Alexander said. "I thought in the game he made a couple of errors and most of them he immediately knew what to do so I thought it was a good game for him."
Fisher doesn't put a time line on making an adjustment between positions. But he's helping it along. He spent a few minutes after practice with Alexander lining him up with right guard Kevin Zeitler.
"I think it's whatever your body is comfortable with. I don't think there's set amount of time. It's what you put into it and try to speed up that process every time it happens," Fisher said. "A lot of it is just getting the mental reps we can't get on the field these next two days. Being comfortable playing with the person next to you is a huge part of it so I want to make sure Zeit understands I know what I'm doing and he's comfortable with me. So he doesn't have to worry about me he can worry about what he does. So for me that's the biggest part making sure my guys trust me, my coaches trust me and continue to play."
There has never been a question about Fisher's NFL athleticism, although there has been some concern if he's got enough girth yet to take on the bigger guys. Alexanders shoots that down immediately and says Fisher is plenty strong. Especially, he says, after putting on 15 pounds this offseason.
"I wouldn't have drafted him if we didn't (think he was strong enough)," Alexander said.
Strength is why the Bengals drafted Westerman and why he's opened some eyes this summer.  After Alexander said he played above average for a rookie's first game, Westerman figures to be one of the top seven or eight linemen and that means he has to be flexible, too.
"Right now he's learning both guards and I think in his it's really best to master those and then move from there," Alexander said.
Versatility. They're hoping that gets them through until there is enough Ced.
Cincinnati Bengals face off with the Minnesota Vikings at Paul Brown Stadium in week 1 of the preseason 8/12/2016