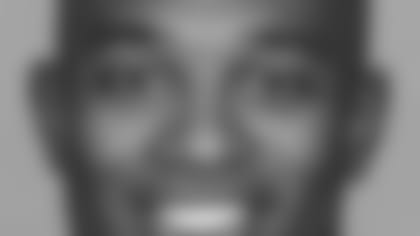 The Bengals lost one of their most valued and versatile players Friday when they put wide receiver Tab Perry on season-ending injured reserve.
Perry, who set the club's single-season kick return records as a rookie last year, hasn't played since injuring his hip in the last minute of the 34-17 win over Cleveland in the second game of the season when he returned a pooch kick that rolled to the goal line and stopped.
Perry, who appeared Friday on Cincinnati radio host Lance McAlister's Bengals Rally show, said after the show that he had suffered a partial dislocation of the hip. He said there was a fear that it could be an injury similar to the one that ended Bo Jackson's career on a hit from Bengals linebacker Kevin Walker in the 1990 playoffs.
"But (Jackson) came back too early on it," Perry said. "The Bengals were worried it could be like that if I tried to keep playing. So we figured to take the rest of the season and it will be all right."
Perry expects to be cleared for the first minicamp next spring.
The Bengals used Perry on a variety of plays running and catching out of the backfield and he had been used this season as a third-down replacement for tight end Matt Schobel in a pass-protection role as well as a receiver.
Along with supplying one of the biggest plays of last season with his 94-yard kick return during the 38-31 win in Pittsburgh, Perry finished fourth in both special teams snaps and tackles as a core member. Earlier in the season, special teams coach Darrin Simmons compared the loss of Perry on special teams to the loss of running back Rudi Johnson on offense.
Lewis said Perry should have a typical rehab and be back for next season.
"The hip injury because of the amount of the pressure on the joint it's a little bit more special," Lewis said. "It's different than the shoulder because it's a function he needs. The protocol is much slower than other injuries. The best thing for him and his future is for us not to push this, for him not to push it most importantly, for him to allow it to heal correctly."
Ironically, Friday was also the day the Bengals officially activated the other Perry - running back Chris Perry - from the physically unable to perform list (PUP). With Chris Perry able to split some as a wide receiver and receivers Kelley Washington (hamstring) and Chris Henry (suspension) also on the shelf, it remains to be seen who else the Bengals are going to dress behind Chad Johnson, T.J. Houshmandzadeh and Antonio Chatman.
Rookie receiver Reggie McNeal was the third quarterback last week, but he may not be designated as such this week even though backup quarterback Anthony Wright is out again as he recovers from his appendectomy.
The Bengals filled Tab Perry's roster spot by signing from the practice squad former Kentucky wide receiver Glenn Holt, a free-agent rookie who had one catch for 11 yards and one kickoff return for 16 yards in three preseason games.
Pro Bowl wide receiver Chad Johnson (shoulder) returned to the early portion of the Bengals' Friday morning practice. He came into the day listed as probable even though he didn't work Wednesday and Thursday, and head coach Marvin Lewis said he's ready to play.