When the Bengals resumed their voluntary workouts Tuesday, they presumably kept monitoring a few position switches that had been glimpsed in the one workout open to the media last week.
(This week's media availability is Wednesday.)
Most notable of the moves is deja vu defensive end Eric Henderson's switch back from linebacker. Henderson signed as a rookie free agent end in 2006 after logging 25 career sacks and leaving Atlanta as Georgia Tech's all-time leader in tackles for loss. After spending the season on the practice squad, Henderson moved to SAM last year and played well until a bad wrist injury ended his year in the preseason.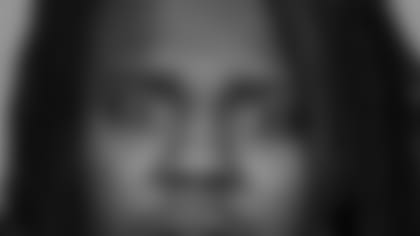 HendersonBut one of the things he showed at SAM is he's a natural pass rusher and he was moved back to end. If he hadn't missed seven games at Tech during his junior and senior year, you wonder what his final numbers would have been. With the traffic jam of 10 linebackers, he may have a better shot to make it at left or right end. Rashad Jeanty and Ahmad Brooks look to have a pretty good toehold on the SAM spots.
Before knee problems last spring iced him all last season, special teams ace Ethan Kilmer moved to cornerback from safety in an effort to gauge his versatility. He's back there again this spring, his third after coming out Penn State as a wide receiver that played safety as a junior.
When he filled in at receiver on the scout team as a rookie, he picked up the nickname "Three Way" for his work offense, defense and special teams. Now it may stand for corner, safety, special teams.
Another move that is intriguing to watch is tight end Daniel Coats now getting some snaps at fullback. Coats, who had a good rookie season last year, worked some with the backs last week, as did starter Reggie Kelly.
Kelly usually gets reps at fullback because he does it in games, but now that Coats is in the mix for the first time shows just how much the Bengals are toying with versatility with their tight ends. At 6-3, 255 pounds, Coats is a physical presence who can also catch. Throw in pass-catcher Ben Utecht, who has a lot of experience as a blocker, and the tight ends can play a big role in the Bengals losing their predictability tag.
OPT OUT: Bengals president Mike Brown can't even have the last laugh.
On Tuesday, Brown's fellow owners officially and unanimously opted out of the collective bargaining agreement that only he and Bills owner Ralph Wilson voted against in March 2006.
Brown won't comment because of a decree from the NFL office that only commissioner Roger Goodell is going to comment on the impasse with the NFL Players Association.
There will be the NFL as we know it in 2008 and 2009, but 2010 would be played without a salary cap and there could be a lockout in 2011 if no agreement is reached before that season.
ESPN.com reported that Goodell gave NFLPA executive director Gene Upshaw the following reasons for the owners' vote: high labor costs, problems with the rookie pool and the league's inability to recoup bonuses of players breaching contracts or refusing to perform.
The third point had been incorporated by the Bengals before the 2000 season in the form of the Carl Pickens Clause, in which players would be fined for criticizing the club in order to blow up a contract. But Brown said back in March '06 that several non-economic factors that were part of the new CBA weren't presented to the owners before the vote. In fact, he said back on March 9, 2006 that he didn't know most of them until he arrived back at his Paul Brown Stadium office that day, the day after the vote and read an incomplete printout from the NFL office.
In 2010, the uncapped year, free agency would be extended to six years, poison pills for both sides to get a deal. For example, two starters scheduled to become free agents under the old CBA after the '09 season, defensive tackle Domata Peko and guard Andrew Whitworth, wouldn't become free agents until 2011 in an impasse.
As early as the 2007 league meetings, other owners praised Brown for making the stand they eventually made.
"(The owners) aren't laughing at Mike; he makes sense," said Jacksonville's Wayne Weaver at that meeting. "He understands it. He gets it. To say he wants more out of this system is unfair. He knows it doesn't go far enough and we have to fix our business model."
Some observers have noted that an uncapped system wouldn't necessarily be a death knell for small-market teams if it came with six-year free agency because of the relatively brief playing careers of most players. Others say the small clubs would get engulfed by teams in massive media markets, as in Major League Baseball. HoushmandzadehSCAREDY CATS: Even though T.J. Houshmandzadeh hasn't attended the Bengals' first two weeks of voluntary workouts, he's already hung with his two new running mates at receiver.
But at first during last weekend's NFL Rookie Premiere in Los Angeles, Jerome Simpson and Andre Caldwell were afraid to introduce themselves.
When Cal receiver DeSean Jackson broke away from a conversation with Houshmandzadeh to tell them to meet their new teammate, he came back with a smile.
"They're scared to come over here," Jackson said.
Houshmandzadeh took care of that and after he made the introductions, "Jerome was asking me, 'What am I going to need to do at the OTAs?' and I just told him to have fun," he said. "It's going to be competitive and it's going to be a challenge, but just have fun doing it."
"Jerome was really humble," Houshmandzadeh said. "He told me, 'I'm asking you to help me in whatever way you think.' Andre's got a brother in the league (Reche) and he knows what it takes. He's been around. Both guys are cool dudes."
ODELL WAITING: Odell Thurman's people didn't expect him to get picked up on waivers Tuesday, but anticipate fielding some inquiries now that teams don't have to pick up his contract. If a team claimed him, it would have inherited his contract, complete with a salary cap hit a little south of $1 million. Now a team can sign him to its own deal, which no doubt would be a low-risk, minimum-type contract depending on his behavior.
John Michels, Thurman's agent, said it will be another few days before a decision is reached on filing a grievance against the Bengals as he waits on word from the NFL Players Association's review of the case.