Dre Kirkpatrick (left) and Marvin Lewis talk contract on Friday.
Dre Kirkpatrick likes his home games on the river for the team coached by the role model named Marvin Lewis and he likes to play in Paul Guenther's East Coast edge defense and he likes walking his Rottweiler through his village even though figures from pro sports are few and far between in tiny Terrace Park on Cincinnati's eastern fringe.
Except maybe when Lewis drives through on his way to Paul Brown Stadium.
"I like," Kirkpatrick says, "what I like."
That's why he signed for five more years in Cincinnati on Friday.  Other teams came at him, such as the Steelers and Titans. But they were hard sells for Brian Overstreet Kirkpatrick's agent.
"He wanted to stay," Overstreet said, "He asked me, "Would I really have to go to Pittsburgh?"
No. Because here he was signing his formal name on the piece of paper Bengals vice president Katie Blackburn slid in front of him.
"D'Andre Kirkpatrick." One must be formal to sign on the line for $52.5 million. Or 55 counting the foam on top.
"I never wanted to leave. I expressed that from day one," Kirkpatrick said. "We probably have the best defensive coordinator in the league. The greatest coach in the league now."
That coach felt all of Kirkpatrick's growing pains and on Friday Lewis sat back satisfied with five more years. He saw him sit behind Terence Newman and Leon Hall and Adam Jones and play just 43 snaps as a rookie and only 600 in his first three seasons. After 1,066 snaps in 2015 and 978 in 2016, good things come to those that wait.
"I wanted to be back with guys, finish what we started," Kirkpatrick said. "I felt like it was my duty. I don't like to run from obstacles. I like to face them head on. We can do a lot of great things here."
The 2015 loss to the Steelers in the playoffs is still palatable in these parts.
"I always go back to Pittsburgh. I always go back to that Pittsburgh game and how that ended up that game," Kirkpatrick said. "I just want to win for Coach. I want to give him his win. Like I said, there's still a lot of things we've got to put together, but we're definitely close."  
Kirkpatrick has embraced the term "Swag," a competitive brew of chippiness and confidence. But  behind the Swag is something more substantive.  On Friday he recalled how he was nervous when he first came to work in the wake of being selected with the 17th pick in 2012. And how he was nervous about going on the free-agent market.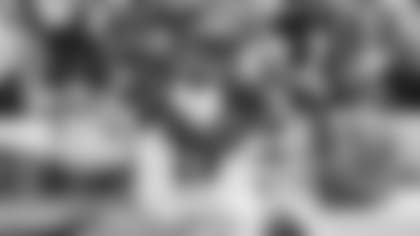 Kirkpatrick picked off the idea of going to Pittsburgh.
"I'm old school. I'm like my dad: once I'm accustomed to something, I don't really like changes," Kirkpatrick said. "But for the most part, it's all about building."
He couldn't see walking the dog Zeus anywhere else. On Friday he was accompanied by his girlfriend, Alexis Hight, and spent the first night after the contract visiting her mother's home. After he signed the contract, Bengals president Mike Brown popped in his head in the conference room, shook his hand, and told him, "You earned it."
"Just for him to express that to me that means the world to me," Kirkpatrick said. "Just to be with guys like Vontaze (Burfict), a guy I know is passionate about the game and stayed on me this offseason about returning. I feel like there's a lot of football out there for us."
Kirkpatrick talked about a legacy but that's in the future. Friday was a celebration of patience.
"He showed patience, and it was hard for him," Lewis said with a laugh at the news conference. "But he did. He came to work every day. He got an opportunity to follow in step and get mentored by some guys who had preceded him in a sense in similar situations. That was a good thing for him. And now, he's evolved.
 "Secondly, Dre wanted to be here. He wanted to get it done. He showed patience in getting the contract finished. He had some other opportunities, and he thought this was the best way for him to continue his career and continue with his teammates and move forward."
Friday was a good day to recall Kirkpatrick's journey because of what another first-round pick is going through this free-agency period. On the same day Kirkpatrick agreed to his deal, Cedric Ogbuehi suddenly got heaved into the pressure cooker at left tackle when Andrew Whitworth left for Los Angeles. Like Kirkpatrick Ogbuehi barely played as a rookie and like Kirkpatrick Ogbuehi had trouble getting his feet under him in his second season.
"We tried, just like we did with Cedric, to work Dre in as a young player, to give him the opportunity to go out there and play and get their feet wet, so they understand what the task at hand is all about," Lewis said. "We think that's really important. So it's got to be exciting. It's exciting for us as coaches. We're going to miss the hell out of Andrew and everything he did. But we pass the torch. The quarterback has picked up the torch. Andrew has done everything he can with Andy (Dalton) all the time, and now it's Andy's football team totally. He's got to pick it up and go."
It's what Kirkpatrick went through. He remembers when Newman approached him after a while.
"Going into my second, third year, I was a little frustrated," Kirkpatrick said. "I felt like I wanted to play, I wanted to be starting. He politely walked over to me and was like, 'Hey, it's not my job to give it to you; it's your job to take it.' As a man, I could respect that. From then on, I had nothing but the utmost respect for that guy."
"I'd rather just stay here with my little dog, my girlfriend, and bother coach every blue moon when I see him headed to work," said Kirkpatrick of one of those Terrace Park strolls.
A look at the top 10 bench press performers of the 2017 NFL Scouting Combine