Rex Burkhead down the stretch in 2016, his most productive as a Bengal.
MINNEAPOLIS - Ivan Fears, who has gone from coaching Antowain Smith and Marc Edwards in his first Patriots backfield of 2002 to James White and a cast of thousands, raved Monday night about the depth in the Bengals backfield that gave him Bengals draft pick Rex Burkhead in free agency.
You have to go to a careerist like Fears on Monday night of Super Bowl week to not go mad. Media Day was already a zoo, but now Media Night is a certifiable prime-time yuk now officially the latest reality TV train wreck and you need a football guy like Fears to talk, well, football.
"Look at all the backs you've got," Fears said about the Bengals. "He didn't have a place. It was perfect for him to fall to us. Tons of guys. There was no place for him. He was playing special teams for you and he did well and he's helped us there, too.
"They've done a great job getting talent there," said Fears, who also has former Bengals fullback James Develin. "We've been fortunate to get some guys from there and they've really helped us … What a year (Develin) is having, huh? Love that guy. You just have to turn him loose."  
Burkhead's biggest day of the year was probably against Denver, when he caught a touchdown pass and blocked a punt in the first 21 minutes. One of the reasons the Bengals didn't re-sign him, besides Joe Mixon, Giovani Bernard, and Jeremy Hill, is durability and that has raised its head. He's played  ten games after missing time early in the year with a rib injury and missed the last two games of the regular season and the first play-off game with a knee sprain before playing three snaps from scrimmage and four in the kicking game during last week's AFC title game.
But when Burkhead hasn't been hurt, he's been terrific. He played 25 percent of the snaps in his last healthy outing, the win over Pittsburgh on Dec. 17 in which he ran for a short TD on one of his six carries in the 27-24 win that gave the Pats home-field advantage.
That's primarily been Burkhead's role in the revolving New England backfield. Short-yardage back. The Pats saw that power in the last six games of last season, when Burkhead got 68 of his career 87 rushes in three seasons with the Bengals.
"He's a hard runner. A hard down-hill runner," Fears said. "He didn't play much early. Then all those guys got hurt and he ended up finishing the year for Cincinnati. That's the only time you could look at him."
But he's been more than a big back.
"He's proven to be very, very good in the open field, a very good pass route runner, very good in blitz pickup. He's a tough guy. He plays big for a small guy. There's a lot more to him than the little package you thought he had."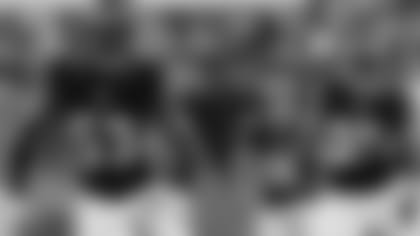 Marquis Flowers: finds a niche.
MARQUIS FLOWERS: The video man draped a scarf from a foreign championship soccer team over the  shoulders of another old friend, linebacker Marquis Flowers, while Flowers did what he does, which is speak his mind. Flowers, uncertain if the man had given the scarf to him or just let him borrow it, politely thanked him when the guy took it to the next interview. When noted that Patriots head coach Bill Belichick hadn't taken away his chatty personality, Flowers smiled.   
"Bill's not going to try to change who you are. I am who I am," Flowers said. "I'm always going to be like that. I don't change for anybody. I'm not going to change who I am."
Flowers has become a go-to-guy for the media in the notorious button-down Patriots locker room, but he thinks he's kept it pretty basic. Asked what's the most outrageous thing he's said since the Bengals traded him to New England for a seventh-round pick in late August, Flowers said, "Probably something like 'Go Celtics,' or 'Congratulations Celtics,' because I'm a Lakers fan."
Flowers got some run here Monday night because he played college ball with Eagles quarterback Nick Foles at Arizona. He talked about how he still gets texts from guys in the Cincy locker room such as close friend Vincent Rey, rookie linebacker Jordan Evans, safety Josh Shaw and some missives from A.J. Green
But he wanted to clear up one thing. Flowers objected to a story that surfaced a few weeks ago that implied he said his defensive coordinator in Cincy, Paul Guenther, never talked to him. On Monday night Flowers said he simply told the Providence Journal that Patriots defensive coordinator Matt Patricia had expressed confidence in him and that Guenther was the first guy to talk to him right after the trade went down just before the pre-season finale.
"I did not say that," Flowers said. "All I said was a (NFL) defensive coordinator has basically never told me in the terms that Coach Patricia told me that he believes that I can help the team win. That's what I was saying. Obviously Paulie was the first person that talked to me after I got traded. Thanked me for everything. I have no hard feelings against Coach Paulie. He's a great coach. It just didn't work out. It happens sometimes. This league is like that with hundreds of players. So I'm not the first player, I'm not the first case. No hard feelings. Everything happens for a reason. I'm just happy to be in this spot with this organization with a chance to be crowned champion."
Flowers, athletic and fast, emerged as a special teams leader with the Bengals but he was frustrated that he didn't play on defense. He played just two snaps there in 2016 after missing all of 2015 with an injury and logging 70 defensive snaps as a rookie. With the Super Bowl on the line against the Jags last week in the AFC title game, Flowers played 18 snaps as Patricia juggled injuries. He didn't play a defensive down in five of his first seven games in New England and in Game 15 against the Steelers he played seven before working a career-high 55 against the Bills. He's playing nearly half the time in the kicking game.
If there's anyone in Cincinnati who made sure Flowers reached this spot its fellow linebacker Vinny Rey, the veteran who took him under his wing when he arrived via the sixth round in the 2014 draft and still talks to him often.
"I just talked to him tonight," Flowers said. "Vinny's my guy. He's happy for me. He's been there for me. I went through some tough days that were hard for me, kind of like he did, and he gave me some veteran leadership. Vinny's a great locker room guy. Always there to help you on and off the field."
If Flowers was frustrated with the Bengals there was some sense the Bengals were frustrated with him, too. Head coach Marvin Lewis benched him for a portion of a practice in the last training camp when he got close enough to No. 3 quarterback Jeff Driskel to slap the ball out of his hands.
But they didn't exile him when it looked like they weren't going to keep him as one of the six backers at the final cut down with the addition of rookies Carl Lawson and Jordan Evans and the elevation of sophomore Nick Vigil to starting SAM. And Flowers was mature enough to know he's not the first guy that had to leave a place to find his place.
"In the end, we have to go off of who we feel are going to be the guys that we keep here," said Lewis then. "If somebody can have an opportunity somewhere else, then that's a good thing for the player. Obviously the Patriots felt that (Flowers) may not get to them through waivers, so they traded something significant for him."
Like Flowers said, "Fresh start, clean slate." He now has played for both Belichick and Lewis, the NFL's two longest-tenured coaches with one team.
"Obviously they are there for a reason," Flowers said. "They stay with their routine. They know how to get guys to stay in their routine. Guys play hard for them."