Takeo Spikes goes Behind The Mask.
HOUSTON - A quick stroll through the notebook before Sunday's game (6:30 p.m.-Cincinnati's Channel 19) between the Patriots and Falcons. When the clock hits 00:00, there'll be a new defending champ and the Bengals will be tied for first in the AFC North at 0-0:
Takeo Spikes is having a terrific debut as an author. Spikes, the Bengals' first pick in the 1998 draft who went on to play 15 seasons with five teams, is scheduling a visit soon to Cincinnati to talk about his book, Behind The Mask.
He went on Super Bowl's Radio Row this week and
appeared at a few book signings in the first major push for the book, which is available on behinbdthemaskbook.com.
No surprise here. Spikes was a special player and is a special guy and this is a special book. It's not the typical thrown-together-scrapbook autobiography we've come to expect from celebrities.
For one thing, it's about other people. Spikes, who took up photography three years ago, wrote and took the photos of his journey meeting the best linebackers of each era in the game that ends with a chapter on himself. It's a coffee table book, but it's really not.
"It's about the moment they realized they were going to make a commitment to something bigger than them," Spikes said.
Spikes did a phone interview with them before traveling to visit each one, where he recorded a video of his sit-down interview with them.
"The phone conversation gave me the idea how I wanted to set it up," Spikes said. "Then I went back and watched the video and I went with what I felt needed to be shown."
The first chapter is a must read, when Spikes hooked up with Chuck Bednarik, the great Eagles linebacker/center who flanked the late '40s, '50s, and early '60s. They spoke shortly before Bednarik died in March of 2015 at age 89.
"We think we were his last interview," said Brent Miller, the Cincinnati native who has been Spikes' long-time booking agent.
"The thing that resonated with me is that before he was 'Concrete Charlie', he was in World War II flying an airplane being a gunner," Spikes said. "The most amazing story he told me is when he was watching the bullets hitting the plane while he was shooting back at them. When he got on the ground he got out of the plane holding his rosaries. He looked at the bullet holes in the plane, got on his knees, kissed the ground and said, 'Lord, if your ever allow me to get back to the States alive, I know what I want to do.'''
Like most of Spikes' tackles, a nice read ….
It's not easy being the president of the NFL Players Association. But Bengals right tackle Eric Winston made it look that way at this week's annual NFLPA news conference when he wasted no time answering a question that no one, starting with commissioner Roger Goodell, wanted to answer.
The question was what is the NFLPA's stance on the travel ban targeting Muslim countries.
"They can call on us and we'll be there for them," Winston said of the league's Muslims. "I don't think that's who we are as a people, but I'll leave that for another day … These guys are with us. They're our brothers and their families are our families … We'll do whatever it takes to protect them."
Winston, a free agent, said he's interested in returning and has had some preliminary talks with the Bengals and is hopeful a deal can be struck …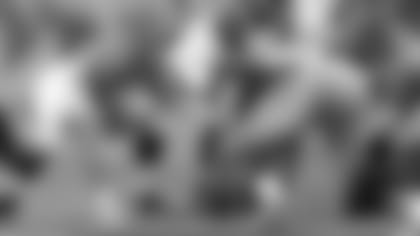 Eric Winston (73) had some tough questions at the Super Bowl.
Steelers wide receiver Antonio Brown, yes, the arch nemesis, was prowling on Radio Row this week and saw a guy wearing a Bengals' pullover.
"Are you with the Bengals?" Brown asked and when the guy said, "Yeah," Brown wondered, "What position do you coach?"
Brown's eyes glazed over when he heard, "The web site," and he walked away. When Brown passed by again a few minutes later, the guy asked, "What if I had said I coached the secondary?" Brown didn't miss a beat.
"I would have asked you for a few secrets," he said …
The 48-member Pro Football Hall of Fame selection committee (of which Bengals.com is a member) met for nine hours Saturday to select the 2017 class and former Bengal Boomer Esiason had to be pleased that fellow quarterback Kurt Warner got in. Earlier in the week Esiason opined on who he'd like to see get in. That is, if Ken Anderson, his Bengals predecessor, wasn't on the ballot.
"The Greatest Show on Turf. He was awesome. They were awesome," Esiason said. "He took two different franchises and turned them around and one of them was the Cardinals and took them to the Super Bowl and they could have won that game easily. It wasn't because of him. He threw a bad interception in the end zone, but at the end of the day he's a great player."
One of the cases for Warner is he has the second highest postseason passer rating of all time behind only Bart Starr. He won one of his Super Bowl appearances, but he could have easily won all three. The Patriots beat his Rams on the last play 15 years ago and eight years ago the Steelers' Ben Roethlisberger and Santonio Holmes reversed Warner's great come-back drive with one of their own.
Warner did throw a bad pick in the end zone right before the end of the first half that resulted in Steelers linebacker James Harrison's 100-yard return that night, but that didn't come back to haunt him in the vote. Legend is that Harrison wasn't supposed to be in that spot, which is the same thing that happened to Anderson on Super Bowl XVI's opening drive in the red zone in a game Cincinnati lost, 26-21.
Anderson has some momentum to emerge soon from the senior committee and be one of the Hall of Fame finalists. One of the things going for him is that he also has strong post-season numbers despite that loss. His 93.5 passer rating is 10th all-time.
When Anderson retired after the 1986 season, he was the NFL's all-time leader in post-season completion percentage. Among players with more than three games played, Anderson (66.3 percent) is still in the top five on that list just behind Warner's 66.5.
Esiason also thought running back LaDainian Tomlinson and kicker Morten Anderson are worthy, as well as safety John Lynch and wide receiver Terrell Owens. He also had his eye on tackles Tony Boselli and Joe Jacoby.  He only got Tomlinson and Anderson. Owens, whose last year was in Cincinnati in 2010, was trying to join Anthony Munoz and Charlie Joiner as Hall-of-Famers who played for the Bengals.
"Nobody likes him.  It doesn't mean he wasn't a great football player," Esiason said. "He was a pain in the ass. We all know that. But he was a great, great football player."
Warner was Hall of Fame against the Bengals in his two games against them. He beat them both times with the Rams, throwing five TDs with no picks for a 136.5 passer rating when he completed 67 percent of his 49 passes averaging 10.6 yards per attempt.
So was Tomlinson. His clubs beat the Bengals five out of six times rushing for nine touchdowns while he averaged 88 yards and 4.8 yards per carry.
But new Hall-of-Famer Jason Taylor not so much. Taylor is seventh on the all-time sacks list but his teams were 2-3 against the Bengals and he had just 2.5 sacks. He did have one of his eight career interceptions against them, which is an enormous number among pass rushers.