Dan Bunz (57) wraps up Bengals running back Charles Alexander in history.
It is now 35 years, six presidents, and a dynasty ago since they met on the 1 and history and from the confines of Charlie 4 Seasoning Inc., in Sugarland, Texas, former Bengals running back Charles Alexander had just one question from across the goal line of generations. 
"I always wanted to know, did he know what was coming at him?" Alexander says of that pass in the flat on top of the football world in Super Bowl XVI. "It seemed like he knew it was coming."
Across the country nestled on the leafy side of Sacramento, Calif., but forever in a bear hug with Alexander, former 49ers linebacker Dan Bunz confirmed what Bengaldom always knew down deep since that day in the Pontiac Silverdome.
"I was nervous," admits Bunz, the Niners' two-way backer who is still inexhaustible as the owner of Bywater Hollow Lavender Farm while also teaching junior high Phys Ed and Special Ed.
"I had seen that play on short yardage and then another one on the goal line. There was actually one similar to that in practice and I ran up to him, he jumped up, and I tried to intercept it and I hit up in the air and it landed on (running back) Billy Ring's belly in the end zone. Billy Ring. My roommate. I'm thinking, 'Oh wow, if that happened in a game ….'"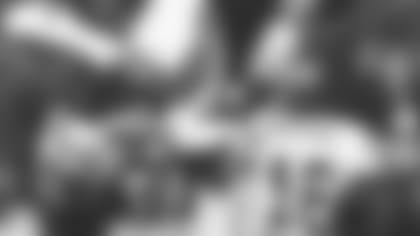 Reggie Williams, the most prolific linebacker in Bengals history, makes Joe Montana feel the heat in the winter blast of 1982.
But it didn't happen in the biggest game of their lives. Bunz, the future gym teacher, stopped Alexander a step and swivel from a touchdown with a teaching-moment tackle. On the next play, fourth down, Bunz fought through Alexander's rattling lead block on an improbable charge that protected the 49ers' 20-7 lead with 1:17 left in the third quarter and cemented the 26-21 victory.
"I more than believe if we scored on that play, we would have won the game," says Alexander, who is winning big all these years later with his line of Cajun food products known as "C'Mon Man."  
"Honestly, we were the underdogs. You can say we had all these guys, but all these guys were rookies," Bunz says. "(The Bengals) had a lot of veterans, a lot of star players. If you look at it, by rights they should have beat us. But we just had a group that wanted to win. We were tired of losing."
But that was the mantra of both these mirror teams. The Bengals were led by their 73-year-old patriarch, owner and Hall-of-Famer Paul Brown, the innovator whose second-year head coach Forrest Gregg used steely discipline for a franchise-best 12-4 record after his 6-10 inaugural season came on the heels of two 4-12s.
 The 49ers were led by third-year coach Bill Walsh, a cerebral Brown disciple who had been the mentor of the reigning NFL MVP; Bengals quarterback Ken Anderson, and had turned the West Coast Offense into a league-wide craze while taking San Francisco off the mat from 2-14 and 6-10 records.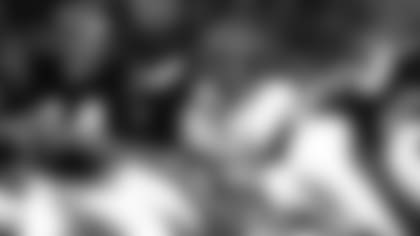 Ken Anderson became the Super Bowl's first 300-yard passer.
"I don't think there's any question,' says Dave Lapham, the Bengals left guard that day, "we were the two best teams in football."
Anderson came in off his third NFL passing title with an array of game-breaking weapons anchored by a New Wave tight end in Dan Ross and quicksilver rookie wide receiver Cris Collinsworth as the Bengals shot to No. 2 in NFL offense.
Anderson shared the Newsweek cover the week of that Super Bowl with Walsh creation Joe Montana, the 49ers third-year quarterback who ironically began his rise as the game's greatest clutch player when his defense pitched that goal-line stand against the NFL's hottest offense.
"I consider the '81 team the best," says Reggie Williams, Bengaldom's poet laureate and the linebacker who started both Cincinnati Super Bowls.  "Because we were very innovative at the time … We were doing a lot of movement on defense with a quick and nimble line. We had the three top sack artists in Bengals history with Eddie (Edwards), Ross (Browner) and I. And great corners. Louis (Breeden) was a young guy matched up with Ken Riley, the venerable leader. And Bobby Kemp was as hard a hitting safety as you could find."
Meanwhile, Lapham, the Bengals' long-time radio analyst, muses how Walsh's heirs, among them Lindy Infante and Brue Coslet, had devised "weak-side line protection that the league hadn't caught up with yet."   
Indeed, the philosophical roots of Sunday's AFC title game in New England pitting Patriots quarterback Tom Brady against the Steelers' tried-and-true zone blitz are rooted in the '81 Bengals.
Brady's clever quick-trigger passing into every nook and cranny from Foxboro to Framingham is nothing more than an I phone 7-plus version of the West Coast scheme.
 Pittsburgh may have tweaked its blitz packages, but the principles are still rock-hard Dick LeBeau. They're ripped from the playbook of the Steelers former long-time defensive coordinator who just signed up for another run in Tennessee at age 80. But during the 1981 season, LeBeau was the Bengals' 44-year old secondary coach teaming with coordinator Hank Bullough while toying with zone blitzes, a concept LeBeau would compare to Robert E. Lee's strategy in the Civil War.
So the Bengals had the brains and they had the brawn that day in Pontiac. (Don't forget, besides Lapham the offensive line boasted their greatest tackle in Anthony Munoz on the left and their greatest guard on the right in Max Montoya.) How in the name of Canton could they lose to an emerging and interesting but still developing team?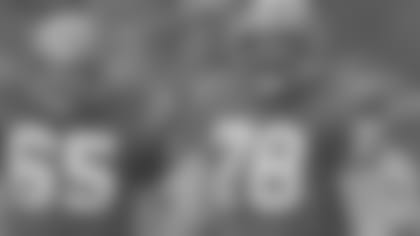 Max Montoya (65) and Anthony Munoz (78) were staples of the Bengals offensive line in two Super Bowls.
After all, the Bengals were the first losing team to outgain the winner in the Super Bowl. Anderson engineered more touchdowns than Montana. In the wake of Joe Willie Namath, Johnny Unitas, Bart Starr, Roger Staubach, and Terry Bradshaw, Anderson was the big game's first 300-yard passer and Ross, along with Vernon Davis, still has the Super Bowl record for a tight end with 104 yards.
  "The turnovers," Lapham says. "We had four and then you take not scoring on the goal line and that's a turnover on steroids. Four-plus. The fact we were as close as we were despite respecting the ball like that, it's just disappointing. In a game like that you have to play smart, clean football. And we made a bunch of egregious errors."
It was mind-numbing. The 49ers' first TD was set up on an Anderson red-zone interception and the second on a Collinsworth red-zone fumble. Montana wouldn't get into the end zone again. But, unbelievably, in the last moments of the first half the Bengals couldn't handle two kickoffs to go down, 20-0, at halftime.
"Those six points were doomsday for us," Munoz says.
LAPHAM: "I read somewhere that week that the team that scored first had won like 14 of the 15 Super Bowls. I probably read too much of that damn stuff that week. And there we were taking the first drive and rolling. Kenny was later talking to the guy that made the interception (free safety Dwight Hicks) and he told him he screwed up. He wasn't even supposed to be in that spot.
"I heard Kenny and (wide receiver) Isaac (Curtis) talking right after that. One saw man, one saw zone. They were both right.  (Hicks) was in the wrong place. But that's football."
Hicks stepped in front of Curtis at the San Fran 5 and kicker Jim Breech didn't get the chance to give them a 3-0 lead and they were off.
MONTOYA: "It's almost like a blur it just goes so fast. It's incredible playing in that game. You don't even get tired.  I don't know what it is. The adrenaline, maybe that's the thing."
It was the first Super Bowl in a northern climate and the week was miserable. Pete Johnson, the Bengals' 250-pound fullback who still holds the club's career touchdowns record, still shakes his head: "You're supposed to play Super Bowls where it's festive. When I went to the Super Bowl with Miami (three years later), Palo Alto was cold, too."
MONTOYA: "Except for the game, I didn't like it. It was freezing.  They tried to have events and parties in different hotels, but who wants to go out when its 20 degrees outside and there's six feet of snow?"
Montoya, another two-time Super Bowl starter, says the NFL started to get the big show type atmosphere around a Super Bowl when the Bengals went the second time seven years later. But he still had "saucer eyes," that day in Detroit.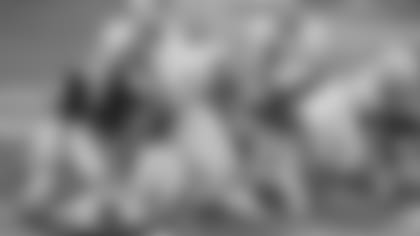 Pete Johnson (46), who leads all Bengals with 70 rushing TDs, was denied on the Super Bowl XVI doorstep.
So did Williams, a Flint, Mich., native who rode past the Silverdome on his way into Detroit and elsewhere while playing football at Flint Southwestern Academy. While he played running back, Ricky Patton played linebacker. They met again on Jan. 24, 1982, with Patton a running back for the 49ers.
"One of us had a chance to go back home with a ring," Williams says.
Williams almost couldn't even get to the stadium, thanks to the treacherous travel and vice president George Bush's motorcade.
"We were two minutes away from getting off the bus and climbing over the median and walking there," says Kim Wood, the Bengals' former long-time strength coach. "I mean, you could see the stadium from the bus. It was right there. But we probably would have been frozen if we tried it."
They stayed on the bus, but Williams says it's the only time he never had time to warm up for a game.
"The first time I got pushed that day was when I got shoved in the back by Diana Ross," Williams says. "She was trying to get to the middle of the field to sing the National Anthem."
If the Bengals didn't know they were on the big stage by then, the presence of a national icon got the message sent when she appeared in a star-spangled outfit and asked the crowd to join in.
"I was standing right by her and I'm thinking, 'That's Diana Ross. This is pretty cool,'" Montoya says. "I think I said to her, 'Good job,' and she nodded."
Williams had grown up listening to Ross and the Supremes, so his game face that popped up when he felt the push suddenly melted.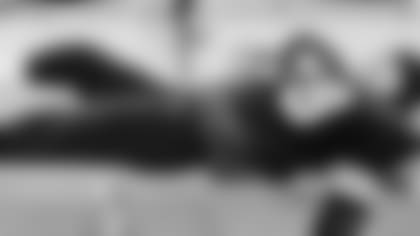 Anthony Munoz stretched out on Super Bowl Media day.
"I yelled out, 'Diana!' Williams says, 'But she just kept on walking. She had a job to do. Singing the national anthem was always a big psychological bridge for me going from Mr. Hyde to Dr. Jekyll. To sing it with Diana Ross was something special."
But for the Bengals she turned out to be the lady who sang the blues. The game turned on that maddening goal- line stand, down 20-7 with 16:17 left in the game and the Bengals charging.
Three shots from the 1 with their all-time leading passer, their all-time leading touchdown maker, and their Hall of Fame left tackle.
"I would have bet the house," Munoz still says.
"Six inches," Bunz says. "It's amazing they didn't make it."
On first down from the Niners 3, Pete Johnson ran "47M," off Lapham and Munoz for two yards and Bunz barely tripped him up before he got in as Johnson stretched out inches away.
"Believe it or not," says Johnson, who three-yards-and-dusted-it for Woody Hayes at Ohio State, "we ran that play in college and we started doing it at the Bengals. Just a great play. You can take it to the outside or run around tackle, or cut it back. Just a great play."
Johnson ran enough great plays to score 12 touchdowns that season and Lapham thought he had one there. "I was surprised it wasn't because we got good push."
On second down, they tried the same play with different personnel and a different formation. Instead of Alexander lining up as the lead blocker, they just kept Johnson back there with rookie wide receiver David Verser going in motion from left to right. But when Verser didn't block the edge, Johnson got blown up and set up a date for destiny on the next two snaps with the 6-1, 224-pound Alexander and the 6-4, 226-pound Bunz.
On third down, Anderson sent Alexander to the flat but Alexander surprised Anderson stopping the route before he got into the end zone.
ALEXANDER: "I got criticized for not going into the end zone, but my main concern was I knew Kenny was getting some heat. My main concern was getting my head around quick and focusing on the ball so I wouldn't get hit in the back of the head. I knew he had to get rid of the ball. I knew they were coming at him. I broke the route off as fast as I could. Most of the time that would have been a touchdown … (Bunz's) timing was perfect."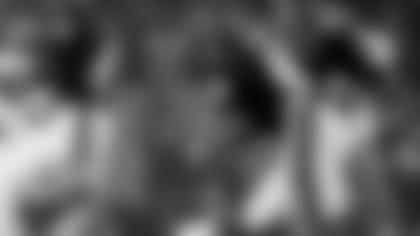 The first indoor Super Bowl was decided in the interior.
Down through the years Bunz would say he might have been a step deeper than usual and he thought something was up because Alexander kept looking back at Anderson before the snap and Bunz flashed back to the Ring play in practice.
BUNZ: "I thought it was a straight hit. I'm breaking 'Now.'  I'm thinking I'm going to steal it and go 100 yards. At the last second I said, 'No. Just hit his ass.' It was kind of surreal … I played a lot of rugby in college and in rugby you have to stand the guy up and get him on the ground and that's what I was going to do. If (Anderson) threw it out in front, there would have been a huge collision and I don't know what would have been there … (Alexander) slowed down to turn for (the ball) and it just gave me a chance to wrap up and hit him."
Lapham still thinks of the play in disbelief.
"It wasn't like Charlie was a short, little fat guy,' Lapham says. "He was a big, powerful guy, but (Bunz) knocked him sideways and backward. You'd think he'd just fall into the end zone. It just didn't happen. They made plays and we didn't and that's textbook example."
Bunz can laugh now. He's been asked what he was thinking and it was merely, "I'm trying to keep my job." You think that when you and the head coach don't always agree.
"I was pretty outspoken," Bunz says. "Bill and I didn't always see eye-to-eye. He'd brag on the offense and I'd tell him to draft more defensive players and give (the defense) more practice time … There were some guys they brought in that didn't fit into the program. Hollywood Henderson was one."
But what he was really thinking about after that play was the next one.
Fourth down and six inches. Bunz knew they had to do it again. This time the Bengals went 46M, which was just like the first down play except off right tackle. Alexander was leading the way and Bunz knew this play was coming, too.
BUNZ: "It was just one of those things where you know everything was going to happen. You study so much film, you just had this sense. I was calling the signals and started yelling, 'Lead, lead,' because (Alexander) was rocking forward. We hit heads … He was a load. He hit me and broke my helmet strap  … and my helmet came down on my nose and messed it up. It was bleeding … Thank God we all did everything we were supposed to do on that play … I got knocked back, but I was already across the line and (nose tackle) Archie Reese and (safety) Ronnie Lott came up fast."
ALEXANDER: "You've got to go with what got you there.  We'd been using that play all year. I don't think we tried to disguise it. I always lined up a little bit closer to the line of scrimmage, maybe a yard further ahead of Pete to get to the hole before him. It was nothing fancy. '…Ok that's the best we've got. See if we can get in the end zone.' We just came up a little short. No one had stopped us on the goal line all year."  
Lapham remembers there was a lot of traffic up the middle even before the snap.
"Hindsight is 20-20," Lapham says. "They were damn sure we were going to run the ball in between the tackles. If we had run anything else we probably would have walked in."
The Bengals still think they would have been hard to stop in the final 16:33 if they had cut it to 20-14 right there. As Munoz remembers, "We had eight first downs at that point in the second half and they had none."
"Kenny was getting hot and Danny was catching the ball and Cris was doing his thing," Alexander says. "If we got ahead we could have pounded it with Pete."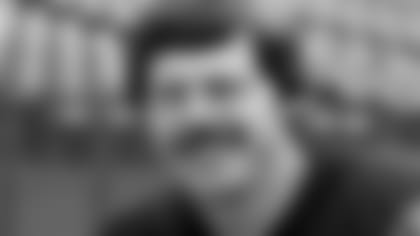 No less than Hall-of-Famer Anthony Munoz thinks Ken Anderson (above) would be in the Hall with a win in Super Bowl XVI.
Pete Johnson, "The Happy Warrior," has no regrets. He's the kind of guy that is still doing meets-and-greets with Bengals fans and he now knows the kids of the kids that used to go to Wilmington College to watch Bengals training camp.
"If you gave it everything you had, you have no reason to regret it," Johnson says. "Full speed ahead. There's too much living you have to do. If you're still back in 1982, you've got problems.
"Look what a great year that was. We broke a lot of records. Kenny Anderson. Dan Ross. The fans were tremendous. It was fun. That was a great team … We still get together around every Christmas checking up on each other."
 "It's still the highest-rated game," says Anderson and he's right because according to Nielsen it was watched in 49.1 percent of households (73 share), or 40,020,000 households at the time, according various listing.
More people (120.8 million) watched the Super Bowl two years ago when New England fended off Seattle, but Super Bowl XVI has the percentages.
"I just came off the golf course. Thanks for ruining my day," says Anderson after he's asked to run through his only Super Bowl. "I don't think about it all that much. You just can't make that many mistakes."
Besides Paul Brown's Vince Lombardi Trophy and Bengaldom's heart, some believe the biggest casualty of that game is Anderson's spot in the Pro Football Hall of Fame. Munoz, the only Bengals Hall-of-Famer, agrees.
"You're talking to the wrong guy. I don't justify careers on (Super Bowl) rings," Munoz says. "But with Kenny it probably does happen …. According to how it's gone if we win that game he's probably in, which is sad to say because I don't think it should be that way because his stats are crazy. They're so good. But being in the Hall for 18 years, I'd probably say that's a true statement.
But it impacted every one of every stripe. Williams, who played the second Super Bowl as a Cincinnati City Councilman, thinks he never would have left if he had a ring. Montoya has never watched it. Either Super Bowl.
"I don't wear my AFC championship ring,' Montoya says. "It's nice, but it's second place. I would have given up my paycheck that day to get the ring."
Not only does Bunz have the ring, he's got a painting of what is known in The Valley as "The Stop." It's that third down play where he and Alexander met on the summit in the flat. He had about 1,400 lithographs made and many of his teammates have signed them. He traded one once for a couple cases of wine. He's donated hundreds to community groups like Special Olympics. They are knocking around the internet. He's wondered off and on if Alexander would ever sign one.
"And my buddies tell me, 'Nah, he'd probably tell you to stuff it.' But when you talk to him, tell him plenty of respect. It was my day."
Across the goal line and across the country, Alexander nods.
"I made him a hero, huh?' he says with a laugh. "Tell him I'd have no problem signing it. Maybe I'll send him some "C'Mon Man."