Rookie end Jordan Willis had a sack against his hometown Chiefs.
The Bengals defense came out of this one slightly stunned after the Chiefs scored all their points the first five times they had ball in Saturday night's 30-12 loss at Paul Brown Stadium. Even if head coach Marvin Lewis started subbing in the younger players after the first  series.
Because they didn't stop much. The Chiefs converted half their third downs, completed 74 percent of their passes, and averaged 6.9 yards per run.
"We take pride every time we go on the field to play to our capabilities," said secondary swingman Josh Shaw. "Today it's not a secret  we didn't do that. They were very efficient. It's nothing we hadn't seen … Every man in the locker room will tell you  that we have to play better. You expect to go out there and build (on a good opener) on that and today we took a step back."
The Bengals had no answer for rookie quarterback Patrick Mahomes, who ripped through them for two touchdown drives and two TD passes while hitting 10 of 14 passes for 88 yards while running for 29 more. He killed them on third down, when he was 4-for-4 and that included a conversion on third-and-14.
"They're very efficient.  They catch and throw the ball and they don't let you hit them (on third down)," Shaw said. "A smart quarterback in Alex Smith. He doesn't turn the ball over much. (Mahomes) moved around a lot. They had the same plays, but it's a different style of offense when he's in there. He extended plays. He's going to be a good player. He's  strong-armed, he can run, and move around."
There were bright spots. Backup defensive end Chris Smith continues to rush the passer like a combination of Lawrence Taylor and Derrick Thomas and got his first Bengals sack. Rookie end Jordan Willis got his second sack in as many games. Linebacker Nick Vigil a game-high eight tackles.
And there were starters and regulars who sat out so kids could play, like starting cornerbacks Adam Jones and Dre Kirkpatrick. And kids who will play but didn't Saturday to rest some dings, like rookie pass rusher Car Lawson.
So Bengals head coach Marvin Lewis wasn't raising any red flags after the regulars were on the field for 32 plays and three scoring drives in the first half, including 25 snaps to go down, 10-3.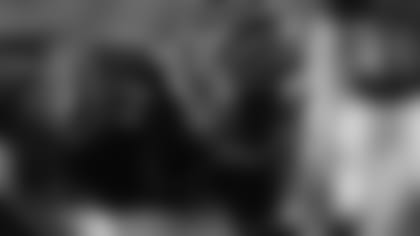 Rusher Chris Smith had another huge night with a sack and five hits on the quarterback.
"I wish we could script it again because I want to get their wind,"  Lewis said. "That is the only way you can get your wind is to stay out there and play like they have had to play. That is good for those guys to have to play through that. If I ever had a concern, it's that they go in there and stop them too early, and think they should come out. Then we are not ready for the regular season. I can't simulate playing real football against a team and a long drive like that. The pushing and shoving, and all the things that happen up front - the wear and tear on your legs; the physical part of that. There is no way mimic that."
But the defense needed to make at least a couple of close plays.
Like Vigil. He just missed an interception when he jumped a sidelines route and dropped it. He also had Smith lined up for a sack but let him get away.
"I should have made both plays," Vigil said. "You have to make those plays in this league or they'll come back to get you."
Like backup safety Derron Smith, who got a battlefield promotion when starter Shawn Williams went down with a dislocated elbow. The 5-10 Smith was draped all over 6-7 tight end Demetrius Harris in the end zone, but Harris posted him up for the touchdown that put the Chiefs up for good at 10-3.
"The quarterbacks in this league are going to put the ball where only the receiver can catch it," Smith said. "Even if you've got perfect coverage they're going to get it in there. I definitely could have played it better."
 Like Shaw, who needed some help on Mahomes' one-yard touchdown pass to Harris. Harris wasn't Shaw's man in the back of the end zone, but he was the closest man to him.
"I thought there were some busted plays,' said left end Carlos Dunlap. "There were guys who weren't where they were supposed to be."
Which happened often when the backups were in there. Running back Charcandrick West took dead aim on a front seven that consisted of bubble players and ripped them for 113 yards on just seven carries.
"I thought our other guys didn't play to the standard they need to play to when we took the (starters) out," Lewis said.  "We have to do a better job, and defensively, we didn't play well in the second half."
Even right after the game the sense on that side of the  ball was already that next Sunday's game in Washington, the third pre-season game that's always billed as the dress rehearsal, is shaping up as key.
"We have a lot of corrections to make on this tape. We had a lot of young guys get some early snaps," Dunlap said.   "We've got to see a lot of things — we've got a lot we can learn from and help the young guys. We've gotten to get better as a team as well. In this third game, we're going to get a lot of snaps. We need to be in sync so that when the season comes, we can hit it rolling rather than having to get started. I feel like this next game is going to be a real test for us."  
Or, as Smith said, "Whether it's the preseason or the regular season, we can't put on a show like that. I figure we'll have some tough practices coming up to get back on the right track."
Cincinnati Bengals host Kansas City Chiefs at Paul Brown Stadium in week 2 of the preseason