The Bengals extended their streak to four games with Sunday's 23-10 win in Cleveland.
I'm obviously not referring to a winning streak – which stands at two – but their streak of holding the opponent to less than 20 points.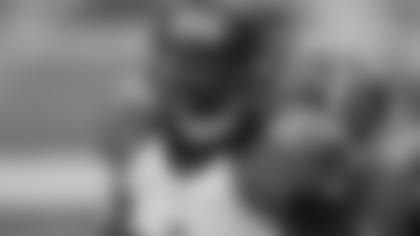 Buffalo, Baltimore, Philadelphia, and Cleveland have managed to score 16, 19, 14, and 10 points against the Bengals during that stretch. And in the Baltimore game, Justin Tucker hit three field goals from at least 52 yards.
"They're doing a tremendous job on defense – they really are," said my broadcast partner Dave Lapham.
Cleveland managed to run for 169 yards, including 113 on 10 carries by Isaiah Crowell, but Robert Griffin III threw for a meager 104 yards and finished with a passer rating of 38.4.
"They're not giving up the big play," said Lapham. "They got gashed in the running game a little bit when Crowell hit them for a 42 yard run, but passing plays are not going over their head. They gave up eight touchdown passes of 20 yards or more in the first half of the season and none since."
It wasn't for a lack of trying by Hue Jackson.
Cleveland attempted deep passes to Corey Coleman on each of its first three possessions that fell incomplete.
"I thought the secondary really did a good job of staying on top of the routes," said Marvin Lewis. "They tried a lot of vertical throws early in the game and I thought our guys did a good job of staying on top."
"Paulie G (defensive coordinator Paul Guenther) called a great game and we played together as a team," said cornerback Adam Jones.
And when Hue Jackson went to his bag of tricks in the second quarter and attempted a flea flicker from his own 2-yard-line, three Bengals surrounded the intended receiver Terrelle Pryor and George Iloka came away with the interception.
"We knew coming off of a bye that they would do that type of thing," said linebacker Karlos Dansby. "We knew they would throw some different things at us and try to get us off balance before going to their bread and butter. That's what they tried to do today.
"We over-communicated and made sure everybody was on the same page. Everybody was hearing the same language and talking the same language and we played fast. We trusted everything that we've been practicing for the last couple of weeks."
The Browns did not get on the scoreboard until Cincinnati had a 20-0 lead in the third quarter.
"I think that's been the common theme over the last two games," said offensive tackle Eric Winston. "Getting up two scores and letting our defense go eat."
"They got a touchdown late, but the game was pretty much over at the time," said defensive tackle Domata Peko.
In the first half of the season, Cincinnati allowed an average of 23.6 points a game. In the five games since the bye, that's dropped by a touchdown per game to 16.0. For the season, the Bengals rank 11th in the NFL in points allowed at 20.7 per game.
"We're gonna continue to grind," said Dansby. "We're just going to keep running our race and let the chips fall where they may."
"We just started a little late this year," said Jones.