Archie Griffin: before he became a Bengal, he was the only college all-star to win two Heismans.
Archie Griffin, the man Ezekiel Elliott says is the greatest running back in the history of Ohio State football, is a little worried.
Even though Zeke Elliott is currently carrying the scarlet-and-gray mantle in a spectacular rookie season in the NFL, Griffin is still painted in orange and black.
"I've got to root for my Bengals, man," says Griffin from Columbus, where they'll never let him retire. "I don't mind Zeke playing well.  But I'm a Bengals fan when it comes to pro football. I want him to play well, but I don't want them to beat the Bengals.
"Zeke will be a hard one to deal with this week. We've got to figure him out. You'll see him throwing that spoon up, telling him to feed him all the time. He's still doing that."
At 62, Griffin is still dining out on his Bengals, the team that drafted him in the first round in 1976 in the wake of his two Heisman Trophys and where he played for eight seasons while helping them to their first Super Bowl. Elliott, who leads the Cowboys against the Bengals Sunday (4:25 p.m.-Cincinnati's Channel 12), had no idea earlier this week where Griffin played in the pros.
But he made sure he watched No. 45 on tape during his stint at Ohio State and concludes he's the Buckeyes' best.
"He won two Heismans. No one has done that ever," said Elliott, which is about the only thing he confirmed in a terse conference call with the Cincinnati media. "He was really explosive. He was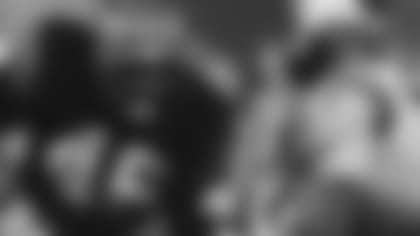 Pete Johnson, Woody Hayes' big back bequeathed to Paul Brown, still holds the Bengals record with 70 career touchdowns.
hard to take down. He had that low center of gravity. He broke a lot of tackles."
To no one's surprise, Griffin, Ohio State's eternal ambassador, has a diplomatic response to the question of the best Buckeye ever.
"There's just too many," Griffin sighs. "A guy I really liked was a kid from Cincinnati, Carlos Snow, maybe because he ran a lot like me … But you start naming them and you don't even get to Vic Janowicz or Hop Cassady, who won a Heisman, because they played so long ago."
It's starting to turn out that Griffin and Pete Johnson, Griffin's bigger and more opinionated partner in grime and punishment between the tackles, played more than a few days ago up there, too. They ended up playing together with the Bengals for seven seasons after Cincinnati hauled Woody Hayes' massive fullback out of the second round the year after Griffin arrived.
They're both still in Columbus. Griffin is stepping away from one of his may jobs at Ohio State down through the years after he retired from the NFL, director of the OSU alumni association.  He's semi-retired, which means he's still working for the school in development. Johnson is also retired, but working. He puts on camps for autistic children throughout the country.
Even the voluble Johnson won't name his best Buckeye back ever.
"All of them," says Johnson, after attending this week's meeting of the Ohio State Quarterback Club. "(Elliott) belongs with the great running backs. We get some every year. I don't know whether you've noticed that or not. We just re-load every year. Since the beginning of times."
Griffin and Johnson can't say enough about the 6-0, 225-pound Elliott, who falls in the middle of the 5-9, 190-pound Griffin and the 6-0, 250-pound Johnson.
Griffin:  "He was a special player at Ohio State. He could do it all. He ran the heck out of the ball. He blocked like you can't believe. He caught the ball out of the backfield. He's going to be a Pro Bowler. Last week I watched them play San Francisco and I really enjoyed watching him and Carlos Hyde play. It was a joy to watch them and how they represented the university."
Johnson: "Hell be rookie of the year with ease. He's  a legit  running back. He runs inside, he runs outside , he's the complete package. He's awesome. Zeke will hit them in the mouth."
Johnson hit more mouths than Ali during a smash-mouth career in Cincinnati, where he still has a stranglehold on two career club records he has held for more than 30 years with 70 touchdowns, four more than Chad Johnson, and 66 rushing touchdowns, dwarfing Rudi Johnson's second-best 48.
"They tried to prove I couldn't do it and kept trying to replace me," said Pete Johnson, who watched the Bengals draft Deacon Turner in the second round in his second year and Charles Alexander in the first round in his third year. "But I was irreplaceable."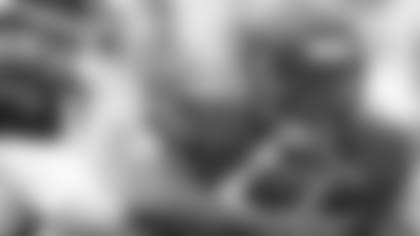 With 24 TDs in 36 Bengals games, Jeremy Hill is running in Pete Johnson's big back footsteps.
That's because he was the big back that Bengals general manager Paul Brown coveted and fit like hand-and-glove in the West Coast offense. They tried to replace Griffin, too, with bigger guys but couldn't do that, either, although in an intriguing reversal Johnson became the Bengals' bell cow while Griffin became an accessory in offensive coordinator Lindy Infante's scheme.
"We were complete backs, too," Johnson says. "Archie could block and catch … (In '81) I led in touchdowns and yards and was third in receiving. The year before I got there, Archie was (second) in rushing and (second in receiving) touchdowns."
 As the Bengals rolled to the Super Bowl with the NFL's No. 2 offense in 1981, Johnson set up quarterback Ken Anderson's third NFL passing title with the first 1,000-yard rushing season since Paul Robinson christened the 1968 inaugural team.
"They didn't want to see Big Pete coming up in there," Griffin says. "They didn't want to tackle him."
Meanwhile, Griffin ran it 47 times and caught it 20 as primarily a pass catcher out of the backfield. In '75 at Ohio State, when Griffin won his second Heisman, Johnson blocked well enough for Griffin to get 1,450 yards and four TDs  on 262 carries while following it up with 1,059 yards and 25 TDs for himself on more than 200 carries.
Johnson logged 4.7 yards per carry and Griffin went for 4.5 and immortality.
"If Archie went to any team besides the Bengals, they'd still be trying to break his records,' Pete Johnson says. "You don't win two Heismans without being a great back … It's all about fitting into an offense."
Still, Griffin had a very nice pro career. You'd even call it underrated. Coming into 2016 he's still in the top 10 in Bengals all-time rushing and top 20 in all-time receiving. His career 4.1 yards per 691 carries is better than the 4.0 of Robinson and Rudi Johnson and, yes, the 3.9 of Pete Johnson.
"Underrated? It depends on what the expectations are," Griffin says. "When I went into pro football, my expectations were to originally get 1,000 yards a season. However, I found out quickly  that I wasn't going to get the ball enough to get 1,000 yards. I changed that goal to average five yards a carry. I didn't quite reach five, but I think any running back in the NFL, if they can say he averaged over four yards a carry over the course of a career, they'd be happy with it."
Griffin turned out be a reliable guy for Anderson in the emerging NFL that featured backs catching out of the backfield. In '79 he set the club standard for backs before James Brooks and Giovani Bernard came along with 43 catches that included a 52-yard touchdown.
The ultimate Buckeye, he not only accepted his role, he embraced it. Ohio State-Michigan was sweet. But Super Bowl XVI?
"I enjoyed my time in Cincinnati,' Griffin says. "I  was a captain. We won an AFC championship and it was a talented group. The quarterback should be in the Hall of Fame. I'm surprised he's not there yet.
"High school was high school, college was college, pro was the pros. It just so happened that in my college years I was featured and I tried  to make the best of it. The same thing in the pros … Playing in the Super Bowl, that's 'The Game.' That's the only one being played when they play it … I think the best way to say it is I did the best I could with the opportunity I had."
Pete Johnson isn't rooting for the Bengals or Elliott. He's rooting to see a good game. He likes Jeremy Hill, too, the Bengals' latest big back.
"He's a great back, but you need to get into a rhythm during the game and it's hard when there are two guys," Johnson says.
No matter what happens Sunday, it looks like the Buckeyes are going to keep getting great backs.
"They know when you come to Ohio State, they know you're going to run the ball," says Griffin, who hopes Elliott gets just enough yards to look good but not win.
"I'm glad (Vontaze) Burfict is back," Griffin says of the Bengals run-stuffer. "He makes a difference."
So did a couple of Buckeyes from Bengals yesteryear.
"They need a couple of more Buckeyes," Pete Johnson says.