The Bengals lost MVP candidate Andy Dalton on his first drive with a fractured throwing thumb and the Steelers stifled backup quarterback AJ McCarron with two interceptions on the way to spoiling Sunday's AFC North clincher when they beat Cincinnati, 33-20, at sold-out Paul Brown Stadium.
The NFL's healthiest team of the first half of the season, the Bengals went through Sunday like Washington at Valley Forge and battled uphill all day. They also lost tight end Tyler Eifert, the NFL's leading scorer, on the same drive with a concussion and later in the first half starting safety George Iloka exited when he re-aggravated his groin injury.
The 8-5 Steelers cut the 10-3 Bengals lead in the North to two games with three games left and dealt them a blow to secure one of the two top seeds in the AFC play-off chase with back-to-back games looming in San Francisco and Denver.
And Dalton will miss his first start ever next week in Frisco and pending a Monday exam might be out the rest of the year.
McCarron threw two touchdowns and had two interceptions in the most extensive action of his career. His five-yard back-shoulder throw to running back Rex Burkhead with 1:03 left for a TD cut it to 33-20 and left McCarron 22 of 32 for 280 yards and a 90.6 passer rating.
After completing a 23-yard pass over the middle to wide receiver Mohamed Sanu and an 18-yard run from running back Giovani Bernard, McCarron had a first down at the Steelers 8, down 26-10, early in the fourth quarter. But the Steelers, so tough in the red zone, did it again. On third down, they dropped eight men and still sacked McCarron when he couldn't go anywhere with the ball and Mike Nugent's 27-yard field goal with 10:06 left in the game cut it to 26-13.
Then safety Reggie Nelson gave the Bengals a pulse with 7:28 left when he intercepted Steelers quarterback Ben Roethlisberger on a deep ball at the Bengals 4. It was Nelson's club-tying fifth straight game with an interception and his sixth pick of Roethlisberger. And the Bengals got a drive going, but they appeared to be the victim of a phantom holding call on left tackle Andrew Whitworth against outside linebacker James Harrison that wiped out tight end Tyler Kroft's 13-yard catch.
Harrison slipped on the rush and on the next snap McCarron overthrew Sanu and it was intercepted by safety Robert Golden with 5:14 left for a 27-yard return to the Bengals 16. That set up running back DeAngelo Williams' one-yard touchdown run with 3:49 left that made it 33-13.
The Bengals hung in there, even when they were sent reeling 50 seconds into the second half on Steelers cornerback William Gay's 23-yard interception return that made it 23-7. McCarron tried to back-pedal away from Harrison steaming in from McCarron's left. McCarron threw falling away, unable to get any zip on the ball and had nothing on a throw to the sideline. Gay jumped it and ran it in.
The Bengals responded with wide receiver A.J. Green, playing like a man possessed, making a   leaping 21-yard catch to set up Nugent's 46-yard field goal that made it 23-10 four minutes later. Green had his 22nd career 100-yard game with 132 yards on six catches.
After left end Carlos Dunlap's career-best 10.5th sack (on right tackle Marcus Gilbert's first allowed sack of the season), the Bengals had a shot to cut into the lead with 8:05 left in the third quarter. But the Steelers blitzed McCarron up the middle for an incompletion on second down and on third down he rolled out of the pocket from the rush and had wide receiver Marvin Jones deep but the throw floated out of bounds.
The Steelers then did what they did all day and hogged the ball for 7:04 to get Chris Boswell's fourth field goal of the day on the first snap of the fourth quarter, a 31-yarder. Roethlisberger, who hit his first nine passes, was laser all day in a controlled passing game in which he hit 30 of 39 for 282 yards in a suffocating time of possession for more than an 11-minute advantage.
That 7:04 drive featured a big 26-yard catch by wide receiver Antonio Brown over the middle when Roethlisberger, like he did most of the day, was able to bide time in the pocket. And on a third-and-seven, cornerback Dre Kirkpatrick was called for holding Brown on Brown's way to an 87-yard day.       
With their starters getting cut down, the Bengals' big moment of the half came from the unlikely right arm of McCarron when he uncorked his first NFL touchdown pass on a 66-yard bomb to Green streaking down the left sideline past cornerback Antwon Blake that cut the lead to 13-7 with five minutes left in the first half.
Green beat the Steelers Cover 2 and McCarron dropped it right there and Green spun away from Blake and safety Mike Mitchell and threw them away about the Steelers 20. The usually glacial Green responded to the game's chipiness by booting the ball into the stands.  
After Dalton completed a quick flip to tight end Tyler Eifert on a third-and-10 in the middle of the first quarter, Eifert rumbled for a 24-yard gain to put the Bengals at the Steelers 6. On second down from the 4, Dalton tried another quick flip over the middle, this one to Bernard, but defensive tackle Stephon Tuitt picked it off at the 7 and Dalton tackled him on a play that fractured his right thumb. Dalton went to the locker room after he completed three of five passes for 59 yards. It was Pittsburgh's fifth red-zone interception of the season and the second against Dalton.
Dalton appeared on the sidelines for McCarron's first drive with a cast on his hand as everything began to fall to pieces. The day that started so brightly with the 10-2 Bengals able to claim the AFC North title with a win soured so quickly.  
Dalton has been extremely durable, never missing a start in his 77 games, his most serious injury coming in his first game in 2011 when he injured his wrist in Cleveland and missed the second half. McCarron, a fifth-round pick in 2014, came in with four NFL passes.
Just like the Nov. 1 game in Pittsburgh, the Steelers walked down the field on the game first possession and took a 7-0 lead 5:24 into things.
The Steelers converted their all three third downs on their first drive, including Roethlisberger's gorgeous throw down the left sideline to wide receiver Markus Wheaton for 31 yards working against Shaw. On third-and-one, Roethlisberger hit tight end Heath Miller for 10 yards on the sideline covered by linebacker Emmanuel Lamur. Then on third-and-three-from the 20, Antonio Brown, working out of a stacked split formation, shook free from cornerback Leon Hall for an 19-yard slant on a quick fling over the middle to set up Williams' one-yard touchdown.
The Steelers didn't have a completion to wide receiver longer than 21 yards in the first game
But the Bengals couldn't respond on their next drive and tragedy ensued. They drove from their own 10 (after a penalty on rookie tight end C.J. Uzomah on the kickoff) and on the first snap Dalton hit Green for a 17-yard play on a play-action bootleg. He then hit Eifert over the middle for an 18-yard gain and Mitchell, who threatened Green during last month's game, gave them 15 more when he hit Eifert in the head and that seemed to be the play that caused the concussion.
The Bengals defense didn't come close to touching Roethlisberger on third down. He hit seven of his first seven third-down passes for 90 yards and hit 13 of his first 15 passes. It got a 42-yard field goal from Boswell and when Nugent was short with a 54-yarder, Roethlisberger got the ball at the Bengals 44. A 15-yard run by Williams set up Boswell's 47-yard field goal with seven minutes left in the first half that made it 13-0.
Nugent had hit nine straight with his last miss a block against Pittsburgh.
When the Bengals defense did stop the Steelers on third down (a third-and-four where Ben ran up in the pocket and overthrew his receiver), punter Jordan Berry dropped a punt on the Bengals 2 with 2:38 left in the half. When McCarron tried a wide receiver screen to Sanu on third-and-three, linebacker Ryan Shazier blew it up and Kevin Huber had to punt from his own end zone.
When Roethlisberger got the ball at the Steelers 46 with 1:04 left, he didn't need any timeouts as he dinked and dunked the Steelers into field-goal range to get Boswell's 45-yarder with 22 seconds left in the half to make 16-7. He hit Miller for one of his eight catches in the half as Roethlisberger finished the first 30 minutes hitting 20 of 27 passes for 190 yards, spreading it out to Brown (60 yards), Miller (54) and 35 each to Wheaton and wide receiver Martavis Bryant. Miller finished as the leading receiver with 10 catches and Brown had the most yards with 87.
With the Steelers converting seven of 11 third downs against a mild pass rush, Pittsburgh kept the ball for more than 21 minutes in the half to limit any kind of offense for Cincinnati. Green led the way with 93 yards on four catches as McCarron went four of six for 77 yards. Jeremy Hill had one run for 12 yards, but finished the half with 15 yards on six carries.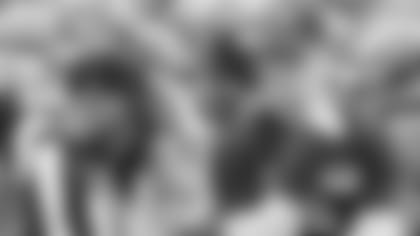 PRE-GAME NOTES:In the face of the NFL's hottest passing game Sunday at sold-out Paul Brown Stadium, the Bengals projected to start two banged-up defensive backs in slot cornerback Leon Hall (back) and safety George Iloka (groin), but rookie cornerback Josh Shaw also expected to get plenty of snaps against the run-and-gun Steelers.
If Shaw, a fourth-rounder from USC, ended up getting the start depending on the formation, it would be his first in the NFL. With their best cornerback, Adam Jones (foot) out, the Bengals are left with four corners (including starter Dre Kirkpatrick and undrafted rookie Troy Hill in his second NFL game) to go against quarterback Ben Roethlisberger's offense that has averaged 529 yards in the last month.
Also out because of injury was backup rookie right tackle Jake Fisher (concussion), a key figure as an extra tackle in offensive coordinator Hue Jackson's array of formations. Rookie left tackle Cedric Ogbuehi, who made his NFL debut last week, and veteran backup Eric Winston are the next tackles up.
With the Bengals trying to shut down Steelers running back DeAngelo Williams, he of three 100-yard games in three starts, defensive tackle Pat Sims got the nod over Brandon Thompson. After an effective game last week in Cleveland, right end Margus Hunt played while Will Clarke didn't. Also out were rookie wide receiver Mario Alford, rookie linebacker P.J. Dawson, and rookie defensive tackle Marcus Hardison.
Cincinnati Bengals host Pittsburgh Steelers at Paul Brown Stadium in week 14 of the regular season.