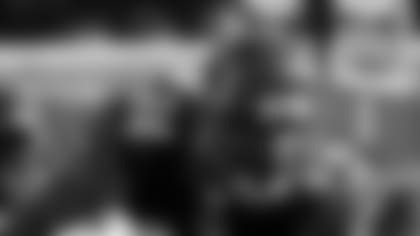 T.J. Houshmandzadeh became the third Bengals player to record at least 90 receptions in a season. (Bengals photo)The Bengals' chance for the playoffs and a winning record went running away with Steelers rookie receiver Santonio Holmes' 67-yard touchdown on the second snap of overtime as he took a slant pass through cornerback Tory James, safety Madieu Williams, and linebacker Brian Simmons in Pittsburgh's 23-17 victory.
Bengals head coach Marvin Lewis blamed himself for the collapse, players pointed to lack of unity for finishing 8-8 after last year's playoff run, and Carson Palmer invoked the right of franchise quarterback to have a say in the offseason plans.
"We all know this," said Pro Bowl right tackle Willie Anderson. "People should be really embarrassed about the performance of this football team. In street terms you would say this is a sorry team.
"I don't know what we have now. The teams that beat us year in and year out, and everybody wants to say how much talent we have, but they beat us because of our professionalism. Of a team being a better team-oriented team than us. That's usually why we get beat in big games because the teams that beat us are better teams than us."
Lewis, whose team was knocked out of the playoffs last year on this same field against these same Steelers 357 days ago, noted it was New Year's Eve.
"We didn't play good enough this year in '05, we'll be better," said Lewis, who wryly recognized his mistake. "Or '06. Whatever we are. We've had a tough year. We haven't played very good this year, beginning with last year at this point. Tomorrow will be a new year, a new start. It's been a long road and not one good enough. We get a chance for a fresh start and we'll make it.
"Very disappointng day. We didn't play to the standard and it's my fault, and we'll get it fixed."
Ironically, some would argue that the Bengals never moved past the '05 AFC North Division championship and got ready for '06. But Lewis and his players said it was a lot more than that.
"We're just not a very good football team," Palmer said after his team lost three straight to end the season at 8-8. "I hate to use the word potential. But we have the potential to be a good team. We should be 10-6 right now and we're not because we're not a very good football team.
"We got a lot of problems," he added. "Selfishness is one of them, but that's not the only reason."
Palmer said Lewis has his hands full in the offseason with all the problems he faces, and he'd like to help. Palmer "I feel like the quarterback of a team should have some input. Being the quarterback, you should make sure some things fall into place," Palmer said. "I'd like to stick around and go over what happened this year and look at what we did and where we improved. On improving our team."
Steelers wide receiver Hines Ward, who ended last season getting the Super Bowl MVP trophy, ended this one watching Holmes and quarterback Ben Roethlisberger shock the Bengals on first-and-10 on the third play of overtime from the Pittsburgh 33.
Ward said the Bengals blitzed Williams out of free safety all day ("It must have been their blitz of the day," Ward said) and this time Roethlisberger knew he had to pull the trigger quickly because his protection didn't allow for Williams to be blocked.
"Ben saw it; he was on the same page as Santonio," Ward said. "And Ben gave him a chance to run afer the catch. Santonio just took it to the house from there. He was just running scared."
Holmes, who caught a similar pass for 34 yards on the Steelers' tying field goal drive, agreed.
"I was running scared for the simple fact I wanted us to get off the field," Holmes said. "We gave those guys a lot of opportunities to beat us and they really didn't want it as much as we did."
After getting off the canvas following a shot from Steelers linebacker James Farrior, Palmer hit tight end Tony Stewart with a five-yard touchdown pass on third down with 2:47 left in the game as the Bengals took a 17-14 lead, and then fired a 47-yard pass to wide receiver Chris Henry to set up Shayne Graham's winning 39-yard field goal attempt with eight seconds left.
But Graham's first miss inside 40 this season on 17 tries went right, sending the game into overtime tied at 17.
It's been a stunning end to the season for the Bengals special teams. Last week with 41 seconds left they never got off a tying extra point in Denver because of a high snap. Sunday the snap and hold looked perfect but Graham, the NFL's most accurate active kicker and the second most accurate of all-time, sliced it right.
"I was so confident that I hit the ball. There wasn't a doubt in my mind that I made it when I hit it," Graham said. "I just saw the way it veered off. It was just the way it hit my foot. It just veered off right. I got 18 feet and I didn't hit it."
The last half of the game was played in rain, but Graham said the field was fine and that the snap and hold were perfect.
"I'm disappointed in our execution, our poise, things we know how to do and things we know how to do right," Lewis said. "That's my responsibility.
"We've got to continue to grow, not good enough. It takes people to be selfless. Just understanding time and time again. Just fit into it. Expect it to happen. Do it the right way."
Jeff Reed's 35-yard field goal tied the game for the Steelers with 1:03 left after Holmes nabbed his 34-yarder that looked almost like the final play.
The big play on the Bengals go-ahead touchdown drive was a 21-yard pass interference call on Pittsburgh cornerback Deshea Townsend working against wide receiver Chris Henry that put the ball on the Steelers 7.
Conjuring up memories of last year's Wild Card game, just before the throw to Henry, Palmer hit the deck on Farrior's blitz and lay on the turf after an incompletion from the Pittsburgh 45. He walked off the field and missed a snap after having the wind knocked out of him, but Farrior got a 15-yard penalty for roughing.
Palmer came into the fourth quarter having a miserable day, but he hit eight of 11 passes in the last quarter for 153 yards in becoming the Bengals' first 4,000-yard passer, and ended the day 20-of-38 for 251 yards.
In fact the first three quarters were dreadful as the Steelers clung to a 7-3 lead.
But with the Steelers pinned on the Pittsburgh 1, strong safety Dexter Jackson whiffed on a blitz and a certain safety of Roethlisberger, who still got the play off for a 13-yard gain to tight end Jerame Tuman.
But Jackson got the final word on that drive. With 13:24 left in the game, Steelers running back Willie Parker (in his third straight 130-yard game against the Bengals with 134) looked to seal the game when he walked into the end zone on a 10-yard run. But linebacker Landon Johnson's desperate strip from back jarred the ball loose and Jackson hopped on it for a touchback.
Three plays later the Bengals dormant passing game erupted when Palmer hit Henry over the middle of the field and he turned on the jets, made a hellacious cut to the middle of the field at about the 15 and outran safety Anthony Smith's tackle for an electrifying 66-yard touchdown that gave Cincinnati the 10-7 lead with 12:20 left in the game.
The throw gave Palmer 3,962 yards for the season, breaking Boomer Esiason's club record but it didn't come easy. For the third straight game Palmer was off his game. In the first three quarters he could muster just 98 yards passing on 12-of-26. And he didn't have it all that much as the Steelers racked up 170 yards rushing in the first three quarters and finshed for season-high 207 against the Bengals.
It t took the Steelers just five minutes to answer with Parker's one-yard touchdown that gave Pittsburgh the lead right back at 14-10 with 7:27 left.
It looked like the Bengals were going to get ignited when wide receiver Chad Johnson caught the first play of the second half and then Steelers linebacker James Harrison roughed him up enough to get a 15-yard penalty.
But the Bengals could offer nothing. On a third-and-one, defensive back Mike Logan blitzed off the right edge and blew up Palmer before he could get the ball off.
Then on the next series, usually reliable wide receiver T.J. Houshmandzadeh dropped a ball over the middle with Steelers linebacker Joey Porter looming behind, and another blitz on the next snap blew up another third down.
Next series? Palmer tried to go up top to Houshmandzadeh on a 50-yard fling downfield, and he caught the ball on cornerback Ike Taylor. But Anthony Smith came over and drilled Houshmandzadeh in the ribs to separate him from the ball. Then when Palmer had Henry wide open on another third down, Palmer overthrew him badly.
The Bengals big-game woes continued with their sloppy play in the game they need to lift them to 9-7 and an outside shot at a Wild Card spot.
But they played this 'Must Game' like it was a 'Just Game' before 66,099, the third biggest PBS crowd in Bengals history. They had to call one timeout on defense when they had 12 men on the field, and had only 10 men on the field for a punt until just before the snap in the first half alone.
And with the Bengals driving for a tying touchdown late in the half and facing a first-and-goal from the Steelers 4, running back Rudi Johnson lost a yard, left guard Eric Steinbach false-started, and center Eric Ghiaciuc then failed to snap the ball on time for another false start.
When Palmer's jump ball to Chad Johnson working against Taylor fell incomplete in the corner on third down, the Bengals needed Graham's 34-yard field goal with seven seconds left to get their first points.
But on that 14-play drive Cincinnati could get the ball to Chad Johnson only once for his first catch of the game, and Rudi Johnson never got the running game going with just 11 yards on five carries in the half in finishing with just 47 yards.
The Bengals needed another eight-yard shovel pass to running back Kenny Watson to convert a third-and-three in the drive, and Houshmandzadeh added to his AFC-leading 29 third-down catches with a nine-yard catch on third-and-six that got the drive going.
Houshmandzadeh had three catches for 39 yards in the half and finished with four for 44 yards to give him a career-high 90 catches on the season. Chad Johnson also had four catches for 53 yards and finished the season with 86 catches.
To make matters worse, left tackle Levi Jones didn't start the second half, bringing on rookie Andrew Whitworth, and he false-started on the half's first play.
"It didn't feel right before the game," said Jones of his surgically-repaired knee that kept him on the shelf for two months until last week.
If this was Bill Cowher's last game as coach of the Steelers, he's going out the way he came in by taking control of a division foe in the trenches. The game unfolded in a typical fashion when the Steelers took a 7-0 lead with 11:01 left in the first half on a 90-yard, 15-play drive that took 8:34 off the clock.
In a classic Steelers script, they kept the ball twice as long as the Bengals in the first half.
A Bengals defense that has been solid against the run over the second half of the season faltered in spectacular fashion as Parker carried nine times in the drive for 51 yards, including a 10-yard run to the goal line in which he broke four tackles and two of those were through defensive end Justin Smith and Williams.
A week after giving up a 99-yard drive in Denver, Parker finished this one off with an easy one-yard jaunt to end a drive that included a Ward highlight clip. He got nine yards on a reverse when Bengals linebacker Rashad Jeanty missed him in the backfield and he converted a third-and-four in the red zone on a six-yard catch beating linebacker Caleb Miller in coverage.
The Bengals offense continued its miseries and could manage nothing on third down in getting just one first down in the game's first 25 minutes. When the Bengals tried to answer the long drive, they lost a down when Ghiaciuc thought he had Steelers outside linebacker James Harrison offside on second down and snapped the ball. But there was no flag and the Bengals had to punt after the next play when Palmer threw a tad behind Henry and it was broken up.
The Bengals came out chucking against the Steelers like they had nothing to lose. And with the Jets jumping ahead of Oakland right away in a game they eventually won, Cincinnati didn't.
Palmer threw two incomplete bombs on his first two snaps, the first one a replay of the 66-yarder on their second play in last January's Wild Card game to Henry over the 5-10 Townsend down the sideline. This time, Palmer and Henry didn't get hurt, but it was overthrown.
The Steelers took Taylor off his benching and started him at cornerback, perhaps because of his solid work against Pro Bowl receiver Chad Johnson in the past. Palmer and Johnson went after Taylor on the second play deep down the middle of the field, and Johnson looked like he could have had it if he hadn't stumbled because he got a hand on it.
But the Bengals couldn't take advantage of anything early in a 0-0 game late in the first quarter. Miller got an unneccessary roughness call on the opening kickoff that dug the Steelers out of a hole on their own 8.
And the Bengals couldn't cash cornerback Tory James' interception of Roethlisberger deep down the middle and 28-yard return to midfield. On the ensuing third-and-two, Palmer's semi-rollout to the right got blown up by a blitz from Farrior.
Landon Johnson injured his ankle late in the first quarter, went to the locker room, bui returned to make the end-zone strip of Parker.
Chad Johnson didn't make his first catch of the day until near the two-minute mark of the first half, but it was for 16 yards and moved him past Carl Pickens into second place on the Bengals all-time receiving yardage with 6,888. The only man ahead of him is Isaac Curtis. AndersonWhen Pro Bowl right tackle Willie Anderson arrived in 1996, the Bengals had won just one of eight games against Cowher and it hasn't got much better. In the ensuing 11 seasons the Steelers have won 20 more times, including the seminal game of the rivalry in last year's Wild Card game Pittsburgh when defensive end Kimo von Oelhoffen took out Carson Palmer's knee and Cowher took out Cincinnati's heart by mocking the "Who Dey" chant.
"The first thing a real player says is he should have stopped him," Anderson said. "That's the whole thing. If we don't want him saying, 'We Dey,' we should have won the game."
One of the rivalry's best matchups in recent years has been Anderson against Steelers defensive end Aaron Smith. But Anderson always has an eye on other Steelers. He admires the fashion Cowher has kept his team good for so long.
"(If it is his last game) it's been a great run for him. He's a guy that's caused this team a lot of misery over the years," Anderson said. "He's one of the guys that has teams you envy year in and year out, the way he has brought them in and set them up. The backup guys become starters and the starters become Pro Bowlers and stars."
Smith wears No. 91, but Anderson has also noticed No. 92, backup linebacker James Harrison who starts Sunday on the left outside in place of the injured Clark Haggans.
"He's got the same number Jason Gildon had as a backup linebacker and then became their all-time sack leader," Anderson said.
The grudging respect seems to have replaced any bitterness over what happened 357 days ago.
"The only bitterness I have is the part we played in it," Anderson said. "In not playing up to our ability and they did a great job taking advantage of it like a well-coached team should do."
The significance of the regular season's last game falling so close to the one-year anniversary of what is arguably the lowest point in Bengals history seems to be lost in the current playoff scramble and the devastating loss in Denver last week.
"Doesn't matter," said wide receiver Chad Johnson. "We all know what would have happened if Carson played the entire game. We all understand we would have come out with a win."
Johnson says the Bengals shook off the Christmas Eve trauma with "a great week of work. The scenarios are too good for us not to get in. If we do get in, we have a chance to do something special. Right now, let's focus on Pittsburgh."
Johnson is letting himself think about what happens if he holds on to his 24-yard lead over the Colts' Marvin Harrison (who plays at home against the Dolphins) and becomes the first Bengal to lead the NFL in receiving yards.
"I'll be fine. Hopefully I can do it," Johnson said. "It'd be great to lead the AFC in receiving four straight years and lead the NFL. It'd be huge. As long as the numbers are helping my team."
The inactive list Sunday for the Bengals: Defensive tackle Shaun Smith for the third straight week, rookie wide receiver Skyler Green, rookie safety John Busing, rookie linebacker A.J. Nicholson, running back Quincy Wilson, linebacker Andre Frazier and center Ben Wilkerson.
Braham appeared at midfield just before the coin toss with wife Connie and three-year-old son Noah and joined the sellout crowd to watch a brief video on the scoreboard before being presented with a Bengals golf cart as "Bad to the Bone" blared through the stadium. He was then greeted by his mates as he walked to the sidelines and they took turns with their greetings.
Then the game captains went out for the toss wearing black jerseys and white pants and their 5-9 record with that ensemble: Justin Smith, Tony Stewart, Reggie Kelly, Bobbie Williams and Kevin Kaesviharn.