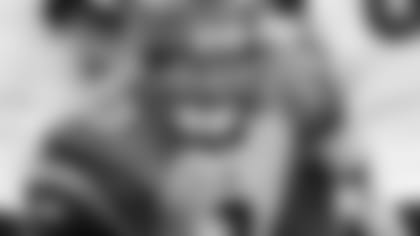 Jon Kitna completed 13 of 24 passes for 76 yards in relief of starter Carson Palmer. (Brian Bahr/Getty Images)
KANSAS CITY, Mo. - Opting for backup quarterback Jon Kitna early in the second quarter, the Bengals tried to keep their edge for next Sunday's 4:30 p.m. playoff game against AFC North rival Pittsburgh. But they got chewed up by the Chiefs running game in a den of emotion Sunday here at Arrowhead Stadium spawned by Kansas City head coach Dick Vermeil's tearful retirement announcement at Saturday night's team meeting.
But after Sunday's 37-3 loss to the Chiefs, they had their minds on next weekend's rubber game with the Steelers in the first round of the playoffs at Paul Brown Stadium.
"I'm getting goose bumps just thinking about it," said quarterback Carson Palmer, after he played just two series. "Those guys love playing us and we love playing them."
Bengals head coach Marvin Lewis could only weep at the last two minutes of the first half after watching his no huddle offense and no tackle defense lead to a defeat in which the Chiefs rolled up a mind-boggling 537 yards of total offense, 201 coming on the torrid running of running back Larry Johnson's ninth straight 100-yard game.
The Bengals' only back-to-back losses of the season came in the final two games of the year and left them with an 11-5 record, their best since the AFC championship season of 1988.
The Kansas City defeat was the first time since Sept. 26, 2004 in a 23-9 loss to Baltimore that the Bengals didn't score a touchdown.
Although the Bengals are disappointed in the way they played, they are confident they can recapture the success that allowed them to win 11 of their first 14 games.
"Have you seen our offense? That's the answer," said wide receiver Chad Johnson after he caught four balls for 55 yards. "What did (Sunday's game) mean? It didn't count against anything, it didn't affect anything. I'm ready to go play."
The Bengals go into their first playoff game under Lewis tasting their worst effort of the year, but they also appeared to accomplish Sunday's top priority and not get anybody hurt. Linebacker Landon Johnson left the game when he hurt his shoulder covering a punt early in the second half, but while he didn't return he was only deemed questionable.
"Landon's fine," Lewis said. "Nobody got hurt."
Only the Bengals' feelings. But they did log their first 6-2 road record since the 1981 AFC championship team. Lewis, though, wasn't pleased after Larry Johnson registered the fourth-best rushing game ever against the Bengals.
"We didn't play very well today," Lewis said. "That's not how I wanted to finish it, that's not how the team wanted to finish it, but no matter what happened, it was going to be over."
Bengals tackle Levi Jones, who missed the game with a shoulder injury said he hopes to be ready for next Sunday's playoff game vs. Pittsburgh.
The second half was left for some individuals to get some milestones, and that was even rougher than the team thing. Running back Rudi Johnson needed 15 yards to break the single-season rushing record he set for the Bengals last season, and he barely got it with 18 yards on 10 carries for 1,458. Wide receiver T.J. Houshmandzadeh finished 44 yards shy of 1,000 and Chad Johnson finished three catches shy of 100 for the season with 97.
"We weren't playing with the guys who were usually on the field," Palmer said. "We were a couple guys short, we fought hard but we just didn't play well enough to win."
The Bengals did tie the team turnover record of 44 midway through the fourth quarter when defensive tackle Matthias Askew forced Larry Johnson to fumble at the Bengals 2 and it was recovered by linebacker Caleb Miller.
The Bengals waited until the second half to sub freely, particularly on defense, where guys like Miller, Askew (making his first appearance of the season), cornerback Greg Brooks, and safety Anthony Mitchell played most of the snaps.
Kitna didn't get a lot of help on at least one of his two interceptions, and he twice overthrew an open Houshmandzadeh on third down. He also went for Houshmandzadeh on fourth-and-five early in the fourth quarter, but cornerback Patrick Surtain broke it up.
How tough was it? Down, 30-3, the Bengals worked a successful fake punt on punter Kyle Larson's pass to tight end Matt Schobel, but it was negated because tight end Tony Stewart was called for being illegally downfield.
Bengals struggle early and often
The 9-6 Chiefs came into the game still with a faint hope of making the postseason only with a victory over the 11-4 Bengals and a Lions upset of the Steelers. With next weekend's playoff game at Paul Brown Stadium already locked up, Lewis had indicated he'd use all his players at some point Sunday, and he wouldn't even name his starting quarterback with the inactives 90 minutes before the game.
He did end up going with Carson Palmer in the first quarter, and he drove the Bengals to Shayne Graham's 49-yard field goal late in the first quarter that tied the game at three and gave Graham a Bengals record 14 straight field goals.
Palmer, who injured his groin in the next-to-last play against Buffalo, ended up starting all 16 games for the first time in his career. He missed the final three games of last season with a sprained knee.
Palmer hit five of eight passes in the first quarter for 54 yards with the big one a 32-yarder to wide receiver Chad Johnson going across the middle. Running back Chris Perry made his first appearance in three games and lost three yards on a third-and-six draw play.
Palmer could have thrown a 44-yard touchdown pass on his only series when rookie wide receiver Chris Henry got open deep behind cornerback Eric Warfield. But Henry tried to grab the ball out in front him with just one hand and couldn't hold on.
Palmer converted a third down on an eight-yard throw over the middle to Houshmandzadeh and moments later it looked like he converted a third-and-11 to Houshmandzadeh on a slant, but Warfield dislodged the ball at the last instant.
The defense held the Chiefs out of the red zone until a third-and-one from the Bengals 49 two snaps before the two-minute warning. With the defensive line slanting to its right, Johnson cut back against the grain and popped past the line with nobody near him. Free safety Kevin Kaesviharn couldn't get him before he got in top gear and cornerback Keiwan Ratliff couldn't catch him on a 49-yard touchdown run that was the longest run against the Bengals this season.
That gave the Chiefs a 13-3 lead, but not for long. Kitna, four-of-eight for 17 yards in the half, delivered a ball over the middle that Schobel let go off his hands and got picked off by safety Sammy Knight and returned to the Bengals 41. On his first two series, Kitna couldn't convert third downs when he overthrew Houshmandzadeh each time.
After Green (11-of-14 in the half for 143 yards) hit wide open tight end Tony Gonzalez down the middle for a 27-yarder, Johnson rocked the Bengals again. Bengals rookie linebacker David Pollack had Johnson wrapped up on a sweep to the Chiefs left, but let him get away reversing field. Green detonated Kaesviharn on a block in the middle of the field and Johnson cut behind it to cash the 14-yarder to make it 20-3 with 1:14 left in the half.
PREGAME NOTES: Lewis deactivated left tackle Levi Jones (shoulder), ending his streak of 59 straight starts dating back to his rookie year of 2002. Left guard Eric Steinbach moved to left tackle and Scott Kooistra, a third-year player, made his first NFL start. That group, along with starting right tackle Willie Anderson, right guard Bobbie Williams, and center Ruch Braham played into the second half.
Pro Bowl cornerback Deltha O'Neal (knee) was also out and Keiwan Ratliff after starting two games in the nickel package earlier in the year. O'Neal didn't get a chance to add to his franchise-best 10 interceptions against Chiefs quarterback Trent Green, a guy he picked off four times in a 2001 game on the way to his first Pro Bowl.
Defensive tackle Matthias Askew, a second-year player, played for the first time this season. Rookie defensive lineman Jonathan Fanene, who had been sick all week, wasn't active. Also down for the Bengals were linebacker Nate Webster, defensive linemen Bryan Robinson and Carl Powell, and wide receiver Kelley Washington.
Several Bengals have some individual milestones within reach, including Palmer standing 218 yards from becoming the Bengals' first 4,000-yard passer, Rudi Johnson within 60 yards of becoming the club's first 1,500-yard rusher, and Houshmandzadeh within 73 yards of giving the Bengals' two 1,000-yard wide receivers for the first time ever.
Chad Johnson, seven catches away from joining Carl Pickens as the Bengals' only 100-catch receivers, showed up as his usual loose self. Two hours before the game he jammed with the stadium band using a tamborine.
An indication that Palmer wouldn't play much came when Kitna was a game captain, along with center Rich Braham, defensive tackle John Thornton and defensive end Justin Smith. The Bengals tried to become the third team to beat the Chiefs in December or January while wearing black pants and white jerseys.