Giovani Bernard figures to run into the starting role this spring.
No starting jobs are going to be won in the next month. Nobody is going to lose a roster spot in May and June. Those underdog Rocky sagas, the veteran-trying-to-hang-for-one-last–shot plots, the grueling culmination of rehab miniseries, all that has to be saved for the start of training camp in the last week of July.
But when the first of nine pad-less practices start Tuesday morning to kick off Phase III of the Bengals' voluntary offseason workout program (closed to the public), it is the perfect opportunity for new coordinators Hue Jackson on offense and Paul Guenther on defense to establish the tone, style, and scheme they want to bring into camp.
Plus, it gives a snapshot on how head coach Marvin Lewis plans to break this team's skein of three straight trips to the playoffs without a victory.
There will be a few things to monitor. Here are five of them on both sides of the ball.
Jackson is preaching a fast tempo, bruising style, and creative plays out of simple sets. All eyes, of course, are on quarterback Andy Dalton in his first practice since the playoff loss to San Diego.   The word is that Jackson wants Dalton coming out from behind center much faster so he can set up quicker and make quicker reads and throws. That goes for the rest of the offense, which he wants barging out of that huddle so Dalton has at least 20 seconds or so on the play clock at the line of scrimmage.
Jackson's "Move it, move it, or we'll do it again,' may become a familiar refrain this spring.
 Rookie running back Jeremy Hill arrived via the second round two weeks ago, so it can be assumed he's going to get plenty of snaps as Giovani Bernard moves in as the starter. It's believed the Bengals have met with veteran running back BenJarvus Green-Ellis to outline the changes in his role, so Tuesday could be the first glimpse of the new rotation in the backfield.
And then, maybe not. At this point Jackson and Guenther don't seem very concerned about who is lining up with which group.
 Where the offensive line aligns is always interesting and there are some new names in the mix.
The big question is if they're going to put fourth-round pick Russell Bodine at center right away with the first group, or if they'll ease him behind Mike Pollak, a college center returning to his old position for the first time in seven NFL seasons.
The Bengals are very encouraged by the rehab of left guard Clint Boling (ACL) and at this point he doesn't look like he'll be a candidate for the injured reserve-recall list. It seems like he'll be ready for the start of the season, but not for OTAs and Tanner Hawkinson, last year's fifth-round pick, figures to get his snaps to start.
Also in line to get some work is rookie free agent Trey Hopkins, a guard out of Texas. At 6-4, 307 pounds, Hopkins may have the best shot to make the 53-man roster from the crop of the 11 undrafted players.
Marshall Newhouse, a veteran of 31 NFL starts, has been signed as a backup tackle, and there are those that think Hawkinson can also play left tackle. The spring should indicate how they plan to use them.
The thinking was the Bengals would sign a veteran pure fullback to battle converted tight end Orson Charles. They haven't done it yet and maybe they're waiting to see how free-agent rookie Nikita Whitlock responds to the role in the next month as he makes the transition from college nose tackle.
It's such a physical position that they really won't be able to get a read on what Whitlock can do until the pads come on in July. And Whitlock's game is strength and intensity, which doesn't translate to the spring in what Tim Krumrie always called with total disdain, "Underwear football." But they'll be able to see if he has a feel to find the linebackers.
The only battle at wide receiver looks to be for that fifth and final active spot on Sundays behind A.J. Green, Marvin Jones, Mohamed Sanu, and Brandon Tate. And that won't be decided until Labor Day, after all the special teams tape is in. Since special teams is going to figure so prominently in that decision, this month means pretty much zilch because there's no open-field tackling. In fact, there's no tackling.
Come July, Dane Sanzenbacher has the edge with experience but Cobi Hamilton, last year's sixth-round pick, can give him a run if he excels on teams in the preseason games. Another guy in the mix is seventh-round pick James Wright, the receiver from LSU. On paper, he could be a replacement for wide receiver Andrew Hawkins as a cover guy and blocker on teams, which Wright did on all four units at LSU.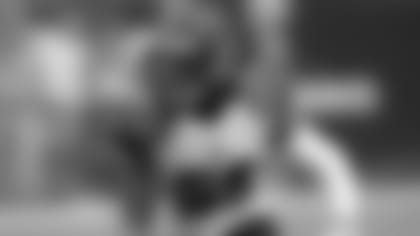 Linebacker Emmanuel Lamur returns next week after missing all last year with a shoulder injury.
Yes, there is life after Mike Zimmer. Guenther made his mark behind the scenes as Zimmer's right-hand man in game-planning and as his eyes in the press box on Sundays. Zimmer ruled with a salty iron fist that suffered no fools. Guenther's got a different personality, but he's also got an upfront Philly brand of East Coast bluntness that hammers home what he wants. He's not really expecting much different when steps out there Tuesday. Instead of just getting on the linebackers, he'll be getting on everybody else. But Tuesday he gets to start setting his own course in practice.
First-round pick Darqueze Dennard makes his Bengals debut in a secondary where he should fit in quite nicely. With cornerback Leon Hall (Achilles) sitting out the OTAs so he'll be ready for the first day of training camp, the thinking is Dennard is going to get some heavy work in the slot. As a first-round pick, he's got to help them right now on third down even though there are three established veterans ahead of him.
 Isn't the safety opposite Reggie Nelson always interesting even though third-year man George Iloka is coming off 16 starts?
 The Bengals signed veteran Danieal Manning as a Chris Crocker-type. On his third playoff team. Smart. Great locker room guy. Can play the nickel. They'll see how he's coming along as he comes back from last year's broken leg.
 Last year's third-round pick, Shawn Williams, came on late last season and had a good finish as the special teams leading tackler. Also in the hunt is an intriguing undrafted guy in Michigan State's Isaiah Lewis. Lewis is polished, experienced, and played on the same side with Dennard  for the nation's top defense and has a rep for good ball skills. Burt we won't see his full game until the pads. He also had a rep for making big tackles and he had 10 of them in the Big 10 championship game win over Ohio State.
 4.  Other than seeing where these guys line up, you get no idea from spring ball what is going to happen in the trenches. But this month at least provides a glimpse on where they're going to put guys up front as defensive line coach Jay Hayes starts moving his chess pieces.
Hayes has said that Margus Hunt is staying put at left end for now, so he's out of the rotation that is going to replace Michael Johnson at right end. We'll see how much they put left end Carlos Dunlap over there as Robert Geathers and Wallace Gilberry jockey between right end and inside. And third-round pick Will Clarke played up and down the line at West Virginia, so we'll see where they think he can help right away.
 New linebackers coach Matt Burke is also on display and he's got company. Emmanuel Lamur, who started a playoff game as a rookie, and Sean Porter, last year's fourth-round pick, return after missing all last year with injuries they suffered in the preseason. The one thing that will be obvious this month is just how big and fast Lamur is at 6-4, 240 pounds. He figures to line up as the starting SAM backer with Vincent Rey backing up all three spots. Like wide receivers, you can't fill out the last two spots behind Lamur, Rey, Pro Bowl WILL Vontaze Burfict and middle linebacker Rey Maualuga until Labor Day. The fifth and sixth backers are going to be decided by special teams. Sixth-rounder Marquis Flowers now comes flying into that mix with Porter and Jayson DiManche. Porter is basically a rookie again and they'll be trying to unseat DiManche, who finished second in teams tackles as a college free agent.